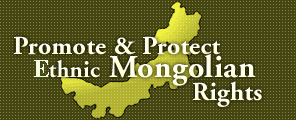 To gather and distribute information concerning Southern (Inner) Mongolian human rights situation and general human rights issues;

To promote and protect ethnic Mongolians' all kind of rights such as basic human rights, indigenous rights, minority rights, civil rights, and political rights in Southern Mongolia;

To encourage human rights and democracy grassroots movements in Southern Mongolia;

To promote human rights and democracy education in Southern Mongolia;

To improve the international community's understanding of deteriorating human rights situations, worsening ethnic, cultural and environmental problems in Southern Mongolia;

Ultimately, to establish a democratic political system in Southern Mongolia.


Mongolian police arrest 8 citizens in front of Chinese Embassy



... On February 6, 2015, 8 Mongolian citizens including the prominent Mongolian activist Mr. Munkhbayar Chuluundorj were arrested by Mongolian police in Ulaanbaatar, capital of the independent country of Mongolia, for staging a protest in front of the Chinese Embassy. The protestors were demanding the immediate release of detained Southern (Inner) Mongolian herders and the protection of Southern Mongolian herders' rights to land and their traditional way of life. The 8 protestors were taken to the local police station in Ulaanbaatar and detained for 3 hours. Among them, Ms. Sarnai, another activist and a strong advocate of human rights for Southern Mongolians and the organizer of the protest, was detained for 6 hours. Video footage shows the Mongolian police confiscating banners and Southern Mongolian flags during the arrest. As the Secretary of the Mongolian Green Party, prominent journalist and human rights activist, Mr. Munkhbayar Chuluundorj has been particularly active in defending the human rights and freedoms of the Southern Mongolians. Munkhbayar has also been passionately involved in discussions ....

<details>...

Protests escalate, 15 arrested and 6 detained



... Chinese authorities continue to ignore herders' demands in the face of protests entering their fourth week. Aggrieved herders have taken to the streets of the two banner capitals of western Southern (Inner) Mongolia's Durbed ("si zi wang qi" in Chinese) and Sunid Right Banner ("su ni te you qi") demanding that authorities respond to their demands for justice. On the morning of January 20, 2015, more than 200 herders from Durbed Banner took to the streets of the banner capital Ulaanhua Township protesting the local government officials' refusal to meet with the herders' representatives. Holding high long banners reading "Return our grazing lands! Give us justice!" and "No to military-government ganging up! No to plundering of herders' lands!" the demonstrators marched through the main streets and two majors squares of Ulaanhua Township including Hasar Square and Durbed Square. Unlike the silent marches and protests which took place recently in the Chinese capital Beijing and regional capital Hohhot, this time the herders chanted slogans of "Down with corrupt officials!" "Return our land!" and "Justice for ....

<details>...

Herder hanged himself at the government building gate, over 30 arrested in protest in the regional capital



... Amidst escalating protests by Mongolian herders in Southern (Inner) Mongolia, on January 19, 2015, a herder named Mr. Tumur, 45 years old, from Zargalant Sum ("ji ri ga lang tu sum u" in Chinese) of Abag Banner ("a ba ga qi"), western Southern Mongolia, hanged himself to death from the Sum Government building gate in protest of the authorities' illegal occupation of his grazing land. According to written appeals the Southern Mongolian Human Rights Information Center (SMHRIC) received from the deceased's relatives, Tumur had been petitioning the local government for years to return of his grazing land illegally occupied during the "help the poor initiative." Relatives revealed that Tumur was active in organizing herders to demand the government punishment of corrupt officials and to provide justice for herders. Pictures of the suicide scene went viral on major Chinese social media outlets, including WebChat, Sina, and Tencent sites. Mongolian netizens demanded justice for the deceased and rallied for the survival of the Mongolian as a distinct people. As the crisis deepened in the Southern Mongolian rural ....

<details>...

Mongolian herders held simultaneous protests



... On January 20, 2015, as more than 70 Mongolian herders from western Southern (Inner) Mongolia's Durbed Banner ("si zi wang qi" in Chinese) and Sunid Right Banner ("su ni te you qi" in Chinese) staged their 9th day of protest in front of the Chinese Central Government branches in Beijing, at least two separate protests took place in central Southern Mongolia's Shiliin-hot City ("xi lin hao te shi" in Chinese) and Saihantal Township of Sunid Right Banner. Herders demanded the protection of their legal rights and return to their land from which they were forcibly displaced by the Chinese authorities who planned an expansion of a military base and enforcement of the so-called "ecological migration" ("sheng tai yi min" in Chinese) policy. Shiliin-hot Protest More than 60 displaced Mongolian herders from Xin Kang Immigration Village ("xin kang yin min cun" in Chinese) near Shiliin-hot City staged a protest in front of the municipal government yesterday. With banners reading "We want survival! We want to return home! Defend herders' rights!" these herders demanded the Chinese authorities return them to their ...

<details>...