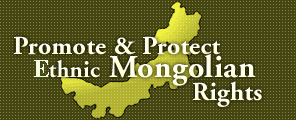 To gather and distribute information concerning Southern (Inner) Mongolian human rights situation and general human rights issues;

To promote and protect ethnic Mongolians' all kind of rights such as basic human rights, indigenous rights, minority rights, civil rights, and political rights in Southern Mongolia;

To encourage human rights and democracy grassroots movements in Southern Mongolia;

To promote human rights and democracy education in Southern Mongolia;

To improve the international community's understanding of deteriorating human rights situations, worsening ethnic, cultural and environmental problems in Southern Mongolia;

Ultimately, to establish a democratic political system in Southern Mongolia.


Herders protest military base, one detained for posting messages online



... On August 21, 2014, Mongolian herders from western Southern (Inner) Mongolia's Durbed Banner ("si zi wang qi" in Chinese) and Sunid Right Banner ("su ni te you qi"in Chinese) protested the Zureh Military Training Base's ("zhu ri he" in Chinese) occupation and destruction of their grazing lands. At least twenty Mongolian herders from Sunid Right Banner were blocked by the local Chinese Public Security Bureau personnel from joining the protest. At least one Mongolian herder named Shuangping was detained yesterday for posting information including the "Grazing Land Lease and Management Certificate" on Chinese social media to rally the Mongolian herders to rise up to fight for their legal rights. According to written communications the Southern Mongolian Human Rights Information Center (SMHRIC) received from the affected communities, a total of 708 Mongolian herder households consisting of 2,907 individuals were forcefully relocated from their grazing lands to "immigration villages" near their respective Banner capitals. Very little compensation was given to them by the authorities. Appropriating more ....

<details>...

Hada's family members harassed by Chinese Internet police



... On August 15, 2014 around 10:00 AM Beijing Time, Ms. Xinna and Mr. Uiles, wife and son of the prominent Southern (Inner) Mongolian political prisoner Hada, were harassed by the Chinese Internet police for posting "illegal contents" on "overseas Internet sites", according to a video clip the Southern Mongolian Human Rights Information Center (SMHRIC) received from Xinna.Identifying themselves as "Chinese Internet security police", at least 8 police personnel divided into two groups knocked down the door to their home and carried out the "warning". No evidence was shown to support their accusation against Xinna. "This happened this morning around 10:00 AM," Xinna told SMHRIC in a Skype message, "before we took the video of those police, some of them harassed us and went back to their cars."An identification number of "012986" on his badge, the police head accused Xinna of posting illegal contents and threatened to carry out a "thorough investigation". Without opening the door, Uiles asked the police to identify themselves. "What police are you?" Uiles asked. "We are the Internet security police ....

<details>...

Rocket crashes in China's Inner Mongolia: Eyewitnesses



... Herders in a remote region of Inner Mongolia have been evacuated from their homes by local authorities after a rocket exploded in the neighborhood on Thursday. Photos posted on China's Twitter-like service Sina Weibo and later deleted showed clouds of orange smoke and pieces of wreckage bearing the logo of China Aerospace. Local residents and eyewitnesses told RFA the rocket exploded in Arbas subdivision of Otog Banner (or county), in Inner Mongolia's Ordos administrative region. "I saw it ... the smoke was red and yellow," a local resident named Chagaanbaar told RFA's Mandarin Service after the explosion. "[It crashed] about one kilometer away." Chagaanbaar said no one had died in the explosion, which hit Bulong Gachaa, a remote and sparsely populated rural area inhabited by traditional herding families. "We were told we had to leave," Chagaanbaar said, adding that the group of families had relocated to Bulong Lake. Meanwhile, Inner Mongolia resident Huhe, who posted the photographs, said the rocket had initially been wrongly reported as a missile. "I wrote the wrong thing in Chinese, but yes, it ....

<details>...

Mongolian herders take to the streets to demand protection of grazing land



... "The Chinese have no idea how sacred and how valuable water is to the Mongolians," Mr. Sodoo, a Mongolian from the community, told the Southern Mongolian Human Rights Information Center (SMHRIC) by phone about the recent conflict between the Chinese authorities and the local herders. "Polluting water source is absolutely not permitted by the Mongolians. However, recently some Chinese tourist companies came to destroy our grazing lands and even built toilets by the upper bank of the Arshaan River to dump their filth directly into the our most sacred water source," Sodoo said angrily in the phone interview. "We have fought generations to defend our grazing lands against aggressors including the Kuomintang army, the Communist Chinese, and even some Kazaks," Sodoo touched upon their history of protecting their homeland, "up until 1980s we Mongolians fully armed with live ammunition literally had battles with aggressors to defend our beautiful land." Herders from the community also complained that extractive industries including both state-run and private ones are destroying and polluting ...

<details>...