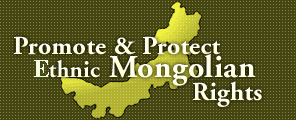 To gather and distribute information concerning Southern (Inner) Mongolian human rights situation and general human rights issues;

To promote and protect ethnic Mongolians' all kind of rights such as basic human rights, indigenous rights, minority rights, civil rights, and political rights in Southern Mongolia;

To encourage human rights and democracy grassroots movements in Southern Mongolia;

To promote human rights and democracy education in Southern Mongolia;

To improve the international community's understanding of deteriorating human rights situations, worsening ethnic, cultural and environmental problems in Southern Mongolia;

Ultimately, to establish a democratic political system in Southern Mongolia.


Enghebatu Togochog's statement at UN Side-event "Human Rights Situation of Minorities under People's Republic of China"



... I would like to thank the members of the Society for Threatened Peoples for organizing this event and providing us with an opportunity to discuss the problems and crisis we are facing because of the Chinese government's intensification of systematic policies of political repression, economic exploitation, cultural assimilation, and environmental destruction in Southern Mongolia, East Turkistan and Tibet. Southern Mongolia, known as "Inner" Mongolia, became China's first so-called "Autonomous Region" when the Chinese Communist Party took control over the region in 1947. Since then, the Chinese Communist Party's policies of ethnic-cleansings, political witch-hunts, large scale population transfers, and forced cultural assimilation have devastated the social and cultural fabric of the Southern Mongolian people. In addition, it has led to near total destruction of the natural environment in Southern Mongolia. As a result of mass migration policies, today, the Mongolians constitute only 18% of the total population on their own land; the natural grasslands where the Mongolians maintained their nomadic way of life for ....

<details>...

The Mongols (in China): Bringing the Massacre of Jindandao to Light



... "It is certainly difficult for one who is not accustomed to the idea of displacement to imagine. The scene is beautiful, and yet what it says is not so much so. As the national holiday Naadam approaches, Enkhamgalan gallops on his chestnut horse through the Mongolian steppe towards the next yurt — except this is not the time for a celebration. His concentrated look toward the horizon misrepresents the ideas or anxieties that accelerate the pace of his heart — and also, perhaps, that of his gait. The dust clouds it causes are reminiscent of the anger rising in him before falling, humiliated — an old humiliation representing decades of oppression." Moot at the Caen Memorial He does not cross a soul along the way. On this side of the Mongolian territory, Ujumchin Right Banner, modernity has not quite planted its flag. Here reign the last vestiges of this ethnic group, the only space where the Mongols are still numerous. When he sees a flock of sheep, he knows he has arrived. He comes to friends, full of heaviness. "They one of ours. Mergen died last night. Their trucks dragged on for more than a hundred yards when ....

<details>...

Mongolian Dissident Hada in Appeal to UN over Harassment



... Ethnic Mongolian dissident Hada issued an open letter on Tuesday to the United Nations Human Rights Council, seeking to put pressure on Chinese officials to end the punishments his family continues to suffer long after his release from two decades in prison. The veteran rights activist, who is 60, was released from extrajudicial detention in December, four years after his 15-year jail term for "separatism" and "espionage" ended. He said in January that authorities in Inner Mongolia had frozen his bank account, and he now says his family is in dire straits. "The content of the letter is to request UN officials to deal with Chinese officials to solve the problem of my bank account being frozen," he told RFA's Mandarin Service. "If the UN fails to take action right away, our family will have to beg for food," he said in a telephone interview."I was jailed for 19 years and, during the 19 years, I was illegally detained for 4 years. I was tortured for quite a long time, causing many illnesses," he said in an interview. He said his family's livelihood suffered because his bookstore was confiscated and his son was unable to find ...

<details>...

Mongolian police arrest 8 citizens in front of Chinese Embassy



... On February 6, 2015, 8 Mongolian citizens including the prominent Mongolian activist Mr. Munkhbayar Chuluundorj were arrested by Mongolian police in Ulaanbaatar, capital of the independent country of Mongolia, for staging a protest in front of the Chinese Embassy. The protestors were demanding the immediate release of detained Southern (Inner) Mongolian herders and the protection of Southern Mongolian herders' rights to land and their traditional way of life. The 8 protestors were taken to the local police station in Ulaanbaatar and detained for 3 hours. Among them, Ms. Sarnai, another activist and a strong advocate of human rights for Southern Mongolians and the organizer of the protest, was detained for 6 hours. Video footage shows the Mongolian police confiscating banners and Southern Mongolian flags during the arrest. As the Secretary of the Mongolian Green Party, prominent journalist and human rights activist, Mr. Munkhbayar Chuluundorj has been particularly active in defending the human rights and freedoms of the Southern Mongolians. Munkhbayar has also been passionately involved in discussions ....

<details>...