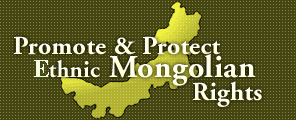 To gather and distribute information concerning Southern (Inner) Mongolian human rights situation and general human rights issues;

To promote and protect ethnic Mongolians' all kind of rights such as basic human rights, indigenous rights, minority rights, civil rights, and political rights in Southern Mongolia;

To encourage human rights and democracy grassroots movements in Southern Mongolia;

To promote human rights and democracy education in Southern Mongolia;

To improve the international community's understanding of deteriorating human rights situations, worsening ethnic, cultural and environmental problems in Southern Mongolia;

Ultimately, to establish a democratic political system in Southern Mongolia.


Need to end China's long game on human rights: Geneva Human Rights Forum



... Thupten Samphel, Director of the Tibet Policy Institute, laid out the significance of religious policies for Tibetans with particular view on the appointment of Tibetan religious leaders, such as the Dalai Lama. He criticized the Vatican's recent agreement with the Communist Party on the appointment of Catholic bishops in the PRC and expressed concern about the concept of "sinicizing religion", which would have a lasting and extremely negative effect on Tibetan culture and Buddhist religion. Professor Dru Gladney of Pomona College gave an overview of the effects of the BRI on Uyghurs. While arguing that Chinese policies themselves have led to a "Xinjiang problem", he expected the BRI, being "globalization with Chinese characteristics", to cause more pressure on Uyghurs. Engebathu Togochog, director of the Southern Mongolia Information Centre, gave an overview of the history of assimilation policies in Southern Mongolia. Among a number of policies, the stigmatisation of herders and nomads in Southern Mongolia and the ban on grazing had led to an uprooting of an entire culture. The panel discussed Chinese strategies ....

<details>...

Joint Press Statement - China UPR



... We, the undersigned, express deep concern over the removal of valuable stakeholder information by the Office of the High Commissioner for Human Rights (OHCHR) for consideration by UN members states ahead of the 3rd Cycle Universal Periodic Review (UPR) of the People's Republic of China. The UPR process, undertaken through the UN Human Rights Council, explicitly welcomes constructive contributions from civil society to address human rights challenges and promote universal human rights norms. All of the undersigned groups submitted reports through the OHCHR's online platform before the deadline of March 29, 2018 as individual organizations or as joint submissions to be considered by states in the preparation of their recommendations, and by the OHCHR in its official summary of information from civil society. We are, however, dismayed by the fact that at least seven submissions were completely removed from consideration from the final document intended for UN member states to draft recommendations for China's review. The OHCHR – tasked with compiling stakeholder information into a summary document - ....

<details>...

SMHRIC statement at "Resist Xi Jinping - Dictator of Unfree World"



... Today, we Southern Mongolians, Tibetans, Uyghurs, Taiwanese and Chinese are here to express our strong protest to the Chinese Government and the Chinese leader Xi Jinping as the United Nations General Assembly is being held here in this building behind us. As you all know China is a colonial power that invaded and colonized Southern Mongolia, Tibet and East Turkistan. And the Chinese regime is an authoritarian regime that not only oppresses the people of these occupied nations but also oppresses their own people, and even is extending its long arm to Taiwan and beyond. Today, we talk about terrorism. We talk about ISIS. We talk about extremism. But, the world is still indifferent to what China is doing to the Southern Mongolians, Tibetans, Uyghurs, and Chinese themselves. Don't forget, the Chinese regime or the Chinese Communist Party is the largest terrorist organization on earth that is oppressing one quarter of the world's population. Citizens of China have no basic human rights, no fundamental freedoms! Mongolians, Tibetans and Uyghurs are arbitrarily arrested, imprisoned and killed for just being who ....

<details>...

CERD China review questions and concluding observation excerpts regarding Southern Mongolia



... ethnic minority government officials and communities and provide financial allowances that ensure an adequate standard of living, as well as livelihood restoration measures and, where needed, linguistic and cultural integration assistance. Ethnic Mongolians, 45. The Committee is concerned by reports of abuses by State authorities against ethnic Mongolians peacefully protesting against the confiscation of land and development activities that have resulted in environmental harm. The Committee is also concerned by reports of a significant reduction in the availability of Mongolian-language public schooling (arts. 2 and 5). 46. The Committee recommends that the State party ensure the ability of ethnic minorities to safely conduct peaceful protests, and investigate and sanction any allegations of abuse or harassment during such incidents, whether inflicted by private or State agents. The Committee also recommends that the State party ensure the availability of Mongolian-language public education for ethnic Mongolians, including those residing outside of the Inner Mongolia Autonomous Region ....

<details>...