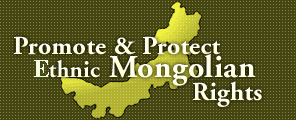 To gather and distribute information concerning Southern (Inner) Mongolian human rights situation and general human rights issues;

To promote and protect ethnic Mongolians' all kind of rights such as basic human rights, indigenous rights, minority rights, civil rights, and political rights in Southern Mongolia;

To encourage human rights and democracy grassroots movements in Southern Mongolia;

To promote human rights and democracy education in Southern Mongolia;

To improve the international community's understanding of deteriorating human rights situations, worsening ethnic, cultural and environmental problems in Southern Mongolia;

Ultimately, to establish a democratic political system in Southern Mongolia.


Mongolian herders take to the streets to demand protection of grazing land



... "The Chinese have no idea how sacred and how valuable water is to the Mongolians," Mr. Sodoo, a Mongolian from the community, told the Southern Mongolian Human Rights Information Center (SMHRIC) by phone about the recent conflict between the Chinese authorities and the local herders. "Polluting water source is absolutely not permitted by the Mongolians. However, recently some Chinese tourist companies came to destroy our grazing lands and even built toilets by the upper bank of the Arshaan River to dump their filth directly into the our most sacred water source," Sodoo said angrily in the phone interview. "We have fought generations to defend our grazing lands against aggressors including the Kuomintang army, the Communist Chinese, and even some Kazaks," Sodoo touched upon their history of protecting their homeland, "up until 1980s we Mongolians fully armed with live ammunition literally had battles with aggressors to defend our beautiful land." Herders from the community also complained that extractive industries including both state-run and private ones are destroying and polluting ...

<details>...

Open letter from Hada and his family members



... Hada completed his full prison term on December 10, 2010. Yet he was not freed, but remains in extrajudicial detention at a secret "black jail" of suburban Hohhot carried out by the Inner Mongolia Public Security Bureau. This particular "black jail" is located inside a compound in eastern suburban Hohhot. A sign on its outer gate reads "Scientific Research Restricted Area No trespassing". The compound is guarded by plainclothes security personnel in two shifts. Large in area, it has another interior smaller compound at its northwestern corner protected by four layers of electric barbed wire fences. Inside the small compound is a two-story small building. Hada is held on the second floor of this building. More than twenty police from the Inner Mongolia Public Security Bureau State Security Squad guard this smaller compound. The windows are constructed of extra thick and tightly sealed glass. Hada was arrested at his home at midnight of December 10, 1995 for establishing the "Southern Mongolian Democratic Alliance" (SMDA). He was later sentenced to 15 years in prison. He served his full prison term at the Inner Mongolia Jail No.4 ....

<details>...

"Where is My Homeland?": Alhaa Norovtseren Fears the Power of China in Mongolia



... Rights groups have accused the Chinese government of collaboration with Mongolian law enforcement agencies, in order to persecute those who speak out against human rights abuses in Inner Mongolia. Last month two Inner Mongolian musicologists, Dalaibaatar and Tulguur were among those to face unlawful arrest prior to being trafficked to China. The two men, along with several other rights activists, were scheduled to address local media regarding claims that Alhaa was being targeted by Chinese secret police in Mongolia. One of the men, Tulguur, had received a letter of deportation on May 5th, instructing that he had ten days to leave Mongolia. He claimed that no reason was given. He quickly applied for and received an asylum seeker certificate from the United Nations High Commission on Refugees (UHCR). As a result, Tulguur's deportation had been postponed by the Ministry of Law until June 16th, 2014. Dalaibaatar had a valid student visa, however both men wanted asylum from China as they considered themselves political exiles and were afraid of schemes by authorities to jail them in China, they said ....

<details>...

SMHRIC Statement to the United Nations Human Rights Council



... in the past year alone, hundreds of Mongolian herders have been arrested, detained and charged with various criminal offenses. Five months ago, three Mongolian herders from Heshigten Banner of Ulaanhad area including Mr. Yanjun, Mr. Shirmee, and Mr. Oyuundalai were accused of "engaging in fraud", facing up to life in prison; two herders from Shiliin-gol area including Mr. Seevendoo and Mr. Bukhee were sentenced to 3 years in jail on a charge of "fraud"; six other herders from Ongniud Banner of Ulaanhad area including Mr. Tulguur, Mr. Munkhbayar, Mr. Nasandalai, Mr. Jargalt, and Mr. Ulaanbars were sentenced to 1-2 years in jail for "sabotaging production and management"; five other herders from Urad Banner including Ms. Todoo, Ms. Urnaa, Ms. Delgertsegeg, Mr. Jargalt and Ms. Odongerel were arrested and detained for "disturbing public order" and "illegal petitioning". One of the five herders Ms. Odongerel was sent to a year and half in "reeducation through labor" for "illegal petitioning". In April of this year alone, we know of at least 87 Mongolian herders from western Southern Mongolia's ....

<details>...