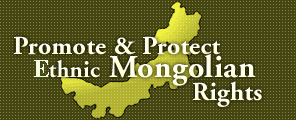 To gather and distribute information concerning Southern (Inner) Mongolian human rights situation and general human rights issues;

To promote and protect ethnic Mongolians' all kind of rights such as basic human rights, indigenous rights, minority rights, civil rights, and political rights in Southern Mongolia;

To encourage human rights and democracy grassroots movements in Southern Mongolia;

To promote human rights and democracy education in Southern Mongolia;

To improve the international community's understanding of deteriorating human rights situations, worsening ethnic, cultural and environmental problems in Southern Mongolia;

Ultimately, to establish a democratic political system in Southern Mongolia.


Southern Mongolian school under investigation for hanging flag of independent Mongolia



... The Ulaanhad Mongolian No. 1 High School of Southeastern Mongolia's (known as "Inner Mongolia") Ulaanhad Municipality (chi feng in Chinese) is under official investigation by Chinese authorities for hanging national flags and emblems of the independent country of Mongolia in its classrooms. Chinese social media accused the school of "engaging in national separatism" and called on the Chinese authorities to imprison the teachers. The Global Times (huan qiu wang in Chinese), a Chinese official mouthpiece affiliated with the state-run press People's Daily, published a piece entitled "Ulaanhad No.1 High School 'Hangs Mongolian National Flag and Mongolian National Emblem?' Educational Bureau Response: Investigation Already Underway" yesterday on its website, revealing that Chinese authorities are carrying out a serious investigation into the matter. "We were alerted of the act yesterday and are calling an urgent meeting today. The Municipal Propaganda Department has already dispatched a mission to carry out the investigation. An official response will become available shortly," the Global Times quoted an official from the Municipal Educational Bureau as saying. ....

<details>...

SMHRIC statement at Interethnic/Interfaith Conference held at Rayburn House Office Building



... Home to six million Mongolians, Southern Mongolia, had never been a part of China up until 1949 when the Communist China took over the region. Becoming China's so-called "first Nationality Autonomous Region", Southern Mongolia has been subjected to China's series of political purges, ethnic cleansing, cultural assimilation, economic exploitation and environmental destruction. Surviving China's large-scale genocide campaign in 1960s through 1970s, today, Southern Mongolians are facing a different form of genocide which we call "cultural genocide". The government of China is determined to wipe out Mongolian distinct culture and nomadic civilization once for all. The policies adopted for this effort include the "ecological migration", "livestock grazing ban", and most recent "experiment of implementation of bilingual education in Mongolian elementary and middle schools" that is aimed at the total denial of the Mongolian right to receive education in their native language. Mongolians who maintained the perfect balance of men and nature for thousands of years are now blamed for the environmental degradation that in fact ....

<details>...

SMHRIC statement at UN Forum on Minority Issues 11th Session and Chinese delegate's response



... As the main theme of this Forum is "statelessness", here I would like to raise the following specific issues in regard to statelessness affecting the Mongolian people in China: First is China's criminalization of Mongolian dissidents in exile and exile community in general. Due to China's increasingly oppressive policies toward Mongolian dissidents, writers, activists and even ordinary herders, thousands of Mongolians have gone in exile in many countries, in particular in the neighboring independent country of Mongolia. Pressured by China, the Government of Mongolia has no choice but to deport many of them back to China. For instance, in the case of Mr. Batzangaa, China even sent her police to Mongolia to carry out the arrest right in front of the United Nations High Commissioner for Refugee Office in the independent country's capital city Ulaanbaatar, not only disrespecting the sovereignty of Mongolia, but also violating the international law. Mr. Batzangaa and his family members were deported back to China and he was thrown into jail. Two other exiles Mr. Dalaibaatar and Mr. Tulguur were also deported back to China from Mongolia ....

<details>...

Need to end China's long game on human rights: Geneva Human Rights Forum



... Thupten Samphel, Director of the Tibet Policy Institute, laid out the significance of religious policies for Tibetans with particular view on the appointment of Tibetan religious leaders, such as the Dalai Lama. He criticized the Vatican's recent agreement with the Communist Party on the appointment of Catholic bishops in the PRC and expressed concern about the concept of "sinicizing religion", which would have a lasting and extremely negative effect on Tibetan culture and Buddhist religion. Professor Dru Gladney of Pomona College gave an overview of the effects of the BRI on Uyghurs. While arguing that Chinese policies themselves have led to a "Xinjiang problem", he expected the BRI, being "globalization with Chinese characteristics", to cause more pressure on Uyghurs. Engebathu Togochog, director of the Southern Mongolia Information Centre, gave an overview of the history of assimilation policies in Southern Mongolia. Among a number of policies, the stigmatisation of herders and nomads in Southern Mongolia and the ban on grazing had led to an uprooting of an entire culture. The panel discussed Chinese strategies ....

<details>...