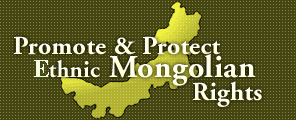 To gather and distribute information concerning Southern (Inner) Mongolian human rights situation and general human rights issues;

To promote and protect ethnic Mongolians' all kind of rights such as basic human rights, indigenous rights, minority rights, civil rights, and political rights in Southern Mongolia;

To encourage human rights and democracy grassroots movements in Southern Mongolia;

To promote human rights and democracy education in Southern Mongolia;

To improve the international community's understanding of deteriorating human rights situations, worsening ethnic, cultural and environmental problems in Southern Mongolia;

Ultimately, to establish a democratic political system in Southern Mongolia.


Chinese police makes arrest on Mongolian soil, deporting prominent writer




... On May 3, 2023, four policemen with two police vehicles from China came to the independent country of Mongolia and arrested Mr. Lhamjab Borjigin, a prominent Southern Mongolian writer in exile, at his temporary residence in the capital city of Ulaanbaatar. Shortly after the arrest, Borjigin was deported back to China on the same day.A week before the arrest, Borjigin notified the Southern Mongolian Human Rights Information Center that the Chinese (SMHRIC) authorities were harassing and threatening his family members in Southern Mongolia. "My family members told me that an army of police and security personnel are visiting my family and pressuring them to bring me back," Borjigin said in the audio message to the SMHRIC. "They are claiming to come to Mongolia with my daughter and bring me back." The SMHRIC immediately contacted the United Nations High Commissioner for Refugees' (UNCHR's) regional office in Bangkok, Thailand, and demanded urgent action to prevent Borjigin from being deported to China. An unidentified official from the office responded to the SMHRIC by email, asking for Borjigin's phone number and email address. After providing Borjigin's contact details, the SMHRIC did not receive further communication from ....

<details>...

SMHRIC statement at the United Nations Permanent Forum on Indigenous Issues (UNPFII) 22nd Session




... This means the nomadic way of life the Mongolians and other indigenous peoples had maintained for thousands of years was officially wiped out. Madam Chair, this is not a "groundless accusation" as Chinese delegations often characterize, but was publicly announced by the Central Government of China and proudly reported across China. As the final step of this systematic destruction of the Southern Mongolian nation, now China is implementing a full-scale cultural genocide campaign in the name of "Firm Inculcation of Chinese Nationality Common Identity". The overarching policy behind this genocidal campaign is the so-called "Second Generation Ethnic Policy". Under this policy, Mongolians and other recognized ethnic minorities are forced to give up their ethnic identities to identify as "Chinese" or "zhong hua min zu". Madam Chair, this constitutes nothing but an active genocide. China is a signatory to UNDRIP, yet China continues to deny the existence of indigenous peoples, as the Chinese delegation made it clear last week. China's justification to this claim is that "indigenous issues" are the result of "western colonization" ONLY. With this absurd claim, China is justifying her own colonization of Southern Mongolia and other indigenous ....

<details>...

Heartbreaking video goes viral as China imposes sweeping ban of Mongolian language in schools




... A heartbreaking video of a Southern Mongolian girl has gone viral on social media as China pushes a sweeping ban of Mongolian-language instruction in schools across Southern Mongolia starting this September. In the video, a Mongolian girl of 8 or 9 years old is seen crying over a fear of "becoming Chinese" under the National Common Language Reform policy instituted by the Chinese government. The following is an English translation of the conversation that transpires between the girl and her mother:Mother: "My darling, what makes you so sad? Tell mommy, why are you sad?"Girl (crying): "I can't learn Mongolian anymore…." Mother: "You're sad because you're no longer able to learn Mongolian?" The girl nods.Mother: "Darling, it is what it is—we're helpless. Mommy and daddy will teach you Mongolian. Many parents will teach their kids Mongolian at home. From now on, my darling needs to learn Mongolian even harder, even better. Will you?" The girl nods. Mother: "Don't be sad. Is anything else bothering you, my darling?" Girl (crying): "If I only learn Chinese…what if I can't speak and write Mongolian anymore? I'm afraid I'll become Chinese." Mother: "My darling, your mommy and daddy speak Mongolian at home. You will not become Chinese ....

<details>...

Southern Mongolian representative speaks at the United Nations Permanent Forum on Indigenous Issues (UNPFII) 22nd Session




... On behalf of six million Southern Mongolians, I would like to bring to your attention the ongoing cultural genocide committed by the Government of China Starting in 2020, the Government of China has banned the Mongolian language entirely across Southern Mongolia in the name of the "National Common Language" policy. 300,000 Mongolian students went on a total school strike. The Chinese authorities responded with mass arrests. An estimated 10,000 protestors have been arrested, detained, imprisoned, and placed under house arrest. Eleven lost their lives in defense of their rights to their mother tongue. What followed this heavy-handed crackdown was a full-scale cultural genocide campaign, the scope of which has extended far beyond the simple switch of language in schools. "Learn Chinese and become a civilized person" has been an official slogan publicly promoting Chinese supremacy. Mongolian language programs have been removed from radio, television, and newspapers. To justify the campaign, the Chinese National Congress announced that minority language education is "unconstitutional", overwriting its own constitution and "National Minority Autonomy Law". Schools from kindergartens to colleges removed Mongolian language ....

<details>...