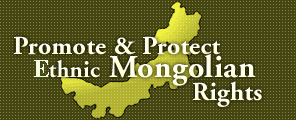 To gather and distribute information concerning Southern (Inner) Mongolian human rights situation and general human rights issues;

To promote and protect ethnic Mongolians' all kind of rights such as basic human rights, indigenous rights, minority rights, civil rights, and political rights in Southern Mongolia;

To encourage human rights and democracy grassroots movements in Southern Mongolia;

To promote human rights and democracy education in Southern Mongolia;

To improve the international community's understanding of deteriorating human rights situations, worsening ethnic, cultural and environmental problems in Southern Mongolia;

Ultimately, to establish a democratic political system in Southern Mongolia.


35 Mongolian herders tried, long sentences handed down



... As part of China's escalating crackdown on Mongolian herders' protests, the People's Court of Zaruud Banner in eastern Southern (Inner) Mongolia's Tongliao Municipality carried out a mass trial against 35 Mongolian herders from the Bayan-Tumen Gachaa of Ulzeimurun Sum ("sum" is equivalent to township) who defended their land from Chinese occupation. Following a six-month detention, these herders were sentenced to long-term imprisonment ranging from 5 years to 6 months on charges of "provocation and causing disturbance" and "gathering to assault state organs." The Southern Mongolian Human Rights Information Center (SMHRIC) was able to confirm the mass trial with the family members and relatives of the defendants, and obtained the case details. Nine out of the 35 were handed down the following prison terms on December 27, 2017: Mr. Wu Tiedan, 5 years; Ms. Jin Haixia, 4 years; Mr. Borjigin Tsengelt, 3 years; Mr. Ulzeit, 2 years and 6 months; Mr. Shuang Xi, 2 years; Mr. Tsetsenbat, 1 year and 6 months; Mr. Madu, 1 year and 6 months; Mr. Buyan, 1 year; Mr. Sarantsogt, 1 year. The remaining 26 were ....

<details>...

Mongolian language banned in schools, Internet posts removed



... "The so-called bilingual education is nothing but a monolingual education, i.e. Chinese language education," Mr. Bayar, a long time dissident in exile in Japan and the General Secretary of the Inner Mongolian People's Party, told the Southern Mongolian Human Rights Information Center (SMHRIC). "Needless to say, the 'national common language' is Chinese, and make no mistake, the 'ethnic language' mentioned in the document is offered as a single, separate, and elective course just like a foreign language. It is no longer the language of instruction for any other courses." The news sparked widespread outrage among Mongolians across Southern (Inner) Mongolia. Posts of protest by Mongolian students, teachers, writers, and even ordinary herders have gone viral on the few available social media outlets in China including WeChat, Weibo, and Bainuu. "Apparently our nation is reduced to a Chinese colony," a Mongolian blogger named Rashizamts wrote in a post on his Bainuu space, along with a boycott sign on the word "Chinese" written in Mongolian. Many cited the 19th century French novelist ....

<details>...

BOOK RELEASE: "Genocide on the Mongolian Steppe"



... On the Human Rights Day, December 10, 2017, the Southern Mongolian Human Rights Information Center (SMHRIC) announced the release of the Genocide on the Mongolian Steppe: First-hand Accounts of Genocide in Southern Mongolia during the Chinese Cultural Revolution (Volume I) (published by Xlibris), a book translated by the SMHRIC Director Enghebatu Togochog from Japanese to English. Both Enghebatu Togochog and Professor Yang Haiying, author of the original book entitled BOHYO NAKI SOGEN in Japanese, believe that the genocide of the Mongolian people during China's Cultural Revolution was a crime against humanity that has remained largely hidden from the view of history. "This book is dedicated to the memory of tens of thousands of innocent Mongolians who lost their lives in a massive genocide carried out in the Chinese-occupied Southern Mongolia 50 years ago," Togochog noted in the "Translator's Acknowledgment" of the book. In 1967, two decades after its successful annexation of Southern Mongolia, the Chinese Communist regime launched a carefully-planned campaign of ....

<details>...

UN Minority Forum Side-event: "Native Language in a Contemporary World: Threats and Challenges for Youth"



... From linguistic perspective, Mongolian language belongs to the Altaic Language Family, and is very close to Turkic languages including Uyghur and Turkish as well as Manchu-Tungus languages. Mongolian language has no relationship whatsoever with Chinese language which in fact is a member of Sino-Tibetan language family that is completely different from Altaic Language Family. Despite these, the Chinese authorities have pushed hard to promote the language assimilation as part of their broader assimilation policies toward Southern Mongolia. During and after the Chinese Cultural Revolution from the 1960s to 1970s, Mongolian language education was completely banned across Southern Mongolia. Starting the late 1970s, after the large-scale genocide and ethnic cleansing in Southern Mongolia, the Chinese regime somehow felt some satisfaction and confidence with their colonial policies, and showed some relaxation on the control over Mongolian language education in the region at the least on the surface. Some Mongolian schools were reopened, and Mongolian Language Departments of some of the ....

<details>...