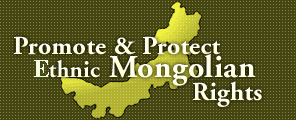 To gather and distribute information concerning Southern (Inner) Mongolian human rights situation and general human rights issues;

To promote and protect ethnic Mongolians' all kind of rights such as basic human rights, indigenous rights, minority rights, civil rights, and political rights in Southern Mongolia;

To encourage human rights and democracy grassroots movements in Southern Mongolia;

To promote human rights and democracy education in Southern Mongolia;

To improve the international community's understanding of deteriorating human rights situations, worsening ethnic, cultural and environmental problems in Southern Mongolia;

Ultimately, to establish a democratic political system in Southern Mongolia.


Tortured by Chinese State Security agents in Thailand, Southern Mongolian activist faces deportation




... On October 5, 2022, Mr. Adiyaa (shown as "Wu Guoxing" on his Chinese passport), a Southern Mongolian activist in exile who has already obtained refugee status from the United Nations High Commissioner for Refugees, was arrested by the Thai immigration authorities at his rented residency in suburban Bangkok. Immediately after the arrest, Adiyaa was forced to meet with Chinese embassy officials on multiple occasions in a small cell at the Bangkok Immigration Detention Center, without any Thai personnel present. Embassy personnel accused Adiyaa of "breaking Chinese relevant laws," including "illegally occupying other's property," and asked him to sign a letter of "admittance to guilt and willingness to return to China." Adiyaa refused to sign. On October 19, four Chinese State Security agents in uniform visited the Detention Center where Adiyaa is being held. One agent identified himself as an officer dispatched by the Inner Mongolia Autonomous Region Public Security Bureau. As Adiyaa consistently refused to sign the letter, the four agents took turns repeatedly beating him until he capitulated to signing all the papers the agents had prepared. "It is all too clear that the Thai Immigration Bureau is ganging up with the Chinese State Security ....

<details>...

Webinar: "Celebration of Colonialism by China"




... As the Communist China is preparing to celebrate her 74th anniversary of the founding of the brutal regime, here I would like to list out her major atrocities committed in Southern Mongolia in chronicle order to give you an idea of how our sovereign nation has been reduced to merely a cultural entity. In 1949, soon after her establishment, China annexed Southern Mongolia by force and called it "Inner Mongolia Autonomous Region" and promised "Nationality Autonomy". The same model was later used in Tibet and East Turkistan. The past 73 years tell us that the so-called "nationality autonomy" is a lie and what fate awaited us was nothing but a series of genocide, ethnic cleansing, political repression, economic exploitation, cultural eradication and environmental destruction. All these atrocities are planned carefully and implemented in a systematic manner. For example: First in the 1950s, the Chinese carried out a so-called "Anti-National Rightist Movement" to purge the Mongolian elites. Tens of thousands of Mongolians were persecuted; Then the Chinese took away the military rights of the Mongolian after using the Mongolian cavalries to put down Tibetan uprising; In the 1960s through 1970s, the Chinese committed their first ....

<details>...

PEN America Calls for the Immediate Acquittal and Release of Mongolian Activist Munkhbayar Chuluundorj Sentenced to 10 Years in Prison for Protesting China-Mongolia Relations




... (NEW YORK)—Ahead of Mongolian writer and activist Munkhbayar Chuluundorj's appeal set for September 13, PEN America urges Mongolian authorities to immediately set aside his 10-year sentence and release him unconditionally. "The harsh and unjust verdict in Munkhbayar Chuluundorj's trial is a grave violation of the fundamental right to free expression," says Liesl Gerntholtz, director of the PEN/Barbey Freedom to Write Center. "The baseless national security charge against him is simply a tactic to silence dissent and eliminate voices critical of both the Mongolian government and China's policies in Inner Mongolia. We urge Mongolian authorities to immediately release Munkhbayar Chuluundorj to respect his, and everyone's right to criticize their government." A founding member of the World Mongols Poetry Association, Munkhbayar Chuluundorj is a well-known blogger, poet, and human rights activist known for defending the linguistic, cultural, and historical identities of ethnic Mongolians in China's Inner Mongolia. Munkhbayar Chuluundorj was detained this past February 18 in Ulaanbaatar for his vocal critique of the Mongolian government's close ties with China and the shrinking rights of ethnic Mongols in China's Inner Mongolia. Most ....

<details>...

Webinar: "Disappearing Victims of Chinese Colonialism"




... The fourth is the mass scale enforced disappearance of Mongolian students, teachers, educational workers and ordinary Mongolians who had participated in 2020 large-scale resistance movement against the Chinese Government's cultural genocide campaign in Southern Mongolia. After 7-decade long genocide, ethnic cleansing, political repression, economic exploitation, cultural assimilation and environmental destruction, in 2020, the Government of China targeted the Southern Mongolians' last defense of national identity that is the language. A new policy called the "Second Generation Bilingual Education" is implemented in Southern Mongolia to completely wipe out Mongolian language, culture and identify from Southern Mongolia. In response to this new round of cultural genocide, the entire Southern Mongolian population stood up. Hundreds of thousands of students took to the streets, and millions of parents and teachers launched a total school boycott. Of course, the Chinese regime responded with a heavy handed crackdown. We estimate more than 10,000 Southern Mongolians were arrested, detained, imprisoned and placed under house arrest. Following this crackdown, what the Chinese authorities are carrying out today is ....

<details>...