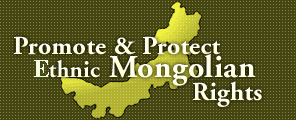 To gather and distribute information concerning Southern (Inner) Mongolian human rights situation and general human rights issues;

To promote and protect ethnic Mongolians' all kind of rights such as basic human rights, indigenous rights, minority rights, civil rights, and political rights in Southern Mongolia;

To encourage human rights and democracy grassroots movements in Southern Mongolia;

To promote human rights and democracy education in Southern Mongolia;

To improve the international community's understanding of deteriorating human rights situations, worsening ethnic, cultural and environmental problems in Southern Mongolia;

Ultimately, to establish a democratic political system in Southern Mongolia.


Resisting land grab, at least 48 Mongolian herders arrested



... More than 40 Mongolian villagers were arrested in Maliin-ger Gachaa of Morin-Sum Som ("mo li miao su mu ma lin ge ri ga cha" in Chinese) in eastern Southern (Inner) Mongolia's Tongliao Municipality on April 12, 2014 as they were defending their grazing lands from a Chinese coal transportation company. Local Mongolian villagers were beaten up and threatened with imprisonment by the local police reinforced by more than 400 fully armed riot police dispatched from the municipal authorities. "Yes, I heard of the incident," a Mongolian worker named Altansan from the Morin-sum Mongolian Middle School told the Southern Mongolian Human Rights Information Center (SMHRIC) over the phone, "in fact, just a few minutes ago one of my friends called me and told me about the clash and the arrest." "One of his relatives was also taken away by the police, and is still held in the detention center," he added, "he is worried about his relative." "On April 12, riot police grabbed the villagers' grazing lands by force. They were even worse than bandits. One can't believe it without witnessing the scene with one's own eyes. ....

<details>...

Fresh wave of herders' protests erupts following Chinese Premier's visit to Southern Mongolia



... "Riot police and security personnel came to beat us up with electric batons," a herder who participated in the protest told the Southern Mongolian Human Rights Information Center (SMHRIC) over the phone, "many of us were injured, and some suffered serious bleeding". According to the information received from the protesters, at least 39 herders including 24 from Urad Front Banner and 15 from Urad Rare Banner were arrested and detained. Dozens were hospitalized after being severely beaten up by police. "The government is called 'People's Government', but we as people are treated brutally by the 'People's Government' when we come to appeal for relief from the problems we are facing," stated the protesters in a written statement and further warned that "the government's brutal response will lead to further anger by the herders." As the Chinese Premier Li Keqiang arrived in Southern Mongolia last week, nearly a hundred Mongolian herders from the Urad Middle Banner mounted a two-day long protest in front of the Inner Mongolia Autonomous Region Government building at the capital city ....

<details>...

Video clip (Part 2): Xinna speaks on her family situation and Hada's case



... This is because Hada has persisted in refusing to admit to any crime during his 15 years of imprisonment. I and my son Uiles have consistently supported him for believing firmly what he believed. We have called attention to his trial and grievances. We also appealed to the international community and spoke about our plight and expressed our discontent. All these aroused the resentment of the authorities who had arrested and criminalized Hada. Evidently, they are holding a bitter hatred toward us. Otherwise, they would not have arrested us before Hada's expected release. Today, long after the completion of his full jail term, Hada is still not free. As of today, it has been almost 17 years. I and my son also have become criminals. All three members of our family have lost our freedom. This kind of treatment might have made some sense during the Cultural Revolution. However, after 30 years of "Reform and Open-up", such fierce struggles and ruthless strikes on ethnic problems are hardly comprehensive. A Mongolian intellectual who expressed his opinion on the ethnic problem through his writing was given a ....

<details>...

Photos of Southern Mongolian political prisoner Hada and his family members



... The following photos of the Southern (Inner) Mongolian prominent political prisoner Mr. Hada and his wife Ms. Xinna are obtained and made public for the first time by the Southern Mongolian Human Rights Information Center (SMHRIC). Hada was arrested in 1995 and sentenced to 15 years in jail in 1996 by the Chinese authorities on charges of "splitting the country and engaging in espionage". On December 10, 2010, Hada completed the full prison term. Yet, not only did the Chinese authorities continue to imprison him without any legal justification, but also arrested and detained his wife Xinna and son Uiles on trumped-up charges of "engaging in illegal business" and "illegal drug possession" respectively. Hada is currently still held at a secret prison in suburban Hohhot, capital of Southern Mongolia. Despite the authorities' cruel torture, inhumane treatment and continuing imprisonment, Hada is determined to pursue a lawsuit against the Chinese authorities in Southern Mongolia including the Inner Mongolia Autonomous Region Public Security Bureau for mistreating him and his family. After the 16-month detention Xinna was ...

<details>...