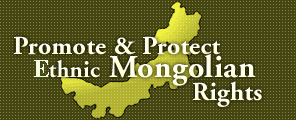 To gather and distribute information concerning Southern (Inner) Mongolian human rights situation and general human rights issues;

To promote and protect ethnic Mongolians' all kind of rights such as basic human rights, indigenous rights, minority rights, civil rights, and political rights in Southern Mongolia;

To encourage human rights and democracy grassroots movements in Southern Mongolia;

To promote human rights and democracy education in Southern Mongolia;

To improve the international community's understanding of deteriorating human rights situations, worsening ethnic, cultural and environmental problems in Southern Mongolia;

Ultimately, to establish a democratic political system in Southern Mongolia.


Taken away by police, herders accused of "national separatism"



... On January 25, 2016, a dozen Mongolian herders from western Southern (Inner) Mongolia's Darhan-Muumingan Banner ("da mao qi" in Chinese) were taken away by local police authorities for contacting "overseas news media and hostile forces" and "engaging in national separatism". Following several hours of interrogation, the herders were released. Many other herders received threatening phone calls from the local police authorities warning them not to contact any foreign news media or overseas organizations. "At least a dozen herders were taken to the local police dispatch stations and questioned," an elderly herder from the affected community told the Southern Mongolian Human Rights Information Center (SMHRIC) over the phone, "many others were warned over the phone by the police not to contact any foreigners." "I was also threatened by phone, and my daughter was taken to the police dispatch station," she added. Last Wednesday, dozens of Mongolian herders from Darhan-Muumingan Banner gathered in front of the Banner government building in protest of the local authorities' ....

<details>...

China demolishes Mongolian herders' houses in freezing cold



... As the temperature drops to below 15 Celsius, Chinese authorities in western Southern (Inner) Mongolia's Alshaa Left Banner ("a la shan zuo qi" in Chinese), Alshaa Right Banner ("a la shan you qi" in Chinese) and Eznee Banner ("e ji na qi" in Chinese) launched a massive demolition project to start the New Year. Houses, fences and other infrastructure of the Mongolian herders in these areas have been bulldozed by the local authorities without free, prior and informed consent. A short video clip that the Southern Mongolian Human Rights Information Center (SMHRIC) received from the affected area of Alshaa Left Banner shows that helpless herders attempted to block the officials from demolishing their properties while a bulldozer tore down their house in the background (see the video clip). "The local government officials simply told us that our houses and fences must be demolished as their bulldozers already started the demolition in our community," a Mongolian herder named Tuyaa from Eznee Banner told SMHRIC in frustration over the phone. "How can we survive this freezing winter without shelters ....

<details>...

Riding horses and camels, herders took to the streets in Southern Mongolia



... On December 17, 2015, riding horses and camels, nearly 100 Mongolian herders from western Southern (Inner) Mongolia's Eznee Banner ("e ji na qi" in Chinese) of Alshaa League ("a la shan meng" in Chinese) took to the streets of Dalain-Huv Township, capital of the Banner. There, the protesters urged the local government to protect herders' legal rights and punish Chinese from the neighboring province of Gansu for their illegal trespassing and frequent sabotaging over the past decades. Around 3:00 pm local time, the herders, mostly in their traditional robes, arrived before the government building of Eznee Banner. They demanded the Banner Government provide an explanation for a recent attack to the local community by Chinese from the neighboring province of Gansu. According to Chinese official news media, on December 6, 2015, around 3:00 am local time, over 100 masked assailants attacked a checkpoint of Eznee Banner, injuring 13 checkpoint workers and destroying the entire infrastructure and all equipment. On December 10, the local public security authorities in Jin Ta Country of Gansu ....

<details>...

Hada family goes on hunger strike on Human Rights Day



... The following is an English translation of a statement for the Human Rights Day 2015 by Mr. Hada who had served 19 years in prison in Southern Mongolia on charges of "splitting the country and engaging in espionage" (English translation by SMHRIC): Five Years of Plight and Wretchedness Tomorrow is International Human Rights Day. Five years ago today, I was supposedly freed. However, I was thrown into a "black jail" and imprisoned there for four years. On December 3 and 5, 2010, my wife, Xinna, and son, Uiles, were also arrested. Later on, I found out that the purpose of arresting them was to force me to abandon my beliefs and cooperate with the authorities. After a nine-month detention, Uiles was released on bail pending trial. A year later, the authorities claimed again that Uiles was guilty but would not be sentenced. Xinna was sentenced to three years in prison with five years reprieve following her yearlong detention. According to relevant laws and regulations, Xinna was supposed to be released on December 2, but the authorities claimed that she would not be freed before 2017. Over the past five ....

<details>...