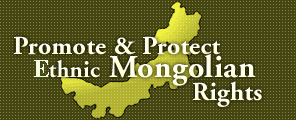 To gather and distribute information concerning Southern (Inner) Mongolian human rights situation and general human rights issues;

To promote and protect ethnic Mongolians' all kind of rights such as basic human rights, indigenous rights, minority rights, civil rights, and political rights in Southern Mongolia;

To encourage human rights and democracy grassroots movements in Southern Mongolia;

To promote human rights and democracy education in Southern Mongolia;

To improve the international community's understanding of deteriorating human rights situations, worsening ethnic, cultural and environmental problems in Southern Mongolia;

Ultimately, to establish a democratic political system in Southern Mongolia.


"I have three demands for Xi Jinping"



... Xinna, wife of Inner Mongolian dissident Hada, was recently handed a "serious warning" by judicial authorities after visiting family in another city without police permission. Hada, in his mid-50s, is being held under de facto house arrest after 15 years in jail on charges of "separatism" and "espionage." Xinna, who has been charged with no crime, and who recently wrote to Chinese president Xi Jinping calling for her husband's immediate release, spoke to RFA's Mandarin Service about her fears for her husband's health and safety: The Inner Mongolian authorities still won't let us visit Hada. This is despicable. When he was in prison, we at least were able to visit him a couple of times. Now that he's in the black jail, things are worse than when he was in prison. And there's no good reason for them to do this. When my son Uiles asked them when we could see him, they just hung up on him. They didn't even answer. We are very worried about Hada right now. When Uiles went there to take a look, he found that Hada wasn't even allowed out for exercise. We are worried about the state Hada is in. We don't even ....

<details>...

Herders protest economic injustices



... Nearly 400 Mongolian herders from central Southern (Inner) Mongolia's Huvuut-shar Banner ("xiang huang qi" in Chinese) took to the streets of the capital on Oct. 8, carrying signs calling for protection of their traditional economy amid competition from government and corporate monopolies. A banner is a jurisdiction similar to a county in the West. In a written statement provided to the Southern Mongolian Human Rights Information Center (SMHRIC), the herders cited the illegal taking of their grazing land; concerns about mining; official inaction on natural disasters; and delays in compensation payments. "Slaughter houses and meat processing companies that poured into Southern Mongolia are sheer corporate monopolies...for the sole purpose of making profit they not only violate relevant laws and regulations but also pay no regard to conventions of pastoralist economy," the herders said in the statement, which was entitled 'Huvuut-shar Banner Herders' Demands to the Government. The herders also demanded that the government put to an end to corporate monopoly in pastoralist communities, and ....

<details>...

We Stand With You: A Statement of Solidarity with Hong Kong Protesters from a Tibetan, Uyghur, Southern Mongolian and Chinese



... As a Tibetan, Uyghur, Southern Mongolian and Chinese – people who have all suffered from the oppressive policies of the Chinese Communist Party – we express our deep admiration for and solidarity with the movement for democracy and rights in Hong Kong. We have all dedicated our lives to restoring rights and freedom to our people, and we salute the people of Hong Kong for refusing to remain silent as Beijing reneges on its promise of universal suffrage and democratic reforms. The events unfolding in Hong Kong highlight the deep and enduring problems the Chinese Communist Party faces as it tries to maintain draconian control over all the territories it rules within the People's Republic of China. Just as Hong Kongers are refusing to accept a sham version of democracy with leaders pre-approved by Beijing, Tibetans, Uyghurs, Southern Mongolians and Chinese refuse to accept the pervasive restrictions on our fundamental rights and freedoms. We hold a common desire for genuine democracy; a desire shared with millions around the world. Unless the Chinese government takes the necessary steps to devolve political ...

<details>...

"The nature of the Inner Mongolian authorities' 'stability maintenance' is itself against the law"



... Today is September 20, 2014. In recent days, the persecution against us by the Inner Mongolian authorities has escalated. In addition to nonstop intimidation and harassment, the persecution has been escalated to threaten our attorney and deny our right to visit Hada. In late August, the Inner Mongolian authorities had two officials from the Political and Legal Affairs Committee and the Public Security Bureau make a special trip to Beijing by plane to threaten our attorney Khas, stating that I would be arrested soon due to a new crime I have committed. They claimed that Khas would also be liable for his actions in masterminding the scheme. Their statement was extremely strong and arrogant. A few days earlier on September 16, when my son Uiles asked to visit his father Hada, the State Security Squad of the Inner Mongolia Public Security Bureau, that are responsible for imprisoning Hada, blatantly denied my son's legal right to visit his father. The reason they gave was that I published posts on the Internet making the higher-ups unhappy. This "black jail" where Hada is held is a place that is particularly lawless ....

<details>...