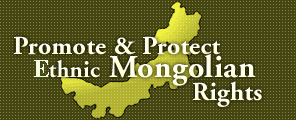 To gather and distribute information concerning Southern (Inner) Mongolian human rights situation and general human rights issues;

To promote and protect ethnic Mongolians' all kind of rights such as basic human rights, indigenous rights, minority rights, civil rights, and political rights in Southern Mongolia;

To encourage human rights and democracy grassroots movements in Southern Mongolia;

To promote human rights and democracy education in Southern Mongolia;

To improve the international community's understanding of deteriorating human rights situations, worsening ethnic, cultural and environmental problems in Southern Mongolia;

Ultimately, to establish a democratic political system in Southern Mongolia.


Writer placed under criminal detention for defending herders' rights




... Born in 1951 in Heshigten Banner, Mr. O. Sechenbaatar is a well-known writer who authored a number of books, including Spring Blossoms, Autumn of Tsunkh, Story of A Bald Thief, Heshigten Folklore, and Collection of Southern Mongolian Folklore Arts. O. Sechenbaatar also wrote and published hundreds of essays, poems, and lyrics in Mongolian language journals and magazines. He has been teaching in the Darhan-uul Middle School. As a staunch advocate of indigenous rights of local Mongolian pastoralist communities, O. Sechenbaatar also hosted a number of WeChat groups to provide local Mongolian herders with a venue to discuss the pressing issues in their communities, including mining, environmental destruction, pollution, and herders' protests. Recently, O. Sechenbaatar also gave an interview with the state-run Inner Mongolia TV Mongolian Service on a government backed Chinese fishery's intentional decimation of birds in the Dalainuur National Nature Reserve to boost the fish yields. "'Obstructing official business' is just an excuse. What the government is really trying to do is to accuse Sechenbaatar of the more serious crimes of 'disturbing social order,' 'transferring information to ....

<details>...

Writer tried behind closed doors as "national separatist", pending sentence




... On April 4, 2019, Mr. Lhamjab A. Borjigin, a 75-year old Mongolian writer, was tried behind closed doors in central Southern (Inner) Mongolia's Shiliin-hot Municipality on charges of "national separatism," "sabotaging national unity" and engaging in "illegal publication and illegal distribution." The court has not yet issued its final verdict. "The trial started at 9:00 AM, April 4 and ended around 12:00 PM at the Shiliin-hot Municipality People's Court," Lhamjab told the Southern Mongolian Human Rights Information Center (SHMRIC) via a recorded audio statement. He added: "none of my family members were allowed to attend. I was denied the right to bring my lawyer to defend myself." "The court reluctantly allowed me to bring a Mongolian-Chinese interpreter with me as I refused to speak in Chinese during the court proceedings," Lhamjab stated. He added: "It was a typical closed-door trial. Only eight people, namely three judges, three procurators, myself and my interpreter were present in the small courtroom with the door tightly closed." Lhamjab revealed in the statement that the trial was held under direct instruction from the higher authorities in the Autonomous Region ....

<details>...

SMHRIC statement at the Uyghur rally in Washington DC




... The entire Uyghur population is targeted by the Chinese Government just for being who they are; millions of innocent Uyghurs are locked up in concentration camps without any legal due process; their basic human rights and fundamental freedoms are denied. 50 years ago, the Government of China experimented its first-round of ethnic-cleaning in Southern Mongolia; a large-scale genocide campaign was carried out. Hundreds of thousands of Mongolians were killed indiscriminately as "national separatists"; nearly a half million, or one out of three Mongolians, were persecuted. Unfortunately, this Mongolian genocide was largely hidden from the public view due to China's complete isolation from the world at that time. 50 years later today, the entire Uyghur population is subjected to another form of genocide under the name of "counter-extremism" and "counter-terrorism". While 50 years ago Mongolian genocide was carried out in a secretive manner in the completely isolated China, 50 years later today, Uyghur genocide is carried out openly in front eyes of the well-connected world. Overseas Uyghurs communities in exile have done an extraordinary work to publicize and ....

<details>...

SMHRIC statement at the Tibetan National Uprising Day March




... It is great to be here today to stand in solidarity with our Tibetan, Uyghur, Taiwanese and Chinese friends to commemorate the 60th anniversary of Tibetan National Uprising to show our strongest protest to the Chinese Government and the Chinese colonial regimes in our three occupied nations: Tibet, Southern Mongolia and East Turkistan. Here, I would like to stress that I use "nations" or "occupied nations" when referring to Tibet, Southern Mongolia and East Turkistan. I refuse to call us "ethnic minorities" or "ethnic groups" which is a terminology aimed to de-politicize our national identity and wipe out our national and historical memory of an independent nation. As we gathered here to mark the 60th anniversary of the Tibetan uprising, let us look back to the history of Chinese colonial occupation in our three nations. 70 years ago, in 1949, the Chinese Communist Party took over China proper. Soon after, our nations were reduced to the so-called "Nationality Minority Autonomous Region". Our peoples have quickly been reduced to "national minorities" and later even downgraded to "ethnic minorities" on our own lands. 60 years ago, the people of Tibet rose up against the Chinese colonial ....

<details>...