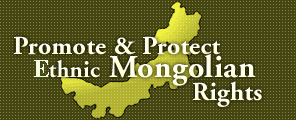 To gather and distribute information concerning Southern (Inner) Mongolian human rights situation and general human rights issues;

To promote and protect ethnic Mongolians' all kind of rights such as basic human rights, indigenous rights, minority rights, civil rights, and political rights in Southern Mongolia;

To encourage human rights and democracy grassroots movements in Southern Mongolia;

To promote human rights and democracy education in Southern Mongolia;

To improve the international community's understanding of deteriorating human rights situations, worsening ethnic, cultural and environmental problems in Southern Mongolia;

Ultimately, to establish a democratic political system in Southern Mongolia.


Imprisoned herders maintain innocence in appeal to Chinese high court



... Maintaining innocence after being sentenced to jail terms ranging from one year to two years, six Mongolian herders from Southern (Inner) Mongolia's Ongniud Banner have filed an appeal to the Inner Mongolia Autonomous Region High People's Court, according to one of the defendants and their attorney, Mr. Huhbulag. The six herders, including Mr. Tulguur, Mr. Tugusbayar, Mr. Nasandalai, Mr. Jargalt, Mr. Ulaanbar and Mr. Munkhbayar, are urging the regional high court to retry the case immediately and overturn the Ongniud Banner People's Court's decision on the case made on December 21, 2013. "After our arrests in late May of 2013, we were initially accused of 'damaging national unity and instigating national separatism' during the interrogation by the Public Security authorities in our banner," Tulguur told the Southern Mongolian Human Rights Information Center (SMHRIC) over the phone on Wednesday. "Later on, they changed their tune and accused us of 'sabotaging production and management.'""All six of us maintained our innocence and appealed to the Municipality People's Court after we ....

<details>...

Death of the woman warrior



... It had been already 7 weeks traveling all over Mongolia; from the Gobi Desert in the south to the northern Mountains next to the Russian border, from the far west where the Kazakh Mongols live to the hectic capital city Ulaanbaatar. Now it was time to visit the eastern side of Mongolia and after a 25-hour travel I reached Choibalsan which was just 50 km away from the Chinese border. It could have been already enough to fulfill my explorer ambitions, however in that town I visited a fascinating museum of Mongolian history where I found a map pointing several spots of historical interest on the easternmost town of Mongolia, Khalkhgol. It was located 450 km away on the south-east and when asking the museum receptionist his answer was "road is terrible and there is no transport heading to that direction. It is impossible to get there". He had just said the magic word which triggers the challenge mode on. Pursuing to know deep and deeper Mongolia's history I was about to find out the remarkable life story of The Woman Warrior. I woke up at dawn, went to the street market and started asking and ....

<details>...

A letter of gratitude to the Southern Mongolian Human Rights Information Center



... I am writing to express my heartfelt respect to you for your tireless and selfless work for the cause of all Southern Mongolians. We are truly proud of you for your great effort to take up these noble yet arduous tasks for making our voice heard on the international stage and telling the truth to the world on behalf of our fellow Mongolians. In contrast, from video clips and other news reports, one can easily see how shameless the People's Republic of China is. Not only are we tired of hearing about the Chinese doctrine of "harmony among the 56 nationalities", we are also offended by the idea of it. Under the pretext of "ethnic harmony", the Chinese have occupied the lands of national minorities and set up settlements through deception and violence. The so-called "ethnic harmony" is not something that the Chinese make any effort to actually realize, but is something that the Chinese demand from national minorities through violence and force. If the Chinese are indeed serious about "territorial integrity", why do they destroy mother earth, open up mines recklessly and pollute the air and water, threatening not only the ....

<details>...

A statement of solidarity from a Tibetan, Uyghur, Southern Mongolian, and Chinese activist



... 2016 has been a year of tumultuous, global social injustices and human rights violations. From Syria to Brazil, Russia to Burundi, governments around the world have openly broken fundamental, international laws that exist to protect the freedoms of people around the world, and give them justice. For those living under China's rule human rights conditions have continued on a steep downward spiral. Human rights defenders in China remain casualties of the State's aggressive campaign against peaceful dissent, underling a direct contradiction with President Xi's vow to promote the "rule of law." In the past 12 months the Chinese regime has rounded up hundreds of human rights defenders in an unprecedented, indefensible crackdown against lawyers and activists; has flagrantly disregarded religious freedoms by implementing a ban on fasting during Ramadan in East Turkestan, and forcefully evicted thousands of Tibetan monks and nuns from their homes at Larung Gar in eastern Tibet. The Party has enforced draconian surveillance laws and systematic, long-term security measures as part of an intensified ....

<details>...