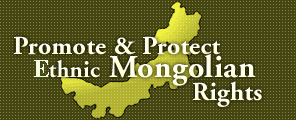 To gather and distribute information concerning Southern (Inner) Mongolian human rights situation and general human rights issues;

To promote and protect ethnic Mongolians' all kind of rights such as basic human rights, indigenous rights, minority rights, civil rights, and political rights in Southern Mongolia;

To encourage human rights and democracy grassroots movements in Southern Mongolia;

To promote human rights and democracy education in Southern Mongolia;

To improve the international community's understanding of deteriorating human rights situations, worsening ethnic, cultural and environmental problems in Southern Mongolia;

Ultimately, to establish a democratic political system in Southern Mongolia.


Herder hung himself at the government building gate, over 30 arrested in protest in the regional capital



... Amidst escalating protests by Mongolian herders in Southern (Inner) Mongolia, on January 19, 2015, a herder named Mr. Tumur, 45 years old, from Zargalant Sum ("ji ri ga lang tu sum u" in Chinese) of Abag Banner ("a ba ga qi"), western Southern Mongolia, hung himself to death from the Sum Government building gate in protest of the authorities' illegal occupation of his grazing land. According to written appeals the Southern Mongolian Human Rights Information Center (SMHRIC) received from the deceased's relatives, Tumur had been petitioning the local government for years to return of his grazing land illegally occupied during the "help the poor initiative." Relatives revealed that Tumur was active in organizing herders to demand the government punishment of corrupt officials and to provide justice for herders. Pictures of the suicide scene went viral on major Chinese social media outlets, including WebChat, Sina, and Tencent sites. Mongolian netizens demanded justice for the deceased and rallied for the survival of the Mongolian as a distinct people. As the crisis deepened in the Southern Mongolian rural ....

<details>...

Mongolian herders held simultaneous protests



... On January 20, 2015, as more than 70 Mongolian herders from western Southern (Inner) Mongolia's Durbed Banner ("si zi wang qi" in Chinese) and Sunid Right Banner ("su ni te you qi" in Chinese) staged their 9th day of protest in front of the Chinese Central Government branches in Beijing, at least two separate protests took place in central Southern Mongolia's Shiliin-hot City ("xi lin hao te shi" in Chinese) and Saihantal Township of Sunid Right Banner. Herders demanded the protection of their legal rights and return to their land from which they were forcibly displaced by the Chinese authorities who planned an expansion of a military base and enforcement of the so-called "ecological migration" ("sheng tai yi min" in Chinese) policy. Shiliin-hot Protest More than 60 displaced Mongolian herders from Xin Kang Immigration Village ("xin kang yin min cun" in Chinese) near Shiliin-hot City staged a protest in front of the municipal government yesterday. With banners reading "We want survival! We want to return home! Defend herders' rights!" these herders demanded the Chinese authorities return them to their ...

<details>...

Herders stage protest in Beijing against the seizure of grazing lands



... From January 11 to 13, 2015, more than 50 herders from western Southern (Inner) Mongolia's Durbed Banner ("si zi wang qi" in Chinese), and Sunid Right Banner ("su ni te you qi" in Chinese) marched toward Beijing. They are demanding Chinese authorities halt the Zureh ("zhu ri he" in Chinese) Military Training Base's illegal occupation of the herders' grazing land and end the forced displacement of Mongolian herders from their lands. Mr. Davshilt, one of the protest organizers, was questioned by local public security personnel and threatened with harsh punishment if he continued activities. "Davshilt's freedom has been restricted due to his activism and strong organizing skills. He is barred from traveling to Beijing and blocked from social media outlets, " a close friend of Davshilt told the Southern Mongolian Human Rights Information Center (SMHRIC). The pictures sent from the herders protesting in Beijing show 20-some herders, including several elderly women in traditional Mongolian garments, holding hand-written appeals (in both Mongolian and Chinese) urging the Chinese authorities to answer the following ....

<details>...

Statements from Southern Mongolian dissident writer Huuchinhuu Govruud



... The Southern Mongolian Human Rights Information Center (SMHRIC) has recently received two statements from Ms. Huuchinhuu Govruud. In these statements Huuchinhuu demanded the Chinese authorities to end their restrictions of her basic freedoms and those of recently released prominent political prisoner Mr. Hada, and to cease threatening their basic means of survival. Huuchinhuu, also known as Gao Yulian, is a Southern (Inner) Mongolian dissident writer, activist, and member of the banned Southern Mongolian Democratic Alliance (SMDA). Huuchinhuu has authored several books and hundreds of essays detailing ethnic and human rights abuses of the Mongolian people in China and criticizing the oppressive Chinese ethnic policy in Southern Mongolia. In November 2010, Huuchinhuu was arrested by the Chinese authorities for rallying the Mongols via the Internet to cheer for the scheduled release of Mr. Hada. After nearly two years of extrajudicial detention, Huuchinhuu has been placed under ....

<details>...