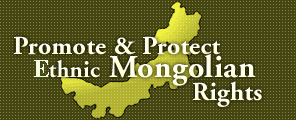 To gather and distribute information concerning Southern (Inner) Mongolian human rights situation and general human rights issues;

To promote and protect ethnic Mongolians' all kind of rights such as basic human rights, indigenous rights, minority rights, civil rights, and political rights in Southern Mongolia;

To encourage human rights and democracy grassroots movements in Southern Mongolia;

To promote human rights and democracy education in Southern Mongolia;

To improve the international community's understanding of deteriorating human rights situations, worsening ethnic, cultural and environmental problems in Southern Mongolia;

Ultimately, to establish a democratic political system in Southern Mongolia.


BOOK RELEASE: "Genocide on the Mongolian Steppe"



... On the Human Rights Day, December 10, 2017, the Southern Mongolian Human Rights Information Center (SMHRIC) announced the release of the Genocide on the Mongolian Steppe: First-hand Accounts of Genocide in Southern Mongolia during the Chinese Cultural Revolution (Volume I) (published by Xlibris), a book translated by the SMHRIC Director Enghebatu Togochog from Japanese to English. Both Enghebatu Togochog and Professor Yang Haiying, author of the original book entitled BOHYO NAKI SOGEN in Japanese, believe that the genocide of the Mongolian people during China's Cultural Revolution was a crime against humanity that has remained largely hidden from the view of history. "This book is dedicated to the memory of tens of thousands of innocent Mongolians who lost their lives in a massive genocide carried out in the Chinese-occupied Southern Mongolia 50 years ago," Togochog noted in the "Translator's Acknowledgment" of the book. In 1967, two decades after its successful annexation of Southern Mongolia, the Chinese Communist regime launched a carefully-planned campaign of ....

<details>...

UN Minority Forum Side-event: "Native Language in a Contemporary World: Threats and Challenges for Youth"



... From linguistic perspective, Mongolian language belongs to the Altaic Language Family, and is very close to Turkic languages including Uyghur and Turkish as well as Manchu-Tungus languages. Mongolian language has no relationship whatsoever with Chinese language which in fact is a member of Sino-Tibetan language family that is completely different from Altaic Language Family. Despite these, the Chinese authorities have pushed hard to promote the language assimilation as part of their broader assimilation policies toward Southern Mongolia. During and after the Chinese Cultural Revolution from the 1960s to 1970s, Mongolian language education was completely banned across Southern Mongolia. Starting the late 1970s, after the large-scale genocide and ethnic cleansing in Southern Mongolia, the Chinese regime somehow felt some satisfaction and confidence with their colonial policies, and showed some relaxation on the control over Mongolian language education in the region at the least on the surface. Some Mongolian schools were reopened, and Mongolian Language Departments of some of the ....

<details>...

Chinese delegation interrupts SMHRIC intervention at UN forum, GONGO "Ethnic Mongolian" member defends China



... The following is the full transcript of the Southern Mongolian Human Rights Information Center's (SMHRIC) intervention at the United Nations Forum on Minority Issues 10th Session held in Geneva from November 29 to December 1, 2017, as well as a Chinese GONGO (government operated non-governmental organization) and the Chinese Government delegation's respective responses. The statement delivered by the SMHRIC Director Mr. Enghebatu Togochog was interrupted by the Chinese Government delegation who asked the chairperson not to allow him from further speaking. The chairperson did not honor the Chinese delegation's request although he warned all speakers not to use any derogatory language. Shortly after the Chinese Government delegation's interruption, a Chinese GONGO representative who identified herself as an "ethnic Mongolian born in China's Inner Mongolia" and an employee of the China Union of Anthropological and Ethnological Sciences responded to Enghebatu Togochog's statement, claiming that "what she has been witnessing is totally different from what was said ....

<details>...

Southern Mongolian delegation at the European Parliament



... From November 28-29, 2017, a Southern Mongolian delegation of five representatives including Mr. Enghebatu Togochog, Director of the Southern Mongolian Human Rights Information Center (SMHRIC), Mr. Hatgin Dolgion, President of the Inner Mongolia People's Party (IMPP), Dr. Chuluu Ujiyediin, founding member of the SMHRIC, Mr. Tsetsent Satoga, founding member of the IMPP, and Mr. Dugarjab Hotala, an independent researcher and the founder of InterMongol Network held a conference titled "False Autonomy: China's Colonial Rule Over Southern Mongolia" at the European Parliament in Brussels in collaboration with the European People's Party Group and the Unrepresented Nations and Peoples Organization (UNPO). The conference was moderated by Ms. Lucia Parrucci, a staff member of UNPO and the coordinator of the event. Mr. Csaba Sógor, well-known human rights advocate and a member of the European Parliament and the European People's Party, made the opening remarks to stress the importance of human rights as many states use security measure as an excuse to overwrite human rights. Sharing his ....

<details>...