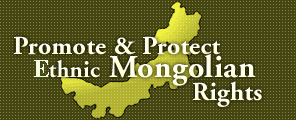 To gather and distribute information concerning Southern (Inner) Mongolian human rights situation and general human rights issues;

To promote and protect ethnic Mongolians' all kind of rights such as basic human rights, indigenous rights, minority rights, civil rights, and political rights in Southern Mongolia;

To encourage human rights and democracy grassroots movements in Southern Mongolia;

To promote human rights and democracy education in Southern Mongolia;

To improve the international community's understanding of deteriorating human rights situations, worsening ethnic, cultural and environmental problems in Southern Mongolia;

Ultimately, to establish a democratic political system in Southern Mongolia.


Herders' leader detained for "chatting via WeChat"



... As herders from Urad Middle Banner ("wu la te zhong qi" in Chinese) of Southern (Inner) Mongolia continue their protest against the local authority's illegal appropriation of grazing lands, on November 25, 2015, Ms. Odongerel, a long time leader and organizer of herders' protests, was taken away by the local Public Security personnel from her home in Haliut Township, capital of the Urad Middle Banner. On the second day, Ms. Dejidmaa, mother of Odongerel, was informed of her detention by the Public Security authorities. "Two Public Security Bureau officers came to me and told me that my daughter was put under a 10-day detention," Dejidmaa told the Southern Mongolian Human Rights Information Center (SMHRIC) over the phone, "the reason for the arrest and detention was that Odongerel chatted with people over WeChat." "When I asked the Public Security officers whether WeChat is there for people to chat, they said 'Odongerel chatted too much'," Dejidmaa told the SMHRIC during the phone interview. The Public Security Bureau personnel read the notice of detention to Dejidmaa after asking ....

<details>...

Joint Statement by Southern Mongolian, Tibetan and Uyghur organizations at CAT 56th Session



... Distinguished members of the Committee, We would like to offer the following recommendations for the Committee to raise with China: China must ensure prompt, impartial and effective investigations into all allegations of torture and into deaths in custody, particularly with regard to Southern Mongolians, Tibetans and Uighurs and follow through with prosecutions where relevant; China must ensure that any measure to combat terrorism is in accordance with international human rights law, as Tibetans and Uighurs have been subjected to such measures in the past; it must reconsider the latest draft law on counter-terrorism; China must ensure thorough investigations into cases of Mongolian herders who have been detained and tortured. The following statements from Tibetans, Uyghurs and Southern Mongolians, highlight these distinct nationalities, rather than a single group of "ethnic minorities". I'm Enghebatu Togochog from the Southern Mongolian Human Rights Information Center. We are concerned about the Chinese authorities' systematic persecution and torture against Mongolian dissidents and ....

<details>...

Anthrax vaccine overdosed, livestock wiped out



... Since October 23, 2015, at least 2,448 heads of livestock have been injected with an overdose of anthrax vaccine by the local authorities in Bayanhangai Som, Urad Middle Banner of Southern (Inner) Mongolia, in fear of a possible anthrax epidemic. According to local Mongolian herders, over a hundred sheep, cattle, and horses have died because of the overdose vaccine and many have been sickened. Information about the incident is tightly concealed by the Chinese authorities. At least one Mongolian herder was arrested and detained for protesting the authorities' intentional killing of their livestock. "It is very common that livestock occasionally got poisoned with excessive amount of certain plants such as wild onion (allium mongolicum)," Ms. Odongerel, a herder from Urad Middle Banner, told the Southern Mongolian Human Rights Information Center (SMHRIC), "but this has nothing to do with anthrax epidemic." "The Deputy Director of the Urad Middle Banner Bureau of Animal Husbandry came to our community and ordered to inject overdose of anthrax vaccine to our livestock immediately upon seeing ....

<details>...

After 19 years of imprisonment Hada still treated as prisoner



... Mr. Hada, a Southern (Inner) Mongolian political prisoner who completed 19 years of imprisonment in Chinese prisons last December, is still treated by the Chinese authorities as a prisoner, according to a statement from his wife Xinna to the Southern Mongolian Human Rights Information Center (SMHRIC). Pictures sent to the SMHRIC show that Chinese State Security personnel are guarding Hada closely. On the stairways and in hallways, State Security dispatches set up folding beds and chairs as they took turns monitoring every single activity of Hada around the clock. "This is one of two State Security dispatches who watch Hada in the hallway," Xinna explained about one of the pictures sent to the SMHRIC. "The one seen in the picture left hastily upon seeing I was taking pictures of him." "State Security agents squeeze themselves in this small space, no larger than 9 square meters, to monitor Hada every day," Xinna said in the statement. "This is the so-called 'freedom' Hada is given. The pictures tell you that Hada's imprisonment is still continuing. Only the place has changed." Put under a de facto house ....

<details>...