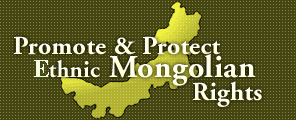 To gather and distribute information concerning Southern (Inner) Mongolian human rights situation and general human rights issues;

To promote and protect ethnic Mongolians' all kind of rights such as basic human rights, indigenous rights, minority rights, civil rights, and political rights in Southern Mongolia;

To encourage human rights and democracy grassroots movements in Southern Mongolia;

To promote human rights and democracy education in Southern Mongolia;

To improve the international community's understanding of deteriorating human rights situations, worsening ethnic, cultural and environmental problems in Southern Mongolia;

Ultimately, to establish a democratic political system in Southern Mongolia.


CECC Annual Report 2017 excerpts on Southern Mongolian human rights



... As in past reporting years, Inner Mongolia Autonomous Region (IMAR) authorities detained Mongol herders who engaged in peaceful protests related to grasslands, including those who voiced their concerns online or talked with foreign reporters about their complaints. Mongol rights advocate Hada reportedly continued to press authorities to hold officials accountable for mistreating him during his 15-year prison sentence and subsequent detention and surveillance. IMAR authorities imprisoned Hada for 15 years starting in 1995 and then held him in extralegal detention for another 4 years, following his organization of peaceful demonstrations for Mongol rights and his establishment of the banned Southern Mongolian Democratic Alliance. In a November 2016 interview, he described his living conditions, in an apartment heavily surveilled by security personnel, as similar to those he experienced under detention, complaining that authorities had at times cut off his family's water and heat in an effort to compel him to ''cooperate with them and give up [his] ideas.'' Mongol parents and students in the ....

<details>...

"I am guilty by Chinese laws, but I am not guilty before my people"



... Today is an ordinary day. Yet it is a day that will go down in history of our struggle. Even though I was charged guilty by Chinese laws, I am not guilty before my people. The struggle that we have taken up for our cause is not an act of guilt before our people. I have received numerous phone calls and welcoming messages from my fellow herders upon my release and found out that many more from our Bayan-undur communities wanted to come here today but were not able to make it due to the severe drought and shrinking pasture that made them unable to leave their livestock unattended; Due to the involuntary migration to distant pastures in other banners [a banner is an administrative unit equivalent to a county] for temporary relief; Due to the policies that outlaw and criminalize the herders of local communities if their livestock trespasses the "protect areas;" And also due to the ever-worsening poverty that made some local herders leave their land for other means of living. With a heartfelt understanding of the enormous hardships our fellow herders are facing today, I firmly believe that each and ....

<details>...




... To the UNPO General Assembly, Reaffirming the Southern Mongolians' right to self-determination, and right to control, own and manage their ancestral lands and territories and other natural resources; Recalling China's vote in support of the United Nations Declaration on the Rights of Indigenous Peoples (UNDRIP) and other relevant international human rights conventions; Expressing concerns on China's hostile and discriminatory policies toward the Mongolian pastoralist way of life, culture, language, tradition and national identity; Condemning China's state-sponsored violence against Southern Mongolian herders, activists and their family members, as well as the total destruction of Southern Mongolia grassland ecosystem through state-sponsored extractive industries and intensive farming; Noting that: Thousands of Chinese mining companies including state-run Chang Qing, Shen Hua, Da Tang and private miners occupied local herders' grazing lands, dumped the hazardous industrial and chemical wastes on the grassland without any treatments; Once beautiful Mongolian grasslands are turned ....

<details>...

SMHRIC Statement at UNPO-TGP Conference at Scottish Parliament



... Distinguished members of the Scottish Parliament, members of UNPO, ladies and gentlemen, Good afternoon! My name is Enghebatu Togochog. I am the Director of the Southern Mongolian Human Rights Information Center (SMHRIC), a New York based advocacy group dedicated to promoting and protecting the rights of the Mongolian people in the Chinese occupied Southern Mongolia, or known as "Inner Mongolia". As the People's Republic of China was established in 1949, Southern Mongolia was officially annexed to China and became China's first so-called "Autonomous Region". Since then, the Chinese Communist Government's policies of ethnic-cleansings, political witch-hunts, large scale population transfers, and forced cultural assimilation have devastated the social and cultural fabric of Southern Mongolia. In addition, it has led to a near total destruction of the natural environment in Southern Mongolia. As a result of waves of Chinese migration, today, the Mongolians constitute only 18% of the total population on their own land; the natural grasslands where the Mongolians maintained their nomadic ....

<details>...