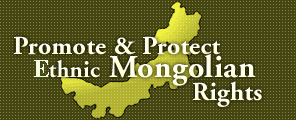 To gather and distribute information concerning Southern (Inner) Mongolian human rights situation and general human rights issues;

To promote and protect ethnic Mongolians' all kind of rights such as basic human rights, indigenous rights, minority rights, civil rights, and political rights in Southern Mongolia;

To encourage human rights and democracy grassroots movements in Southern Mongolia;

To promote human rights and democracy education in Southern Mongolia;

To improve the international community's understanding of deteriorating human rights situations, worsening ethnic, cultural and environmental problems in Southern Mongolia;

Ultimately, to establish a democratic political system in Southern Mongolia.


China arrests Mongolian historian




... Lhamjab is one of several ethnic Mongolian authors arrested recently in Inner Mongolia. Tensions in the region have increased as state-backed mining and forestry companies have come into conflict with local herders over land rights, Radio Free Asia reports. Mongolians who live overseas accuse the Chinese government of "human rights violations, systematic and institutionalized discrimination against ethnic Mongolians within China's borders, as well as longstanding policies aimed at ending their traditional, nomadic way of life," according to Radio Free Asia. The charge parallels the situation in Xinjiang, where Beijing promotes Chinese nationalism and systematically represses the ethnic identities, culture and religious practices of Uighurs, ethnic Kazakhs and Kyrgyz, and other Muslims. "The Chinese government's actions are intended to ensure that distinct ethnic and religious peoples are brutally and forcefully controlled," U.S. Ambassador for International Religious Freedom Sam Brownback told a June 6 conference on China's oppression of ethnic and religious minorities. As for Lhamjab, literature and human rights organization PEN America calls his arrest "a continued attack on freedom ....

<details>...

Enghebatu speaks at the Hong Kong rally in New York




... On behalf of the Southern Mongolian community in exile, I am honored to be here today to stand in solidarity with our friends of Hong Kong to show our support to the people of Hong Kong to protest the proposed China Extradition bill. As the world's largest authoritarian regime, not only did the Chinese Government carry out a series of genocide, ethnic cleansing, political oppression, economical exploitation and environmental destruction in the occupied nations of Southern Mongolia, Tibet and East Turkistan, but also it is stretching its long arm to democratic Hong Kong and de facto independent Taiwan. Despite China's suppression of freedoms in Hong Kong, particularly the rights to free expression, association and political participation, we see hope and optimism. We see a new umbrella movement is unfolding. A half million citizens of Hong Kong took to the streets today, protesting the China Extradition Bill. The Hong Kong authorities must reconsider this bill, must stop violating the rights of their citizens. What does this telling us is that people power is much superior than government power. As Desmond Tutu said, "once a people or nation makes up their mind to free themselves, no force ....

<details>...

Two more WeChat group administrators detained




... As Ms. Bu Xiaolin, chairman of the Inner Mongolia Autonomous Region, visited the northern border of Urad Middle Banner on April 22, 2019, more than a hundred local herders gathered in front of the local government to demand a meeting with her. A dozen were arrested, and two protestors who maintained multiple WeChat discussion groups were placed under a 14-day administrative detention. According to communications received by the Southern Mongolian Human Rights Information Center (SMHRIC), the local authorities have not taken any effective measures to protect the natural environment and have failed to provide adequate compensation to affected communities. Among the protestors were Ms. Bai Xiurong and Mr. Altanbagan, two Mongolian herders who maintained and hosted a number of discussion groups via their only available social media tool, WeChat. Both were thrown into the SWAT team vehicles, along with about ten other protestors. "Bai Xiurong's sister was summoned to the Public Security Bureau personnel yesterday. She was forced to surrender Bai Xiurong's phone," local herder Tsetseg told the SMHRIC in an audio message. "The Public Security Bureau accessed her ....

<details>...

Activist placed under criminal detention for "picking quarrels and provoking troubles"




... Mr. Tsogjil, a Mongolian activist who hosted multiple WeChat discussion groups, was arrested in Hohhot, capital city of Southern Mongolia (known as "Inner Mongolia"), on April 16, 2019. He was preparing to file an official complaint to the Autonomous Government concerning the authorities' violation of rights of Mongolian herders. That same day, Tsogjil was brought back to his homeplace of Heshigten Banner and placed under criminal detention on a charge of "involvement in crime of picking quarrels and provoking troubles." "Around 8:00 p.m., Tsogjil was taken away by five plainclothes from a taxi he hired upon his arrival at a hotel in Hohhot where he was to stay," Ms. Narnaa, a local herder familiar with the case, told the Southern Mongolian Human Rights Information Center (SMHRIC) on the phone. "In order not to put fellow herders at risk of arrest and detention, Tsogjil traveled alone to Hohhot with a great deal of first-hand materials about environmental destruction and rights violations in our communities near the Dalainuur National Nature Reserve areas," Narnaa added. The detention warrant issued by the Heshigten Banner Public Security Bureau explains that "Tsogjil has been ....

<details>...