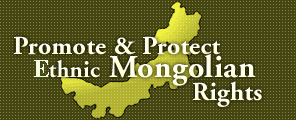 To gather and distribute information concerning Southern (Inner) Mongolian human rights situation and general human rights issues;

To promote and protect ethnic Mongolians' all kind of rights such as basic human rights, indigenous rights, minority rights, civil rights, and political rights in Southern Mongolia;

To encourage human rights and democracy grassroots movements in Southern Mongolia;

To promote human rights and democracy education in Southern Mongolia;

To improve the international community's understanding of deteriorating human rights situations, worsening ethnic, cultural and environmental problems in Southern Mongolia;

Ultimately, to establish a democratic political system in Southern Mongolia.


Herders protest land grab, six arrested




... On May 13, 2021, six herders from the Tevseg Township of eastern Southern Mongolia's Horchin Right Wing Front Banner were arrested for protesting a land grab by Chinese peasants and local authorities. The arrested herders have been identified as Ms. Tsetsenchimeg, Mr. Tumurbagan, Mr. Davharbayar, Mr. Juramt, Mr. Hongjin, and Mr. Hurtsaa. According to other herders from the local community, the six were taken away from their homes on the evening of May 13 by the local Public Security authorities. The whereabouts of the detainees remain unknown. Their relatives have been denied the right to visit and communicate with the detainees. "Tsetsemchimeg is my sister," Mr. Baljiinyam Bayaguud, an exiled dissident who currently lives in the independent country of Mongolia, told the Southern Mongolian Human Rights Information Center (SMHIRC). "Before I escaped the persecution to leave Southern Mongolia, I was also one of the organizers of this protest that started five years ago." Mr. Bayaguud told the SMHIRC that in 2016, the local authorities of Tevseg Township and Araliin-Ehi Gachaa (an administration unit comprised of several villages) arbitrarily seized a large swathe of traditional grazing land used by ....

<details>...

China's cultural genocide is in full swing in Southern Mongolia




... Following the crackdown on region-wide protests sparked by the Chinese Central Government's aggressive policy of wiping out Mongolian-language education, China's cultural genocide campaign is in full swing in Southern (Inner) Mongolia. The scope of the campaign has extended far beyond converting the medium of instruction from Mongolian to Chinese. Beginning January 1, 2021, government mouthpieces, including the Inner Mongolia Radio and Television Station, has been ordered to replace Mongolian content with Chinese cultural programs in order to promote a "strong sense of Chinese nationality common identity." One of the campaign's official slogans, "Learn Chinese and become a civilized person," has been used to publicly promote Chinese supremacy over the Mongolian language, culture and identity. As a case in point, Chinese authorities hand-picked a Mongolian elementary-school student to host a campus broadcast aired by the Inner Mongolia TV Station. He begins his program with this admonishment: "I urge you to speak Chinese, write Chinese and become a civilized person." The TV program goes on to urge the Mongolians that "Chinese is the common language to inculcate a strong sense of Chinese nationality common ....

<details>...

SMHRIC representative Dulaan Borjigin's speech at the Tibetan Uprising Day rally




... Good afternoon, Sain baitsagaanuu? Dashi Delek! My name is Dulaan Borjigin. I am representing the Southern Mongolian Human Rights Information Center. My colleague Enkhbat is unable to attend this protest due to some urgent matter and asked me to deliver his message. It is my great honor be here today to stand in solidarity with our Tibetan friends to mark the 62 nd anniversary of Tibetan National Uprising. 72 years ago, in 1949, the Chinese Communist Party took over China proper. Soon after, our nations were invaded by China and turned to the so-called "Nationality Minority Autonomous Region". Our peoples have quickly been reduced to "national minorities" on our own lands. Seven decades have past. Today, we Southern Mongolians, Tibetans and Uyghurs are still suffering under the Chinese regime. Crime against humanity is committed by the Chinese Government on a daily basis in front of the eyes of international community and the democratic world. In Southern Mongolia, China is now carrying out a cultural genocide to wipe out our language completely. The same is happening in Tibet and East Turkistan as well. Despite these brutal occupations and bloody repressions, we Tibetans, Uyghur and Southern ....

<details>...

Southern Mongolia: UNPO, SMHRIC File Letter of Allegation with the UN Special Procedures




... On 5 February 2021, the Unrepresented Nations and Peoples Organization, together with its member the Southern Mongolia Human Rights Information Center, filed a letter of allegation with the United Nations Special Procedures regarding the People's Republic of China's (PRC) moves to remove Mongolian language as a primary language of instruction in schools in the so-called, "Inner Mongolia Autonomous Region." For many years, the ethnic Mongolian population have suffered from repeated efforts to eradicate their culture and identity, including population transfers, central government erosion of autonomy and minority rights guaranteed under the Constitution and laws of the PRC, and efforts to undermine the use of Mongolian language in employment and regular life. A new policy enacted in August 2020, forcibly implemented amid significant repression of the Mongolian population, effectively eradicated the use of Mongolian lanuguage as a primary medium of education, relegating it to little more than a second language of instruction, even in supposedly Mongolian-language school. The letter of allegation, asks the UN Special Procedures to investigate and ultimately condemn this dangerous new policy ....

<details>...