A Complaint By Bayan-Khan Township's Zuun Khar Mod Gachaa and Khoroochin Gachaa's Herders in Bagarin Rights Banner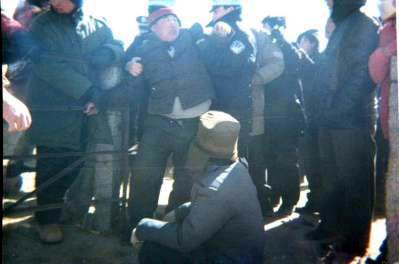 Many ethnic Mongolian herders were beaten up and arrested
by the police during the displacement in eastern
Inner Mongolia's Bagarin Right Banner.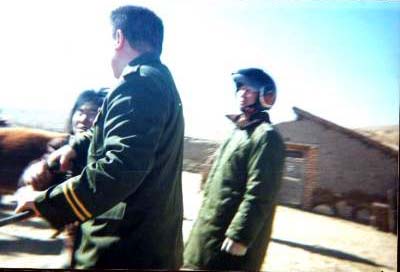 Mongolian herders who resisted the coerced displacement have
been treated brutally by the police in Inner Mongolia.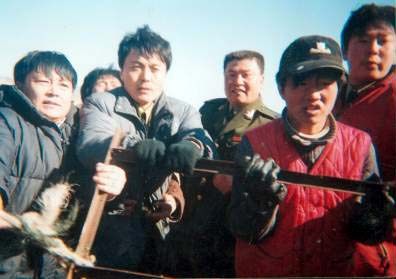 Infrastructure for livestock husbandry has been dismantled by the
police if the ethnic Mongolian herders did not want to give up
their traditional nomadic lifestyle.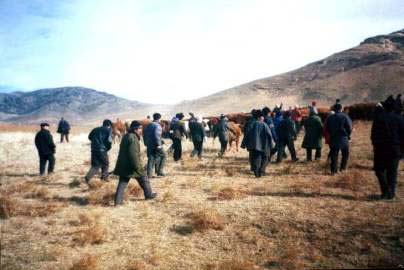 During the forced relocations, the authorities have confiscated ethnic
Mongolian herders' livestock and other property in the pretext
of "recovering the grassland eco-system".
Comment: A scholar pointed out that northern China's sandstorms are retribution from the elimination of ethnic Mongolian traditional nomadic life-style. Since the 90's, a series of related laws and policies have been adopted by the country as a result of the recognition of the importance of environmental protection and ecological development. However, during the implementation process of the laws and policies, many unscientific and impractical propositions violating the laws of nature, such as "raising livestock in a pen", "sealing hills and pasture" and "extinguish the 'chief culprit' of grassland destruction --goats" etc, have been pursued but predictably have led to disastrous results. The situation referenced in this complaint is not the only such case in the region. It is happening everywhere in Inner Mongolia and herders are appealing to higher authorities for help. We hope the authorities and experts will pay close attention to it.
In May 2001, the People's Government of Bagarin Right Banner issued Document No.64. The main objective of the document was to prohibit local herders from livestock-grazing in an area of nearly 40,000 hectares grassland near the Daban-Bagarin Bridge Traffic Way effective June 1, 2001 and to forcibly move the local herders from the area in a very short period of time. The authorities not only ordered fines of 100 Yuan for each horse or cow, 20—50 Yuan for each sheep or goat but also organized a 35 member group called the "Grassland Administration Station" comprised of policemen and governmental cadres who have brutally treated local herders. This has aroused the local herders' anger and increased tensions between herders and the government. This is an appeal to the higher authorities by more than 200 herders from Khar-Mod Gachaa and Khoroochin Gachaa whose entire populations have become the targets of the forced eviction:
1. This arbitrary deprivation of local herders' rights to owning their pasture land and the forced evictions have violated the State Grassland Act, Villagers' Committee Organizational Act, Land Management Act and the Land Contractual Management Act which clearly stipulated that land management rights will not be changed for 30-50 years.
2. The Banner Government's decision to create a "Livestock Prohibition Area" is not only unscientific and impractical but also illegal. The area is our native land where we have lived for generations. Since the Cooperative Economy and the People's Commune era, during 1997's land management reform, in accordance with the "Grassland Contractual Management Certificate Act" and the "Grassland Use Certificate Act", we have invested large amounts of capital and labor into protecting our grassland's ecosystem. As a result, the Gachaas' average personal income has reached the Banner's average personal income. For example, Mr. Altanochir, a herder from Horoochin Gachaa, along with six others, has developed the "Two Complete Contractual Management Based Grassland Infrastructure Development Project" which has been highly praised by all levels of government and the agricultural-husbandry authorities. All these painstaking efforts directed towards local environmental development and pasture land contractual use have been ignored by the government's so-called "Prohibition On Livestock-Grazing". Now, our government is forcing us to leave our homeland. The government and its bureaucracy must have some other purpose in mind. We know some of our government officials have carried out the duties of their office in name only and consequently, a nearly 1 million Yuan financial deficit has been created from making a series of so-called "Learning From Others" international and domestic trips. We believe that the "Prohibition On Livestock-Grazing" is just a pretext for some other purpose. This is undisguised plundering!
3. Setting up "Livestock-Grazing Prohibition Areas" does not make any sense. It has not only left the usable land unused but also increased the density of both herders and livestock population in the new area where the herders have been resettled to. Therefore, this has made the grassland more unbalanced.
4. The Banner government has seriously violated herders' rights during the implementation:
A), Repairing roads is of course a good thing. However, during the process of road repairs, the government did not requisition the land from the local people. Second, the grasslands suffered damage from improper water drainage and no compensation was provided for this damage. Third, a so-called " Traffic Way Protection Area" was arbitrarily set up expropriating a large area of contracted land 600 meters wide from both sides of the highway.
B), This immigration policy is not consistent with the law. Ignoring local herders' investments in environmental protection infrastructure, the government has arbitrarily ordered that every family must be allocated a two-room brick house with a livestock fence by paying 5,000 Yuans. We cannot accept this kind of unjust emigration policy. For example, Zuun Khar-Mod Gachaa, one of the victims of this policy, has 101 households, a population of 422 and more than 10,000 livestock. There were 6 large well-preserved grasslands whose total area is 80,000 Mu, 78 small well-preserved grasslands, 88 green houses, 13 wells, 20,000 Mu desert-controlling greenbelt and a Gachaa-established elementary school in our 126,000 Mu land. We have invested 9,4 million Yuans for this infrastructure. However, under the higher authority's policy, since the first relocation of 33 households with 86 individuals, the relocated herders have not been given any economic assistance. In their new location, because of increasing huge expenses, all of the herders have been led to total bankruptcy. They are complaining about the government's brutal treatment and hoping to return to their homeland.
C), The forced relocation has brought the local herders enormous economic losses. In order to move by a very close deadline, we had to break down our infrastructures and sell our livestock at very low prices. Because of the shortage of facilities and other infrastructure, it is extremely hard to make a living in the new place.
5. The Banner Government has seriously violated local herders' basic civil rights. Since the establishment of the "Grassland Administration Station", livestock have been brutally treated and driven away, herders have been threatened and fined. On one occasion, the government used as many as ten or so police cars, 20-some police motorcycles and nearly a hundred policemen and security persons to fight with bare-handed herders. Livestock have been driven away more than 30 times, 41 livestock have been plundered, 4 people have been beaten up and seriously injured, 2 old herders had fallen into a coma when the policemen intruded into their place to plunder their livestock. Not only the herders' normal daily life have been seriously interfered with but also they have been arbitrarily fined 4,000 Yuan. This has brought the herders serious economic and mental stress. We urge the Banner Government to revoke Document No.64 and lift the "Prohibition On Livestock-Grazing" to let us live in our native land. We have enough confidence and knowledge to build up our homeland by our own means. We hope the related authorities and government officials will give full consideration to our appeal.
Herdsman Hugjiltu from Zuun Khar-Mod Gachaa
Herdsman Altanochir from Khoroochin Gachaa and others
March 15, 2002