Chinese Region Felled by Nature's Blows
By ERIK ECKHOLM
<![if !vml]>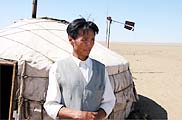 <![endif]>
Erik Eckholm/The New York Times
Maglia and his family are spending
their days at a temporary site after
the government fenced off their
ruined pastures to try to restore them.
<![if !vml]>

<![endif]>BAYINDELIGAR, China, It doesn't quite match the 10 plagues of ancient Egypt, the pastures here have not been overrun by frogs or fleas, at least not yet.
But after three years of calamities including drought, an earthquake, a killer blizzard, a plague of locusts that ate the grasslands clean and a flurry of blinding dust storms, the sheep and cattle herders of Inner Mongolia are bewildered, and they look to the coming winter with dread.
"I don't understand what's happening," said Jibutsima, 78, an ethnic Mongolian woman who, like hundreds of thousands of others in this part of northern China, sees her life falling apart.
While a reckless surge in herd sizes during a decade of good weather and booming demand for meat weakened the region's pastures, the immediate crisis was set off by an extraordinary sequence of natural disasters. Local officials worry that their region is an early victim of global warming, brought on by rising concentrations of carbon dioxide and other "greenhouse" gasses.
"I think these disasters are linked to global climate change," said Yang Wenyi, deputy chief of meteorology for Xilingol Prefecture, the large central region of Inner Mongolia that is one of the most severely hit.
The case for a human-induced change in the weather cannot be proved, but the strange patterns here in recent years are consistent with scientific models of global warming, international experts say. If the greenhouse theory is correct, then the woes of Inner Mongolian herders give a taste of vaster social and environmental stresses to come.
Generations of Ms. Jibutsima's family have tended livestock on these same prairies. They were nomads until the early 1980's, when they settled within the thousand acres of range land they were allocated, like many other local families, by the government. In the 1990's, with the demand for mutton soaring and the rains good, she and her sons saved enough to buy a motorbike for herding and even a cheap truck for the three-hour drive through rutted pastures to the nearest market.
But now the truck sits broken, and with the pastures barren and no hay in store for the frigid months ahead, the family plans to sell off most of its animals in a desperate effort to try to save breeding stock ?and their future.
"Can it be that nature is changing?" said Ms. Jibutsima, who, like many Mongolians, uses a single name. "Maybe the heavens are disturbed," she added, pointing to the barren hills that should be deep green now and ripe for cutting hay,
The troubles started in the summer of 1999, when the always-meager rains nearly disappeared and an earthquake destroyed many homes. In 2000, the rains failed again.
By last fall the grasses were spotty at best and the livestock thinner than usual as the herders faced what is always their hardest period, the winter. Many families went deep into debt buying hay from other regions.
Then came the blizzard. For 72 hours, a savage mix of snow and fine sand howled through the air, blowing so thickly that a veteran herdsman got lost and perished walking right outside his home.
Many animals froze and in the weeks that followed many more starved to death. Hopes of relief sprouted briefly in May, when a rainstorm brought the pastures to life.
The locusts followed, frenzied hordes that ate most of the emerging grass. Little rain has fallen in the ensuing months, the summer was hotter than normal and more than 20 colossal dust storms have blown away much of the topsoil.
For a brief time after the blizzard, the travails of Inner Mongolia attracted outside attention, and food aid from international donors has helped tens of thousands of stricken families to avoid hunger. Still, officials say there may be a chronic food shortage in the future.
Ethnic Mongolians account for a good share of the herders in this central pastoral region, although decades of migration into Inner Mongolia by Han Chinese, the country's dominant group, has left the Mongolians a small minority in the province over all.
In the current drought, the responses of ethnic Mongolian and Han Chinese herders have tended to differ, said Zaorgetubater, the deputy chief of the county-level government in Abaga Banner. "The Mongol attitude is that you keep some animals until you have nothing left, because if you lose your livestock you lose your way of life," he said. "I think for many Han it's more just an economic calculation."
Ms. Jibutsima, for one, is fearful and sad. A few years ago, the family had 200 sheep and 100 cows. They are down to 100 sheep and 20 cows, and now most of these must be sold to buy hay for the remainder.
Hundreds of families have already lost everything. Magjia, 50, his wife Alatanqige, 43, and their three children are spending bored days at a temporary site around their ger, the traditional felt tent. They sold off the last of their sheep and goats, and the government fenced off their ruined pastures, one of many such areas that are now under protection to help the grasses return.
Theirs is one of 100 displaced families that are scheduled to move into a resettlement area on the outskirts of Xilinhot, the regional capital. With World Bank aid, the government is building 100 brick houses with cattle pens. Once Mr. Magjia scrapes together $480 through odd jobs, he plans to buy three cows and start a small dairy business.
Mr. Magjia tried to put the best face on his family's altered state. "We'll get by because I'm a jack of all trades," he said. "I can slaughter sheep. I'm a good singer, or I could even be a tourist guide."