SMHRIC
December 10, 2005
New York
---- To mark 10th anniversary of the imprisonment of Mr. Hada, Southern Mongolian organizations in exile including the Inner Mongolian People's Party's European branches and Southern Mongolian Human Rights Information Center's Netherlands' Brach held demonstrations on International Human Rights Day. The following is a joint statement by these organizations: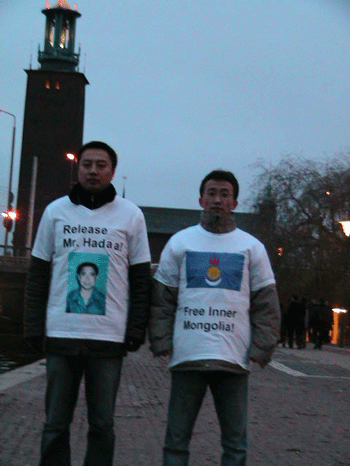 10 years ago today, when nations that respect human rights and human dignity celebrated the International Human Rights Day, the Chinese authorities cracked down on the Southern Mongolian Democratic Alliance (SMDA) and arrested its leader Mr. Hada under the allegations of "attempting to overthrow the government" and "engaging in separatism" in Southern Mongolia or the so-called Inner Mongolia Autonomous Region. After a year-long detention, Mr. Hada was sentenced to 15 years in jail in 1996 under the alleged crimes of "engaging in espionage and separatism". 10 years are over, and Hada is still suffering cruel torture and inhumane treatment at the Inner Mongolia No.4 Jail in Chifeng City.
Created and run by ethnic Mongolian intellectuals, the Southern Mongolian Democratic Alliance was an underground political organization dedicated to strive for freedom, human rights, and democracy of the Mongols in Southern Mongolia as well as to work to end the Chinese colonial regime in the region. The Mongols of Southern Mongolia have been deprived of not only their political and economic rights but also the basic human rights and fundamental freedom since the Chinese occupation in 1947.
Today, Mongols who try to express their opinions, promote and preserve their culture and tradition are subject to harsh punishment by the authorities. Peaceful organizations and activities were harshly suppressed by the authorities for merely attempting to preserve Mongolian culture. Organizations demanding rights of real autonomy that are guaranteed by the Chinese Constitution have been strictly suppressed. Any assembly by the Mongols, no matter what its purpose and nature, is tightly controlled and subject to being labeled an "illegal gathering" by the authorities.
We are here today to ask for your support on our campaign for the release of Mr. Hada as well as to inform you of what is happening in Southern Mongolia. We highly appreciate your attention and support. For more information, please visit our website at: www.smhric.org
Thank you,
Inner Mongolian People's Party's European Branches
Southern Mongolian Human Rights Information Center's Netherlands Branch