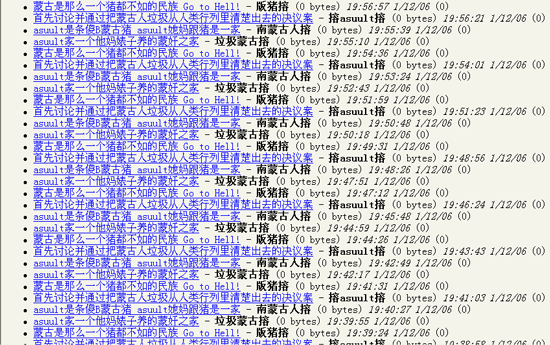 Recently, a popular Southern (Inner) Mongolian interest website, the Mongolian Culture Saloon (http://southernmongolia.hypermart.net/forum/mainpage.pl), has been subjected to continuous attacks by hackers using camouflaged IP addresses. This trilingual (Mongolian, Japanese, Chinese) internet discussion forum operated by expatriate Southern Mongolian students has been flooded with thousands of copies of junk messages containing mostly offensive and insulting contents targeting those who expressed radical views opposing China's continuing colonial rule and ever increasing political, economic and cultural exploitation of Southern Mongolia.
According to one of its former administrators, the website, whose original name was "Southern Mongolian Forum", was created in July 2000 as a platform for exchanging views and ideas concerning Southern Mongolian issues and to "promote Mongolian traditional culture, democratic ideas, and market economy for the Mongols of Southern Mongolia". The administrator also recalled that although in order to be "neutral" the forum had "kept a certain distance from political organizations", many Chinese posters like Bobbob and Nan Xiangzi aggressively attacked the Southern Mongolians and Mongolia in general from the point of view of "extreme Chinese chauvinism" during early 2002. This not only sparked a heated debate between Chinese and Mongols from both within and without China over Southern Mongolian issues but also triggered the otherwise relatively silent Mongols to express their anger and resentment against this too familiar and long-tolerated oppressive and discriminatory ideas. As a result of the increasing political content or what the Chinese authorities called "sensitive" discussions, the website was blocked by the Chinese internet surveillance system in August 2002. Subsequently, the Chinese authorities have had no comment on the exact reason for blocking the site.
After a relatively peaceful period following the 2002 block, in March 2005, the website was restarted in Japan by experienced web administrators led by a Southern Mongol nicknamed BARA and renamed as "Mongolian Culture Saloon" (or "Meng Gu Wen Hua Sha Long" in Chinese). Mongolian and Japanese versions were added to the forum to attract a broader range of visitors. Unlike its predecessor, the Mongolian Culture Saloon not only lifted the self imposed restriction of "keeping a certain distance from political organizations" but also listed political and human rights organizations in exile including the Inner Mongolian People's Party, the Southern Mongolian Human Rights Information Center, and Tibetan and Uyghur organizations into its links.
Many believe the forum was targeted by hackers backed by Chinese authorities who initially probably saw the forum as a window through which they could monitor Southern Mongolians' thoughts and actions. However, the forum has now been under a series of intensive attacks since the emergence of radical Southern Mongolian nationalist posters with nicknames like "asuult" and "southern Mongolian" who strongly call on to the Southern Mongolians to regain their national independence by starting from the elimination of all aspects of Chinese influence from Southern Mongolia.
Using various aliases, hackers not only successfully camouflaged their IP addresses through proxy servers world wide but also skillfully hijacked password protected user names of forum members to post thousands of copies of offensive messages. According to the lead web administrator BARA, the forum has been flooded with daily junk messages since 2004. This has not only caused tremendous inconvenience to the readers but has also imposed an enormous burden to the forum administrators who must manually delete at least 30,000 junk messages daily. Given the amount of work required for this purpose, BARA calculated that this kind of hacking must have been carried out not by one individual but by a team of highly professional full time hackers.
At the suggestion of forum members, the SMHRIC is considering filing a complaint to the Internet Crime Complaint Center (IC3) which is a partnership between the Federal Bureau of Investigation (FBI) and the National White Collar Crime Center (NW3C).