SMHRIC
March 3, 2006
Tokyo, Japan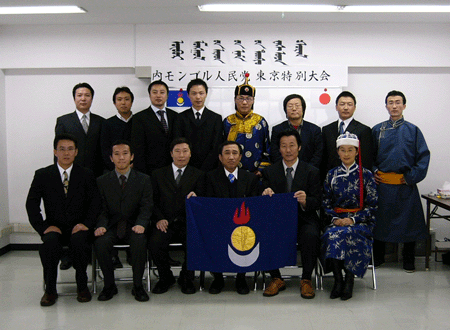 With the goal of fighting for freedom, independence and human rights for the Southern (Inner) Mongols, the Inner Mongolian People's Party (IMPP) held a special meeting in Tokyo, Japan from February 25 to 26, 2006.
Members came from Mongolia, Sweden, Germany, Norway, United States, and Japan to amend the organization's by-laws and set-up additional branches.
"A significant difference between this meeting and previous ones is that this meeting was held in Japan, home to the largest Southern Mongolian community outside Southern Mongolia," E. Khuvisgalt, one of the organizers of the meeting, said to the SMHRIC. "The IMPP will now shift its focus to Japan for future work."
To resist the Chinese Government's ever worsening colonial policy, Southern Mongols have relentlessly continued their anti-Chinese movements in various ways including underground groups that are still active in Southern Mongolia. The IMPP is one such organization and is named after the "Inner Mongolian People's Revolutionary Party," a Southern Mongolian political party created in the early 20th century that ceased to exist when the Chinese Communist Party took control of the region in 1947. During the Cultural Revolution, Chinese authorities carried out a massacre against Southern Mongols under the pretext of "uncovering and cleaning up" the underground activities of the "New Inner Mongolian People's Revolutionary Party" - a party that did not exist in Southern Mongolia at that time.
During the special Meeting, Mr. Temtsilt Shovtsood, who lives in Germany as a political refugee, was re-elected as the president of the IMPP. In addition, the "Tokyo Declaration" was adopted and published in Mongolian, Chinese and Japanese languages. The Declaration states that the Southern Mongolians, like all other people around the world, shall have the right to determine their political status including self-governance and political independence. The IMPP is committed to bringing about this aspiration through peaceful means. The declaration also notes that a government in exile will be established when conditions mature.