SMHRIC
March 6, 2006
Kyoto, Japan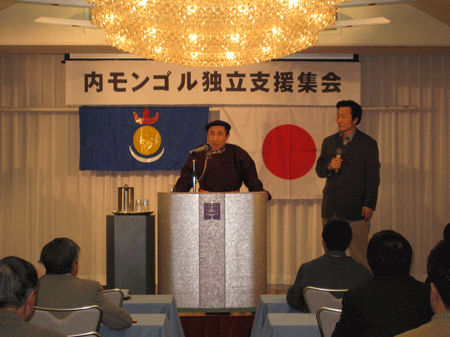 Under the sponsorship of Mr. Tonooka and the co-sponsorship of Shimpu Party, long-time supporters of the freedom and independence of Southern Mongolia, Tibet and East Turkistan, a "Support the Independence of Southern Mongolia" Meeting was held on March 4, at the Garden Palace Hotel in Japan's ancient capital Kyoto City.
According to the press release posted on the Shimpu Party website, after welcoming messages by the organizers and brief introductions by members of the Inner Mongolian People's Party, the president and the executive director of the Party's Japanese branch were invited to speak about the previous day's closed-door meeting that decided to move the Party's headquarters from the United States to Japan as well as organizational plans for continuing the independence movement.
At the meeting, S. Shinjilt, representative of the IMPP European Branch, pointed out that the Southern Mongols were guaranteed by the Chinese Communist Government's National Constitution to enjoy "high autonomy" and allowed to keep their congress, military and national flag when the Autonomous Region was established in 1947. However, today, Shinjilt said, the Southern Mongols are left with autonomy in name only and the Autonomous Region receives fewer benefits from the Central Government than any province or municipality in all of China.
Participants from Japan included Ms. Sato Nagiko, honorary consul of East Turkistan Government in Exile, Mr. Okamura Akihito, member of Yishin Seitou - Shimpu Party, and Mr. Morishita Toshio from Kanazawa Province. During the question-and-answer session, not only IMPP members were asked about the present situation of Southern Mongolia and current status of the independence movement in different countries but also the IMPP president himself was asked to comment on "Gen-kou", a Japanese term referring to the Mongol invaders sent by Khubilai Khan who attempted twice but failed to put Japan under the Mongol rule.