SMHRIC
November 25, 2006
New York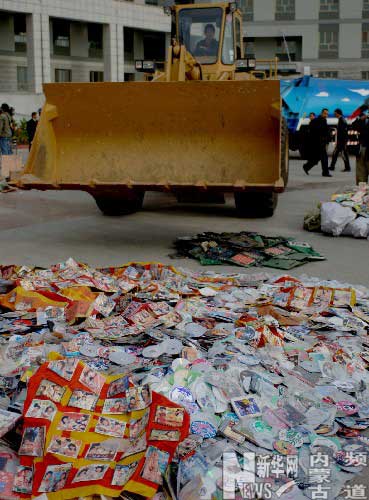 On August 2, 2006, the government of Inner Mongolia Autonomous Region (IMAR) started a region-wide "Hundred Day Anti-Piracy Campaign" whose prime targets were Mongolian bookstores and souvenir shops. During the month of November alone in Huhhot city, the regional capital, at least ten Mongolian bookstores and souvenir shops were raided by personnel from the Huhhot City Cultural Market Management Office for allegedly "selling pirated cultural products". Tens of thousands of Mongolian language books, CDs, cassettes and souvenirs were confiscated and large fines ranging from 3,000 to 8,000 yuan ( 480-1,000 USD) issued to their owners. Many of the confiscated Mongolian books carried ISBNs (International Standard Book Number) obtained from the Hong Kong Tian Ma Publishing Ltd (香港天马图书有限公司) company. Even Mongolian dictionaries published by the official agency "People's Publishing House" were confiscated for purposes of "content checking".
On November 14, 2006, China's official press Xinhua News reported that beginning November1, the "Hundred Day Anti-Piracy Movement" had entered a new phase, a "Special Campaign" launched by the IMAR Cultural Management Office and law enforcement forces to strike hard against "illegal publication, illegal sale and piracy of audio-video products and books from the country of Mongolia". The report praised the campaign for having successfully cracked down on a "black spot of pirating and selling cultural products from the country of Mongolia", referring to the Mongolian stores at the regional capital Huhhot, and confiscating "more than 8,000 boxes of Mongolian language audio-video products and more than 2,000 books since November 1".
To further investigate the case, the Southern Mongolian Human Rights Information Center (SMHRIC) interviewed the owners and contact persons of six bookstores and souvenir shops which were raided during the "Special Campaign" in Huhhot City. Additional details from our interviews are given in the appendix.
According to the bookstore owners, this campaign was specifically targeting Mongolian stores while overlooking neighboring Chinese businesses where one can buy pirated versions of the newest Hollywood movies or the latest version of Microsoft Windows at prices as cheap as 5 yuan (0.62 US Dollar) .
"What is most outrageous and unfair is the discriminatory nature of the campaign," stated Mr. Almas, contact person of No.1 Audio-video Shop, especially in view of the fact that the neighboring Chinese stores are "full of pirated goods".
When asked what genres of books and what types of products have been subjected to confiscation, Mr. Erden, owner of "Dream Sky Audio-video Ltd", said:
"The answer is very simple: almost anything with Mongolian letters. Because they [Chinese officials] can't read a single Mongolian letter and they don't even bother to pick up a single word from what they call the 'bird language'. The top priority on their most-wanted list was Mongolian books published with ISBNs from Hong Kong Tian Ma Publishing Ltd."
The interviewees told us that Tian Ma Publishing Ltd in Hong Kong is the only publishing agency offering low price ISBNs (around 400 yuan). Few private Mongol authors or publishers neither can afford to buy the so-called "valid ISBNs" or "official ISBNs" that can cost as much as 2,000 yuan nor can they obtain official approval from the government even if they go through the official process. Recently, an increasing number of Mongolian intellectuals and students who wish to share their thoughts and opinions with others have sought out publishers with ISBNs from Tian Ma. The authorities immediately realized that this trend will not only bankrupt the already unpopular official publishing houses, but also provide Mongols with an opportunity to more easily exchange political views. Many books published through Tian Ma like the "Dream-like Life", a memoir by the prominent Southern Mongolian dissident Muunohai, were confiscated by the authorities recently. Since confiscation itself doesn't guarantee that new publications will cease, the authorities decided to take a tougher measure: that is to categorize the ISBNs obtained from Tian Ma Publishing Ltd as "illegal" or "invalid" ISBNs.
Another recent trend being carefully watched by the Chinese authorities is the increasingly closer cultural contact and information flow between Southern Mongolia and the country of Mongolia (or Northern Mongolia). This has provoked government fears of "separatism" and "two Mongolian unification". One government policy arising from these fears has been to block distribution of all types of publications from Mongolia in Southern Mongolia.
"Nothing from the country of Mongolia is allowed to be published here in Southern Mongolia, and no official ISBN is given to anything from Mongolia even if you are willing to pay the high cost," according to Mr. Erden of "Two Little Horses Gift Shop". He admitted that under the circumstances, some cultural products from the country of Mongolia is being copied and distributed in Southern Mongolia without official approval from the Chinese authorities. "But we have no choice. Songs and books from Mongolia are too popular in Southern Mongolia, and the 4.5 million Southern Mongolians' desire to enjoy their own culture simply cannot be ignored."
"From the view of cultural exchange between the two countries, it is unfair for the country of Mongolia as well," stated Mr. Erden of "Dream Sky Audio-video Ltd" "because China, on the one hand, is trying to extend its influence in Mongolia through all possible means. For example, the IMAR's official Mongolian TV is available through satellite in every corner of Mongolia to tell Mongolian citizens how the Southern Mongolians are enjoying a better life; books from Chinese textbooks to the Analects of Confucius are freely published and distributed in Mongolia; The School of Confucian Ideals was set up in Ulaanbaatar to teach Mongolians how to act like obedient Chinese citizens. While china is exploiting its propaganda access to Mongolia, it is not allowing distribution of anything from Mongolia into Southern Mongolia."
The interviewees agreed that the campaign is just an excuse for the government to further suppress Mongolian culture. Since 2003, the IMAR Government has adopted a new policy called the "Strategic Policy for Developing the Autonomous Region as the Nationality Cultural Greater Zone" whose main goal is to exploit Mongolian culture in ways which would help speed up the region's economic growth. Cultural activities not consistent with the economic goals of the "Strategic Policy" are completely prohibited. The interviewees criticized what the government is doing as totally inconsistent with government claims promoting an image of cultural respect and tolerance for the Mongols.
"If you look at the policy on paper, it sounds not bad. But the reality is totally different," Mr. Narantogtokh, a well-known comedy actor in the region and the owner of "Eternal Fire Bookstore", said to the Center over the phone, "there had been at least five publishing houses authorized by the government to publish Mongolian books until two years ago when they were reduced to only one as the Nationality Cultural Great Zone Development Project was launched."
"Everything in the Mongolian language is subject to censorship in Southern Mongolia, and a different standard is applied as compared to Chinese. Some issues regarding Mongols can be discussed on Chinese TV channels, but the same issues can not be reported on Mongolian channels because they are considered an 'ethnic problem' (min zu wen ti). Recently, a Chinese restaurant in Huhhot City fired its Mongolian employee for speaking in Mongolian at work. This case was briefly reported on the Chinese channel of Inner Mongolia TV, but not allowed to be reported by the Mongolian channel of the same station," Mr. Narantogtokh added another example indicating that the situation is even worse at the League and Banner levels, "even handkerchiefs and cigarettes with Mongolian letters were confiscated in many League and Banner capitals during the campaign."
"The government has done nothing to protect and promote the core values of our culture, and instead what it has done is exploit and commercialize our culture," said Ms. Xinna, wife of the well known political prisoner Hadaa and the owner of the "Mongolian Studies Bookstore". Her bookstore has been subjected to frequent harassment and raids of various kinds. She strongly criticized the government policies towards Mongolian culture. "It is almost unbelievable that even the songs of Mr. Lhaazav, the nationally recognized "Lord of the Mongolian Long-song", are not allowed to be published through official channels." Ms. Xinna stressed that "this movement is very political in nature at least in Southern Mongolia because it is not targeting piracy of goods but the Mongolian culture."
Appendix:
Store Name

Store Owner

Date Raided

Confiscated Goods and Cost

Allegation

Amount of Fine

Contact Person and Number

Two Little Horses Gift Shop

(双骏礼品店)

Erden and Gowaa

Nov 1, 2006

15 boxes CDs and cassettes;

300+ books;

estimated cost of 8,000 yuan

Piracy and illegal distribution

6,000 yuan

Erden,

Tel:

0086-138-48139670

Altanguwaa's Mongolian Nationality Handwork Shop

(阿拉腾高娃蒙古民族工艺品店)

Urasgaal

Nov 8, 2006

100+ CDs, 800+ cassettes, and 100+ books;

Estimated cost of 2,000 yuan

Illegal business, piracy;

Interrogated twice; threatened to be detained;

5,000 yuan

Urasgaal,

Tel:

0086-471-5866949

Eternal Fire Bookstore (孟克嘎拉书店)

Narantogtokh

Nov 10, 2006

102 books,

estimated cost of 2000 yuan

Illegally distributed books with no valid ISBN

4,000 yuan

Narantogtokh,

Tel: 0086-471-6801973

Melody Audio-video Shop (爱义斯印象店)

Dulaan

Nov 11, 2006

9 boxes CD and cassettes; estimated cost of 1,000 yuan

Illegal distribution, and piracy

6,000 yuan

Dulaan,

Tel: 0086-471-6711770

Dream Sky Cultural Audio-video Ltd (三马文化音像店)

Erden

Nov 13, 2006

80 books, 200 CDs, and 500 cassettes;

estimated cost of 9,000 yuan

Piracy and illegal distribution

5,000

yuan

Erden,

Tel: 0086-139-48116678