by Mark Collette-White, Reuters
February 10, 2007
Berlin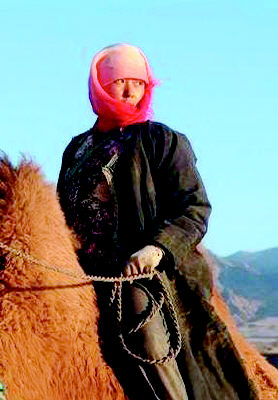 Chinese director Wang Quan'an says his film about Mongolian herders is for posterity, as economic pressures force them from the windswept steppes to crowded cities and extinguish their way of life.
"Tuya's Marriage," in competition at the Berlin film festival, tells the story of a shepherdess who is forced to contemplate a marriage she does not want in order to support herself, her sick husband and two young children.
The family lives on barren, dusty plains in China's Inner Mongolia far from any town or village. The region has preserved a way of life that has not changed for centuries.
But the beautiful Tuya's uphill struggle to herd sheep, cook and fetch water and food for the animals takes its toll, and when she divorces her husband and announces she is willing to re-marry, a string of less-than-desirable suitors show up.
"We wondered whether we should make a film to record their way of life," Wang told reporters after a press screening on Saturday. "Perhaps this is the last glance at the herdspeople of the region," he added, speaking through an interpreter.
"Ultimately they are going to disappear into the cities."
One of Tuya's suitors is an old school friend who has become wealthy in the oil business, and he takes her ex-husband to a home for invalids in a nearby town. But the ex-husband cannot adapt to his new surroundings, and tragedy is only narrowly averted.
Another young friend, Tuya's neighbor on the steppes, struggles to make enough money to keep his fickle wife who flits from partner to partner depending on how rich they are.
HARSH ENVIRONMENT
Tuya is impressively played by actress Yu Nan, who said this was the hardest of the films she had made with Wang.
"It was my first time in Mongolia and I needed four to five months to get accustomed to life there," she said of the tough shooting conditions that included freezing temperatures, and an arid, dusty environment.
"I almost got the impression while we were shooting that I was turning into Tuya," she added. Yu had to learn to ride a horse and camel for the part as well as herd the sheep.
"It may well be that these people have to move into the towns and cities, and I really appreciated the chance to make the film."
Bater, Tuya's sick husband, was played by a real-life herdsman from Inner Mongolia, but according to production notes for the film, the government ordered his family to leave the desert-like pastures and he became a farmer.
Wang said it was important to make "Tuya's Marriage" not only to show the outside world how a dwindling number of people in China lived, but also to remind Chinese audiences about the problems remote parts of their country faced.
"These films really do reflect what is happening in Chinese society at the lowest level," he said. "It also tells the audience that there is a problem that needs to be addressed."