SMHRIC
May 21, 2007
New York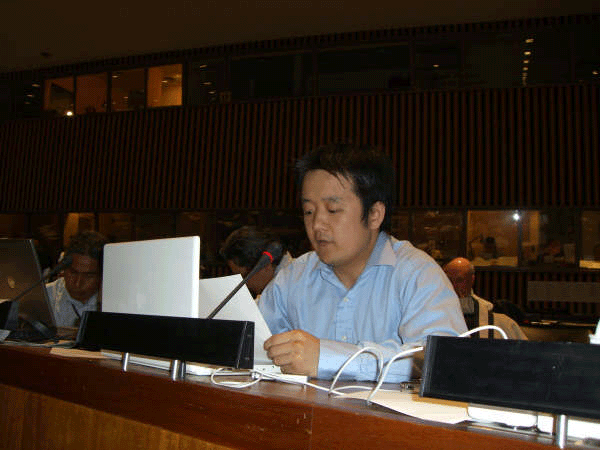 Ladies and Gentlemen:
Good morning!
My name is Ningbat Juramt, and I represent the Southern Mongolian Human Rights Information Center, a New York based human rights organization dedicated to protecting and promoting all kinds of rights of the indigenous Mongolian people in Southern Mongolia.
Thank you Mr. Chairperson for giving me an opportunity to talk about our concerns. On behalf of the five million indigenous Mongols living in Southern Mongolia, our organization has been an active participant in all six sessions of the Permanent Forum since its very first session in 2002. We have raised our issues to the Permanent Forum and other United Nations bodies with the hope of improving the human rights situation in Southern Mongolia. Unfortunately, during the past six years, nothing has improved for the indigenous Mongolian people in Southern Mongolia. On the contrary, conditions have worsened. Nevertheless, we still believe this Forum provides us an opportunity not only to raise the level of awareness of our issues to the international community in general, but also to send our message of concern directly to the government of China through the Chinese government representatives sitting in this room.
Esteemed friends, let me briefly tell you who are the Southern Mongols and what is happening in Southern Mongolia today:
Home to five million indigenous Mongolian people, Southern Mongolia, widely known as Inner Mongolia, had been an integral part of the Mongolian nation up until 1947 when the Chinese government took control over the region. Since then, Southern Mongolia has experienced its darkest era ever in Mongolian history: during this 60 year period, the Chinese government has carried out a series of state-sponsored massacres, heavy-handed political repression, large scale population transfer, forced cultural assimilation and near total destruction of the natural environment of Southern Mongolia. As a result of large scale Han population transfer, today the Mongols constitute only 18% of the total population in the region. They have become a minority in their own lands; the natural grasslands where the Mongols maintained their nomadic way of life for thousands of years have been destroyed by unsound mining operations and the non-sustainable farming practices of millions of Chinese immigrants.
To justify their occupation of Southern Mongolia and cover up their destruction of the natural environment, the Chinese government imposed the so-called "Ecological Migration" policy in Southern Mongolia. This policy was officially instituted in 2001 to forcibly relocate the entire indigenous Mongolian herding and semi-herding population from their ancestral grazing lands to overwhelmingly Chinese populated agricultural and urban areas under the pretext of "protecting the grassland eco-system". An equally egregious policy instituted recently is the "Total Ban over Livestock Grazing" (or "全面禁牧"). Under this policy, individuals grazing livestock in the grasslands are regarded as criminals and subject to large fines or total confiscation of their livestock. Indigenous Mongols have been forced to abandon their traditional way of life to adopt an urban or agricultural lifestyle. Legislation has been subverted in China from protecting the rights of citizens to the denial of the rights of citizens.
Mongols who attempt to protect their rights or their lands or to promote their culture and traditions are harshly punished. Mr. Hada, founder of the Southern Mongolian Democratic Alliance, initiated efforts to preserve Mongolian culture and tradition and proposed autonomy for the Mongols as guaranteed by the Chinese constitution. He was arrested and is currently serving the 11th year of his 15 year sentence. The repression continues today, In late 2006, a Mongolian couple Mr. Naguunbilig and Ms. Daguulaa were sentenced to 10 and 5 years in jail merely for practicing Mongolian traditional medicine and providing medical services to their Mongolian patients.
Dear friends, these are just the tip of the iceberg. Nevertheless, we strongly believe that effective dialogue between the United Nations bodies and the government of China can result in genuine progress. If you are interested in obtaining more information on Southern Mongolian human rights issues, please visit our website at www.smhric.org.
Thank you!
[Note: Chinese government representative Zhou Feng immediately responded to this statement and claimed "the Chinese Government will not accept this groundless accusation". For the detail, click here.]