Mongolian Internet Forum Closed for Discussing Ethnic Problems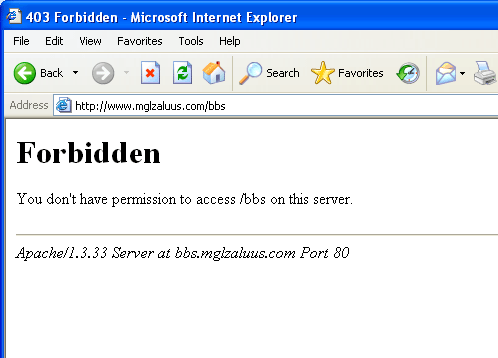 On July 12, 2007, a popular Internet forum in Southern (Inner) Mongolia called "Mongolian Youth Forum" (www.mglzaluus.com/bbs) was shut down by the Chinese authorities for openly discussing issues related to ethnic problems in Southern Mongolia.
According to the notice posted by the forum administrator, the "Mongolian Youth Forum", dedicated to raising funds for Mongolian students in poverty stricken rural areas of Southern Mongolia, was shut down on July 12, 2007, for "not having 'BBS (Bulletin Board System) Special Approval'".
According to the forum statistics provided by Google, as of July 3, 2007, the forum had 3,358 permanent members, 10,422 topics, and a total of 116,417 messages. The cache history also showed the forum had at least 6 larger sections with 18 smaller sub-sections including "Help the Students Movement", "Protect the Grasslands", "Mother Tongue Studies", "Nationality Education", "Southern Mongolia", "Western Mongolia", "Overseas Mongolians", and "Virtual Mongolian Community". Each sub-section was maintained by 2-3 administrators.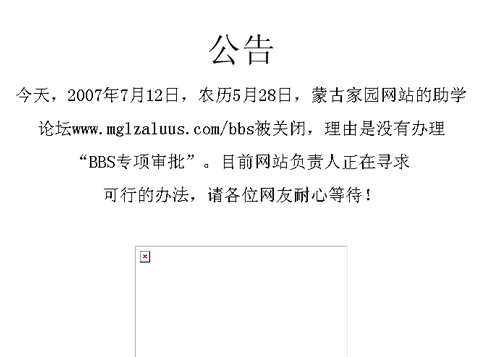 The Southern Mongolian Human Rights Information Center (SMHRIC) contacted one of the forum administrators nicknamed "Esen" who confirmed that the forum was indeed shut down on July 12 under the pretext of "without getting an approval from the authorities". Esen revealed to SMHRIC that the true reason behind this event was not a matter of approval which almost no BBS can obtain from the authorities in China, but the "ethnic problems" related topics actively discussed on the forum.
"Our forum has openly discussed many issues related to ethnic problems the Mongols are facing in Southern Mongolia. Through our forum we talked about Mongolian language education which the government has completely ignored; we raised money for those Mongolian students who otherwise almost stopped their education due to poverty and elimination of Mongolian language schools; we talked about environmental issues, ecological migration, livestock grazing ban; we welcomed posts from overseas Mongolians; we encouraged the Mongols to protect their legal rights; we rallied the Mongols to use Mongolian in all aspect of their life. All these things we advocated are topics the government doesn't like," says Esen, "this is the true reason why we were targeted."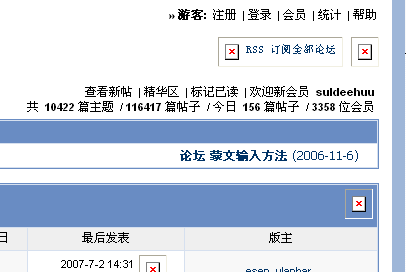 Surfing on another forum, a frustrated member nicknamed Aixin from the Mongolian Youth Forum strongly criticized the authorities' so-called "BBS Special Approval" policy, referring to it as "just an excuse for cracking down on any free discussion on ethnic problems." Aixin also explained that closing the Mongolian Youth Forum is consistent with China's intensifying repression of freedom of speech as some national event approaches, referring to the upcoming 17th People's Congress as the true reason of the shutdown.
The website of "Echoing Steppe" (曾经草原 in Chinese: http://www.cy.ngo.cn/link_meng.htm), a Beijing based grassland preservation group run by several Chinese intellectuals who had lived in Southern Mongolia during the Cultural Revolution, has kept a casual list of Mongolian websites shutdown recently under similar reasons. They are shown in the following table.
Table of Mongolian Topics related Websites Shut down by Chinese Authorities:
| | |
| --- | --- |
| Website Name | Website URL |
| Homeland (故乡) | |
| Children of Grassland (草原儿女) | |
| Mongolian Landscape Forum (蒙古风情) | |
| The New Tribe (新部落) | |
| The Home of Mongols (蒙古家园) | |
| The Steppe (塔拉) | |
Information received by SMHRIC confirm that these Internet sites, mainly forums and blogs by Mongolian students and intellectuals, along with several other Internet sites documented by SMHRIC earlier, were shut down by the Chinese authorities for either "posting 'separatism' contents" or "discussing ethnic problems" under a reasonable sounding pretext of "failing to obtain approval from the authorities".