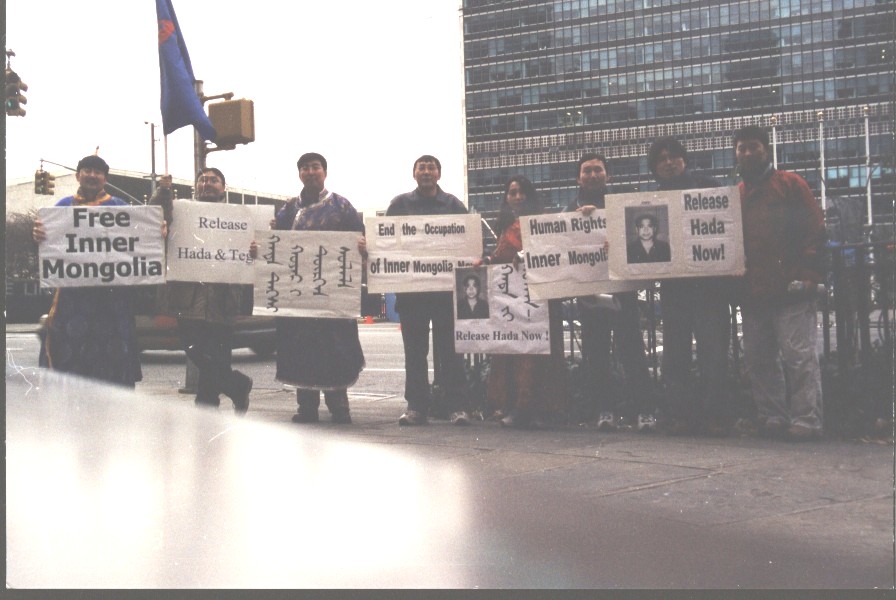 [ Southern Mongolian Human Rights Information Center, New York, December 23, 2002 ] On December 12, Mr. Tegexi, former vice president of the Southern Mongolian Democratic Alliance ( SMDA ), was released from jail in Huhhot City, the capital of Inner Mongolian Autonomous Region, after serving 7 years imprisonment.
Mr. Tegexi, 37 years old, was the vice president of the Southern Mongolian Democratic Alliance ( SMDA ), a peaceful organization established in Inner Mongolia by Mr. Hada, Mr. Tegexi and other Mongolian intellectuals in 1992. The mission of this organization was to promote and preserve Mongolian language, history and culture and to peacefully find peaceful ways to obtain greater autonomous rights for ethnic Mongols in the region as guaranteed by the Chinese constitution. In December 1995, the authorities denounced the Southern Mongolian Democratic Alliance as an illegal organization for "engaging in separatist activities" and arrested its president Mr. Hada and vice president Mr. Tegexi along with more than 70 members and demonstrators. In December 1996, Mr. Tegexi was sentenced to 10 years jail for "conspiring to subvert the government and separate the country", and Mr. Hada was sentenced to 15 years jail for "separating the country and engaging in espionage". Currently, Mr. Hada is serving his sentence in eastern Inner Mongolia's Chifeng City.
According to Ms. Xinna, wife of Mr. Hada, although released 3 years before the completion of his 10 years imprisonment, yet Mr. Tegexi is currently being held incommunicado in Huhhot City. No friends or relatives are being allowed to visit him. No further information is available about his current living situation and health condition.
On behalf of Mr. Tegexi, Mr. Hada and their family members, we urge the Chinese government to 1), give Mr. Tegexi complete freedom; 2), release Mr. Hada immediately; 3), stop the continuing harassment of their family members.