SMHRIC
Nov 25, 2007
New York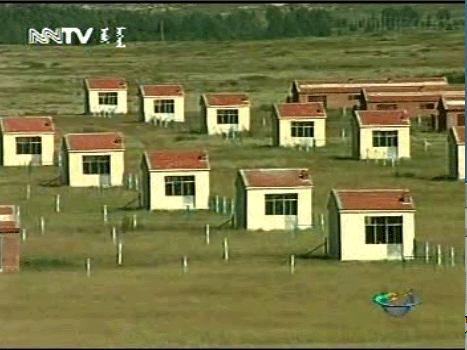 The following is a TV report by the Inner Mongolia TV (NMTV) Mongolian Service, regarding 18 Mongolian herder's households who were forced to leave their ancestral grazing land under China's "Ecological Migration" policy and were refused to return to their land even after the contract termination. The following is the English transcription of the original Mongolian report:
How are Policies Implemented?
NMTV Live-12
English Translation and Transcription by SMHRIC
Dear viewers, in our previous program we reported on the five-year long extreme hardships experienced by 18 herder households of Shin-gol Gachaa, Ulaan-haalag Som of Right Uzumchin Banner, who had to leave their contracted land as the "Desert Combat Project" was launched. What then is the current situation of these 18 herder households? Were they able to return to their land? Our reporters recently made a follow-up report on this case. Please stay tuned.
This film was made by our "Live 12" reporters during their on-site investigation in Shin-gol Gachaa, Ulaan-haalag Som of Right Uzumchin Banner, in August 2005. Let us re-investigate the case presented in that broadcast.
Gahain-Eles is a narrow desert belt running across the Right Uzumchin Banner from the north-west to the south-east. Beginning in the year 2000, , this area has become the primary target of Right Uzumchin Banner's "Strategic Policy of Locking up the Land and Driving out the Population" because it is home to half the population of herders of Shin-gol Gachaa, Ulaan-haalag Som, Large tracts of lands have been confiscated and herders turned landless.
Rashinimaa, Party Secretary and the Head of Ulaan-haalag Som, Right Uzumchin Banner:
"Five years ago, this place was a desert where sandstorms were rampant. Everything was buried under sand."
The Government of Right Uzumchin Banner approved the local government's request for locking up the land of Shin-gol Gachaa immediately, and included the region into the "Jing-Jin (Beijing and Tianjin) Region Desert Combat National Project", displacing the first 16 herder households from the land in July 2000 and fencing off the land.
B.Soyolt, who was head of one of the 16 households displaced in July 2000, lost 2,225 mu (150 hectare) land along with the entire infrastructure to the "Jing-Jin Region Desert Combat National Project" and was displaced to the Banner's Ecological Migration New Town along with two other herder households to raise dairy cows inside a fenced area. His is the only household from Shin-gol Gachaa still living there. During the past five years, in order to make a living, he had to work for others on a temporarily basis and beg for grazing land from others to raise his remaining few heads of livestock. Eventually, his household was left with a large amount of debt, losing their entire livestock.
B-Soyolt, herder of Shin-gol Gachaa, Ulaan-haalag Som, Right Uzumchin Banner:
"In these five years, basically I have been working for others with little income. No fixed income, no fixed job, working here a day and there a few hours…."
Reporter:
"How much was your annual income?"
B-Soyolt:
"At most around 2,000 yuan (250 USD),"
According to B.Soyolt, when they were relocated in 2000, the government promised to pay them compensation for the relocation. However, they haven't received a single penny from the government.
B-Soyolt:
"They promised to pay us compensation for our land. But they never mentioned when and how much it will be."
Reporter:
"Then, did they pay?"
B-Soyolt:
"No. They said there is no compensation for us."
Another head of one of the 16 households displaced in 2000, Hureltogoo also had to leave their 2000+ mu land where he invested 18,000 yuan (2,500 USD) for the fence and other infrastructure.
Hureltogoo, herder of Shin-gol Gachaa, Ulaan-haalag Som, Right Uzumchin Banner:
"The policy said the implementation period is only for five years. Five year is over. We are still not allowed to return to our land, and not a single penny has been paid to us."
After the displacement, Hureltogoo and his family members have worked for others as temporary and cheap laborers across both Right and Left Uzumchin banner, earning almost nothing, and their livestock has been reduced to a few dozen heads only.
Hureltogoo:
"My daughter got married three days ago and today is the 'Day of Returning' as our Mongolian tradition. I am supposed to see her in her new family today. But in order to make ends meet for the rest of our family, I was not able to see my daughter…. Sorry for my daughter…."
Hasgerel, herder of Shin-gol Gachaa, Ulaan-haalag Som, Right Uzumchin Banner:
"These 16 households have been leading the life of wanderers after they lost their lands. Some of them work for others temporarily. They hardly find a job to make a living in any place they arrive. Some of them just beg for food and land from others to make ends meet."
Our Program (Live 12) has been working on this case for over a year. Let us have a glance at the living condition of these herders from Shin-gol Gachaa. The contract of "Locking up the land" has already expired since June 2005. Then, were they able to return to their land? For this, we visited Shin-gol Gachaa this winter. Surprisingly, we found that none of the 18 evicted households has been allowed to return to their land even after the contract expiration. Only the two households of B.Soyolt and Segmid are living in the Shin-gol Migrants New Town. The other 16 are still drifting from place to place in cities and towns trying to keep body and soul together.
The so-called "Shin-gol Migrants New Town" is nothing more than a residential area with 120 matchbox-like small huts and narrow cells for livestock. Each household must fit into an extremely small single-room hut with a total area of 20 square meters.
B-Soyolt:
"Here is the contract which clearly states the land will be locked up from 2000, and the five-year contract will expire on June 30, 2005. However, the Banner Government has never addressed this issue for our 18 displaced households. During the five years, not a single penny has been paid to us as compensation and no preferential treatment has been given to us. Now we are not allowed to return to our land. They (the government) ordered us to raise cows inside a fenced area, saying grazing sheep is not allowed. Why don't we have the right to come back to our own land to raise even a single goat after spending five-years wandering around outside our own lands? Until today, we have been feeding ourselves with food borrowed from others. We are already up to the neck in debt!"
While these herders of Shin-gol Gachaa were deprived of the right to return to their own land and refused compensation for the five-year displacement, Mr. Adiya, Vice Chairman of Shiliin-gol League, came to the Migrant Town for an investigation of the case in March 2006.
B-Soyolt:
"On May 15, Mr. Adiya visited us again, and talked to some of us. Then he promised to address the problem to help us overcome the extreme hardship. We then visited the Banner Government departments many times to ask for a prompt resolution. The League Government delegated the right to the Banner Government to have the case of the 18 displaced households resolved accordingly."
Shortly after the League Vice Chairman Adiya left, the Office of Letter and Visit (a government branch setup to supposedly listen to local people's complaints and address their issues ) of the Banner Party Committee and Government issued an official document and reported to the League Government, claiming that the Office has already addressed the problem of the 18 displaced herder households of the Shin-gol Gachaa. In this document, the Banner Government has responded to the herders' complaints in 6 specific ways. The main content on how to resettle these 18 households didn't mention anything about compensation, but claimed that if these herders voluntarily move to the Migrants' New Town and each household pays 6,000 yuan to the government, then each household will be given a 40 square meter house and 50 square meter livestock shelter by the government. If each herder household pays 4,000 yuan to the government, the government will subsidize the rest to buy two Holstein dairy cows for the household. If the herders choose to buy Simmental dairy cows, the government will subsidize only 2,000 yuan and the herders must pay the rest. The problem is that these homeless herders who want to move to the Migrant New Town simply can't afford to pay 6,000 yuan for the housing. Interestingly enough, the document stated that the land concerning the 18 households doesn't include B.Soyolt's land.
B-Soyolt:
"This document was issued on August 21, 2006 by the Banner Government. We do not accept the document and do not agree with what it says. It is extremely unfair that the document says I, B.Soyolt, haven't possessed any land even before the displacement, stating that B.Soyolt's land is part of D.Buhee's and B.Soyolt has illegally occupied D.Buhee's land for 8 years. D.Buhee indeed left his land to Left Uzumchin 8 years ago. But his land is 10-15 kilometers away from us."
The said document by the Letter and Visit Office of Right Uzumchin People's Government and the Party Committee also admitted that 6 kids of herders of Shin-gol Gachaa stopped schooling due to the financial hardship during 2000 to 2005, and 5 of them have already completely dropped out of school.
This is A.Soyol, one of the herders of 18 displaced households, who had to drift from place to place in other Sums during this five-year period. In 2005, he tried but was not allowed to return to his grazing land. With no other choice, he had to find shelter in a dairy cow farm for whom he works as a cheap labor.
A-Soyol, herder of Shin-gol Gachaa:
"My family was driven out of our land in 1999, and came back on August 24, 2005. Then, on the second day of our return, August 25, we were fined 1,500 yuan by the government for keeping our sheep with us. They said we are allowed to raise dairy cows only. Raising sheep is illegal. If we have enough money we can consider buying some dairy cows. But the problem is that dairy cows are very expensive. Each costs us at least 20,000 yuan which is almost equal to the total price of 100 sheep. We can't even afford to buy a single cow with all of our sheep."
The family of A-Soyol have no fixed residence even today. They wanted to move to the Migrant's New Town, but have no money to pay 6,000 yuan for the single-room small house. No choice but to stay in the dormitory of the dairy cow farm where they work.
A-Soyol:
"This is our life: homeless, landless, and foodless. To keep our remaining few animals, we must beg for other's land. To make ends meet, we must work for others."
When we arrived at Shin-gol Gachaa, a single lonely Mongol yurt without any fence at the southern foot of a small hill drew our attention. We found out that this is the family of Munkhbaatar, a herder family of Shin-gol Gachaa, who was also driven out of their land since 2000. They tried to return to their land with their remaining livestock, but were not allowed to do so by the government. They left their livestock to others, and came back with a yurt only.
Altanchecheg, herder of Shin-gol Gachaa:
"We are not allowed to have sheep and goats. Only dairy cow is allowed. But we had to sell all of our cows and horses before we moved out. We kept some of our sheep. Now we have to ask others to take care of these remaining sheep."
Then, what is the reaction of the Party Committee and the People's Government of Right Uzumchin Banner to the resettlement of these 18 displaced herder households? Why did they issue an official document to state that they have already addressed the issue?
Deputy Chief of Right Uzumchin Banner:
"Let me ask you! What answer do you want? We have already given them everything. First of all, I allowed them to keep some livestock; second, they complained they have no shelters. I built houses for them; third, they said they have nothing to do in the new place. I brought dairy cows for them. What else do you want?"
Reporter:
"So, do you mean this issue is addressed and the case is closed?"
Deputy Chief of Right Uzumchin Banner:
"Yes, it is closed!"
The tremendous effort made to return to their lands by these 18 herder households who were displaced under the Government and Party policy of "combating desert and returning green to the land" is plausible. However, unfortunately, the sacrifices they have to suffer are equally enormous. Therefore, Banner and County government agencies need to be aware of their responsibilities, and implement the laws and regulations in a just and proper manner.
Thanks for watching our program.