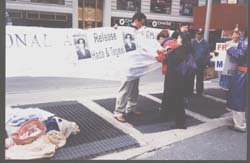 [ BEIJING, Dec 25 Agency France Press ] Chinese authorities have released a leading dissident from the country's Mongolian minority three years early, a local official said Wednesday.

Tegexi, 37, was released from jail in Hohhot, capital of China's Inner Mongolia region, on December 20, after having served seven years of a ten-year prison sentence, said the official, who declined to be named. "His sentence was reduced because of good behavior," the official told AFP by telephone from Hohhot.

Tegexi, who like many other Mongolians has just one name, is now being held incommunicado in Hohhot and no friends or relatives are allowed to see him, the Southern Mongolian Democratic Alliance said in a statement.

The New York-based group said Tegexi was arrested in December 1995 along with more than 70 others accused of engaging in separatist activities.

He had been the vice president of the Southern Mongolian Democratic Alliance, which seeks greater autonomous rights for ethnic Mongolians and promotes Mongolian language, history and culture, the group said.

Like China's other fringe regions peopled by ethnic minorities, Inner Mongolia is home to separatists feelings.

However, the separatist movement appears less active than the one in China's western, Muslim-dominated Xinjiang region.