SMHRIC
April 28, 2008
New York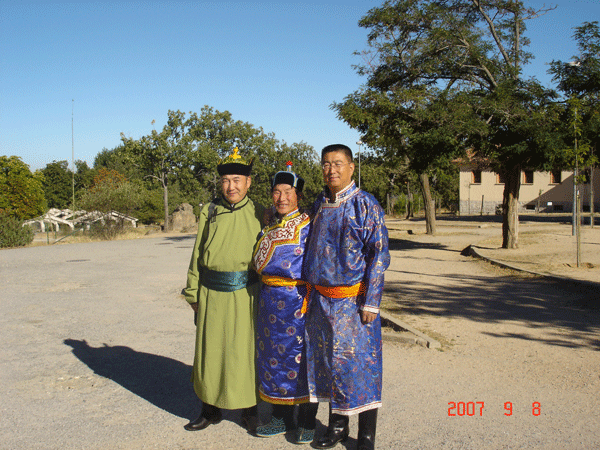 Mr. Naranbilig (left) at the World Gathering of Nomadic and Transhumant Pastoralists and the World Alliance of Mobile Indigenous People's First Congress at Segovia, Spain in September 2007.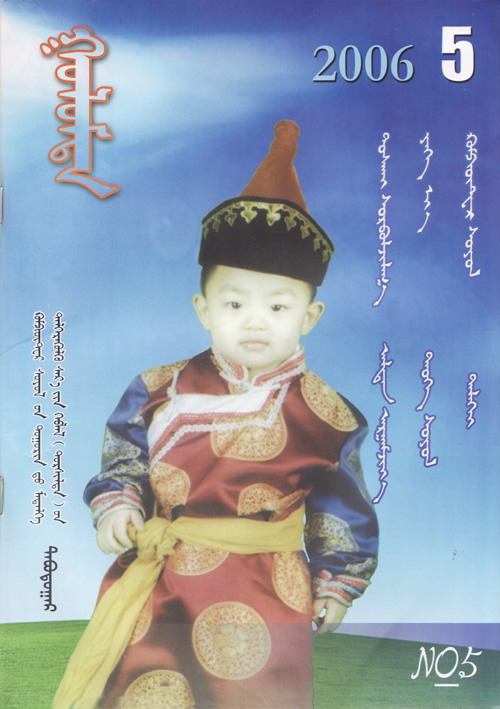 Banned Mongolian journal Golomt edited by Mr. Naranbilig. All issues are vailable at SMHRIC website: http://www.smhric.org/uum.htm
Mr. Naranbilig, a well-known ethnic Mongolian free-lance journalist and human rights defender of Southern (Inner) Mongolia, was arrested on March 23, 2008 at his residence in the region's capital Huhhot City. His family members were not given any official explanation by the Chinese authorities about his arrest and his whereabouts were unknown until he was released on April 12, 2008 on 20,000 Yuan (approximately 3,000 $US) bail. He was placed under 1-year house arrest. Police had searched his residence and seized his personal computer, notebooks and other personal property. During his detention, he was not allowed to find a lawyer to defend himself and family members were told not to reveal the fact of his arrest and to tell others that "he is on a business trip to somewhere". In confiscating his passport, he was warned that he is under the authorities' tight control and close monitor.
Mr. Naranbilig was one of the leaders of the 1981- Mongolian Student Movement against the Chinese Central Government's project to migrate 600,000 ethnic Han into Southern Mongolia. He had previously served in the Inner Mongolia Autonomous Region's Peoples' Congress after his graduation from Inner Mongolia University in 1981 but was forced to leave the position a few years later due to his direct confrontation to Government and Party leaders and his outspoken criticism of China's ethnic policy in the region.
Since then he started his free-lance journalism career. As one of the most talented and prolific Mongolian writers in the region, he authored dozens of books, wrote hundreds of essays and edited several journals. His writings discussed issues related to indigenous Mongols' right to preserve and promote their language, culture, tradition and identity, the right to access their lands, water and other traditional resources, the right to maintain their traditional way of life, and the right to education and science. Skillful use of logical and well-organized short narratives with right-to-the-point direct questioning and merciless pungent irony is his main writing style.
One of his recent activities was serving as editor of a Mongolian monthly journal, "Golomt" (meaning "Family Hearth". All five issues are available here: http://www.smhric.org/uum.htm). After only 5 issues in 2006, Golomt was banned by the Chinese authorities due to its unprecedented popularity. As the chief editor, Naranbilig was questioned and told to not engage in any such activities as editing. A source who asked not to be identified revealed to the Southern Mongolian Human Rights Information Center (SMHRIC) that all 5 issues of Golomt were translated into Chinese by the authorities for "content review". The topics covered in Golomt were freer discussion of indigenous Mongols' way out, and promotion of science and education.
Mr. Naranbilig is also a staunch advocate of indigenous rights of the Mongols, in particular the herders' right to access their traditional grazing land and right to maintain their traditional way of life. In September 2007, representing the Southern Mongolian mobile indigenous community, along with members of SMHRIC, he attended the World Gathering of Nomadic and Transhumant Pastoralists and the World Alliance of Mobile Indigenous People's (WAMIP) First Congress in Segovia, Spain. Later he joined WAMIP as full-member. His attendance to the Gathering and membership in WAMIP became grounds for the Chinese authorities to accuse him of "joining and collaborating with anti-Chinese hostile foreign organizations".
This year, SMHRIC helped Mr. Naranbilig to apply for funding from the United Nations Voluntary Fund for Indigenous Populations to attend the Seventh Session of the United Nations Permanent Forum on Indigenous Issues (UNPFII) that is currently taking place in New York. The Voluntary Fund accepted his application for funding but unfortunately, Mr. Naranbilig did not receive the approval and invitation letters that the Voluntary Fund sent via both mail and email. All documents sent by the Voluntary Fund to him were intercepted and confiscated by the Chinese authorities. These documents were the apparent basis for the authorities' placing Mr.Naranbilig under house arrest to prevent him from attending such conferences.
At the dawn of the Beijing Olympics, the Chinese authorities have intensified their crackdown on ethnic Mongolians in Southern Mongolia. Two weeks before Naranbilig's arrest, another Mongolian activist, Mr. Tsebegjab, a former professor at the Inner Mongolia Medical College and a businessman, was arrested and detained for more than a month before being placed under 1 year house arrest for "liaising" with dissidents in Southern Mongolia and dissidents in exile in Mongolia. During his detention, Tsebegjab was harshly interrogated by the authorities demanding to know if he had any connection with Jiranbayariin Soyolt, another Southern Mongolian dissident in exile and a citizen of Mongolia, who was arrested on January 6 at Beijing Capital International Airport. Mr. Soyolt is still being held by the Chinese authorities.
Unconfirmed sources state that at least several dozens of ethnic Mongols have been arrested by the Chinese authorities or have disappeared recently either due to their differing views on the ethnic issues of Southern Mongolia or due to their attempts to protect their legal rights that are guaranteed by both the Chinese Constitution and the Ethnic Regional Autonomy Law.