SMHRIC
June 4, 2008
New York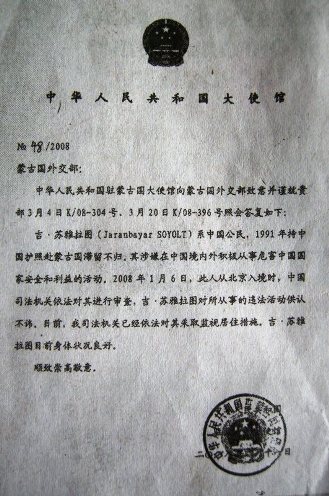 Ignoring the independent country of Mongolia's constitutional rights for its citizens and in violation of international law, China has willfully insisted that Mr. Jaranbayariin Soyolt, a Southern (Inner) Mongolian dissident in exile and a citizen of Mongolia, is a citizen of the People's Republic of China despite the fact he has already abandoned his Chinese citizenship as early as in 1997 when he became a citizen of Mongolia under the Naturalization Act of Mongolia. Mr. Jaranbayariin Soyolt was arrested at the Beijing Capital International Airport on January 6, 2008 by the Chinese authorities for alleged activities of separatism. Currently, he is still being held in China without any trial. His whereabouts and health conditions are unknown. For more about the case, please visit our website at: http://www.smhric.org/news_195.htm .
Recently, the Government of Mongolia disclosed China's official response to its repeated requests on the case of Jaranbayariin Soyolt. The following is a translation of the response by the Embassy of China to Mongolia:
Embassy of the People's Republic of China
No.48/2008
To the Ministry of Foreign Affairs of Mongolia:
The Embassy of the People's Republic of China to Mongolia, here, gives its greetings to the Ministry of Foreign Affairs of Mongolia and makes the following response to the Ministry regarding its notes K/08-304 dated March 4th and K/08-396 dated March 20th:
J.Soyolt (Jaranbayar Soyolt), a citizen of China, visited Mongolia with a Chinese passport in 1991 and has not returned. He has been actively involved in activities threatening the national interest and state security of China both within and without the borders of China. On January 6, 2008, the said individual was investigated in accordance with law by the Chinese law enforcement authorities upon his entry to China in Beijing. J.Soyolt has candidly confessed about the illegal activities he has been engaged in. Currently, our law enforcement authorities have already taken necessary measures to monitor him at his residence. J.Soyolt, currently, is in a good health condition.
With highest respect,
Seal of the Embassy of China to Mongolia
April 10, 2008