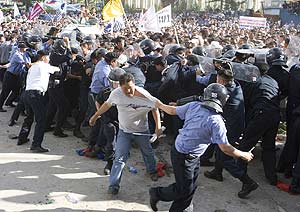 FOR Chinese Mongolian dissidents and activists, the turmoil of the past two weeks in Mongolia have been an eye-opening, if unsettling, experience.
They watched fascinated and aghast as protesters rioted in the Mongolian capital Ulan Bator following claims of fraud in parliamentary polls, leading to five deaths.
There are more ethnic Mongolians in China than all of the country Mongolia, and some four million of them live in their own Inner Mongolia 'autonomous region'.
But unlike their cousins to the north, they enjoy few political freedoms, and many chafe under the dominance of Han Chinese, who after decades of migration are now Inner Mongolia's main ethnic group.
For some Chinese Mongolians, the unrest across the border has been an unsettling reminder that the self-rule they aspire too could bring its own problems.
'We look on with envy at Mongolia, at their democracy,' Ms Xinna, one of Inner Mongolia's most prominent advocates for Mongolian rights, told Reuters in the regional capital Hohhot.
'Of course the recent problems have not been good. But it's a process, and part of their political development,' added Ms Xinna, whose husband, Mr Hada, is serving a 15-year jail term for separatism and spying. Mr Hada says the charges were trumped up.
For others, the unrest in Ulan Bator was embarrassing - not what they hoped from a country they look to as a example of the protection of Mongolian rights.
'They should not be doing this, having these arguments,' said Daerjia, a teacher from the deserts of western Inner Mongolia.
Cultural ties between Mongolia and Inner Mongolia are close, with Mongolian rock groups popular among young Chinese Mongolians, say owners of Hohhot shops that specialise in Mongolian goods.
Yet years of separation, and the former Soviet Union's control of Mongolia, mean that in some ways the people have drifted apart.
There is little problem for Mongolians on either side of the border to speak with each other. But the language is written in Russia's Cyrillic alphabet in Mongolia, where the Soviet Union long dominated. China uses the traditional vertical script that Genghis Khan introduced.
In other areas, though, Mongolia is looked up to for protecting the traditional herding way of life rapidly vanishing in Inner Mongolia as the government moves herders off the land in the interests of fighting desertification.
'Mongolia has done a much better job at protecting the grasslands. We should learn that from them,' said one activist from a small Inner Mongolian non-governmental organisation, who asked not to be identified.
Still, discussion of Mongolia for some Chinese Mongolians is a sensitive topic, lest they be accused of 'splittism', the government term for ethnic minorities who agitate for greater freedom, which Beijing sees as a push for independence.