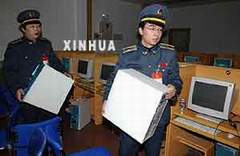 [ Southern Mongolia Watch, New York City, April 20, 2003 ] According to the Chinese official news Xin-Hua News, more than 700 Internet cafes have been subjected to government intrusion and intimidation since April 1, 2003 as a result of a region-wide government initiated "Internet Cafe Rectification Movement" in Inner Mongolia. Many have been permanently shut down.
Xin-Hua News claims that under the Inner Mongolian authorities' instruction, the Autonomous Region's Public Security Bureau, Cultural Bureau, and Communication Management Bureau jointly held the first "Internet Cafe Rectification Meeting" on April 10. The meeting declared that "playing Internet games, allowing juveniles to access the Internet, operating late-hour Internet cafe businesses and allowing customers to access the Internet without revealing their identities" are illegal activities. The meeting report stated "The main problems currently of most internet cafes are first, too much internet chatting and love-talking; second, many unqualified internet cafes still gain access to the internet and run a business; third, most of the internet cafes have obtained their business licenses without a 'Cultural Management Permit'".
According to the Inner Mongolian official news, Inner Mongolian Daily, until April 10, the Autonomous Government mobilized 400 officials and 150 vehicles to inspect over 500 internet cafes and shut-down 80% of the internet cafes in the regional capital Huhhot City. The source revealed that the Autonomous Region's Cultural Bureau and Huhhot City Cultural Market Office jointly carried out a thorough inspection of over 200 internet cafes in Huhhot City, cracking-down on more than 50 illegal businesses, confiscating 36 PCs and issuing more than 20 summonses and fines. Authorities from Saihan District, Xin-Cheng District, Yu-Quan District, and Hui-Min District also inspected more than 330 internet cafes closing 78 and confiscating more than 150 PCs.