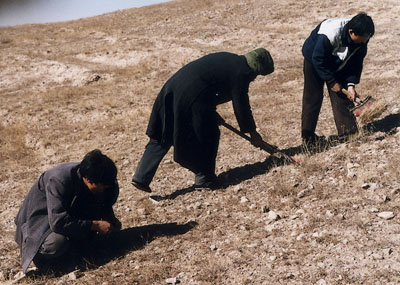 Chinese peasants from neighboring provinces digging hair-
weeds in Inner Mongolia's already weakened grassland
[Southern Mongolia Watch, New York City, April 21, 2003 ] According to the Chinese official news, Xin-Hua News, large groups of Chinese peasants from the neighboring province of Ning Xia have poured into western Inner Mongolia's Alashaa Left Banner grasslands to dig hair weeds, resulting in severe damage to the already weakened fragile grassland ecosystem.
Hair weed, also known as 'earth hair' or 'hair grass', is a wild terrestrial algae widely used in Chinese cuisine and considered a 'good luck' plant by the Chinese because its name is a homophone with the word "fa-cai" meaning "getting rich". The market price of hair weed is very high in China and among the Chinese communities outside China. As the largest natural hair weed growing area in China, Alashaa Left Banner has since the 1980s been frequently trespassed by Chinese peasants pouring in from the neighboring provinces Ning Xia and Gan Su. Xin-Hua News admitted that the Chinese peasants' illegal and irrational activities have caused serious ecological damages to the areas where the native Mongols are currently banned from practicing their traditional animal husbandry lifestyle, a lifestyle which had maintained a perfect balance between human activities and the natural environment for thousands of years.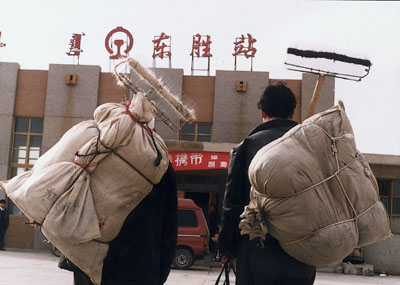 Every year 200,000 (person time) Chinese peasants pour
into Inner Mongolia to destroy 15 million hectare
grassland with their sharp harrows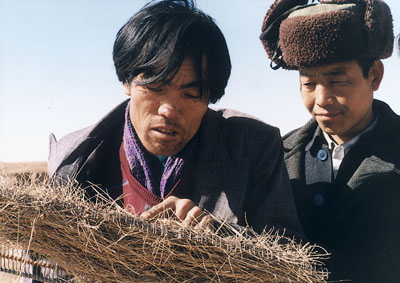 Selecting hair-weed which is sold in very high price among
the Chinese because of its homonymous name with
the Chinese word "fa cai" --- "getting rich".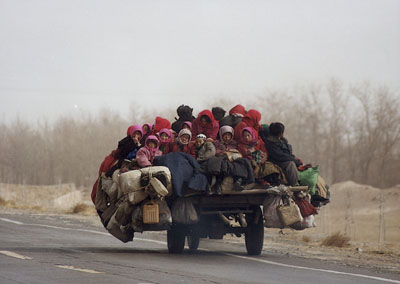 Kids of Ning Xia Province are encouraged to stop schooling
by their parents for the "hair-weed rush" to Inner
Mongolia. In this picture, kids are en route
to Inner Mongolia for hair weeds.