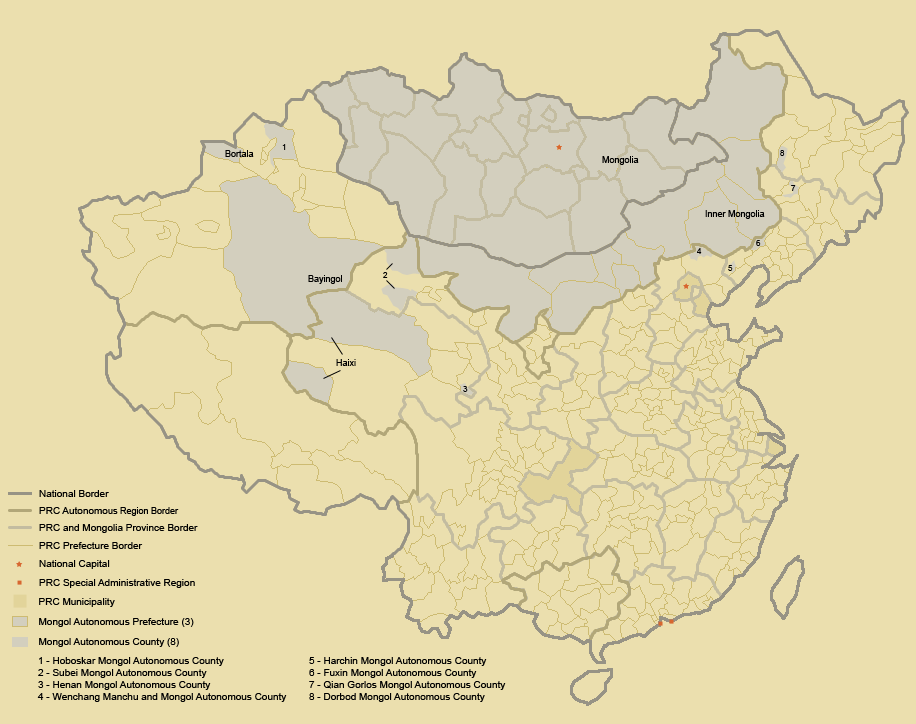 Mongolia and Mongol Autonomous Subjects in the People's Republic of China. ( Wikipedia photo )
According to Mr. Arslan, an ethnic Mongolian young businessman who had been detained 3 times during the past three days, two young Mongolian men namely, Mr. Almas and Mr. Baoyu, were arrested in Hohhot and Bogt (Bao Tou in Chinese) cities respectively for organizing an underground group called "Pan-Mongolia Association" and "attempting to organize a protest" in the regional capital Hohhot on May 1, the 62th anniversary of the "Inner Mongolia Autonomous Region".
Arslan, a native of eastern Southern Mongolia's Naiman Banner (Banner is equivalent to county), revealed to the Southern Mongolian Human Rights Information Center over the phone that Almas, a friend of his from the same Banner, and the Secretary of the Pan-Mongolia Association, an underground organization allegedly aiming to "separate the country", was arrested in Hohhot on April 30, 2009 by the State Security personnel. Another young Mongolian man named Baoyu was arrested in western Southern Mongolia's Bogt City at the same time for alleged "involvement in the Pan-Mongolia Association". Mongolian Internet surfers confirmed that there had been a notice for "Conference on Ethnic Problems of Southern Mongolia" and a call-on paper for a protest on May 1 circulated on the Internet and through text messages under the name of the Pan-Mongolia Association. The two men's health condition and whereabouts are currently unknown.
Suspected of being a close associate with Almas, Arslan was summoned by the Zhi An Township Public Security Bureau State Security Department in Naiman Banner on April 30. According to Arslan, the State Security personnel intensively interrogated him on his relationship with Almas and his involvement in the Pan-Mongolia Association. During the first two days, he was also questioned about his view on the Chinese people in Southern Mongolia and articles he wrote on the Internet. He was constantly accused by the interrogators of "harming the ethnic harmony between Mongols and Hans by posting negative messages on the Internet about the Chinese Government and Han people in general".
On the third day, Arslan was taken to the municipality capital Tongliao City, and questioned by two State Security personnel dispatched from the Inner Mongolia Autonomous Region State Security Bureau. The two informed him of the arrest of Almas and Baoyu and started questioning him on his relationship with the two men and his activities in relation to the Pan-Mongolia Association. Arslan was threatened with harsh punishment if he did not confess to such activities. It was these two interrogators who told Arslan that this case was being taken very seriously by the Autonomous Region State Security Bureau and the Bureau head himself is handling it as a special case since "this is a serious issue threatening State Security".
At 9:00pm May 2, after his computer was confiscated by the State Security authorities, Arslan was released from detention under the condition of signing on prepared document with the following contents:
1. Arslan must be ready to be summoned by the State Security authorities anytime;
2. Arslan must not reveal anything about this case to anybody including relatives, friends and especially foreign news media;
3. Arslan must not disseminate information on the case via the Internet, email, and phone.
Arslan stated to the Southern Mongolian Human Rights Information Center that he has no legal obligation to obey these forcible conditions because, he said, these arbitrary controls have no legal basis and he has the right to speech and communication.
Southern Mongolia, widely known by its propagandistic Chinese name "Inner" Mongolia, is home to 5 million ethnic Mongols who have been subjected to a series of political crackdowns, cultural assimilation, and population transfer by the Chinese authorities. During the Chinese Cultural Revolution, hundreds of thousands of Mongols were killed, tortured and sent to jail; during the 1980s a series of peaceful movements were forcibly suppressed; since 1990s the entire Mongolian herders' population has been subjected to coercive displacements from their ancestral land; in recent years any initiatives proposed to protect the rights of the Mongols and to promote the Mongolian culture, language and identity were harshly punished. Mr. Hada is still serving his 13th year of a 15-year jail term for organizing the Southern Mongolia Democratic Alliance; Mr. Naguunbilig is still serving his 3rd year of a 10-year jail term for "engaging in illegal cult"; his wife Ms. Daguulaa was sentenced to jail for 5 years and is still serving her jail tem; Mr. Naranbilig and Professor Tsebegjab are still under house arrest for promoting the rights of Mongols; hundreds of Mongolian dissidents and activists are still under the authorities' tight control and close monitor; Mongolian herders in rural areas have been arbitrarily arrested, detained, and tortured for resisting the government policies of "Ecological Migration" and "Livstock Grazing Ban"; Mongolian publications have been banned regularly and Mongolian internet sites and chat-rooms have been shutdown on a daily basis.