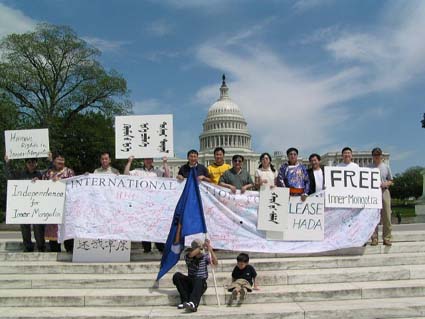 [Southern Mongolian Human Rights Information Center, New York City, May 2, 2003 ] Members and supporters of the Inner Mongolian People's Party (IMPP), an exiled organization fighting for Inner Mongolians' freedom and independent, have marked the 56 years of Chinese Communist government's occupation of Inner Mongolia on May 2, 2003 by staging a protest demonstration in front of the Chinese Embassy in Washington D.C., the United States of America. Later the demonstrators moved to the Capitol Hill for a brief demonstration. The demonstration lasted for 3 hours and the demonstrators shouted slogans, distributed flyers and sang Mongolians songs.
Inner Mongolia, historically known as Southern Mongolia, was occupied by the Chinese Communist government in late 1940's and on May, 01, 1947, the Chinese Communist government set-up the so-called Inner Mongolian Autonomous Region. Since then, individual human rights have been deprived from the Mongols in Inner Mongolia, along with their political and civil rights as a people. For more than half a century, the Mongols in Inner Mongolia have witnessed some most horrifying events in our people's history: mass killings of innocent civilians; total destruction of the religious establishments; calculated and forced cultural assimilation that brought the Mongol culture and tradition to the brink of extinction; and catastrophic destruction of the grassland, just to name a few.
Followings are photos from the event.