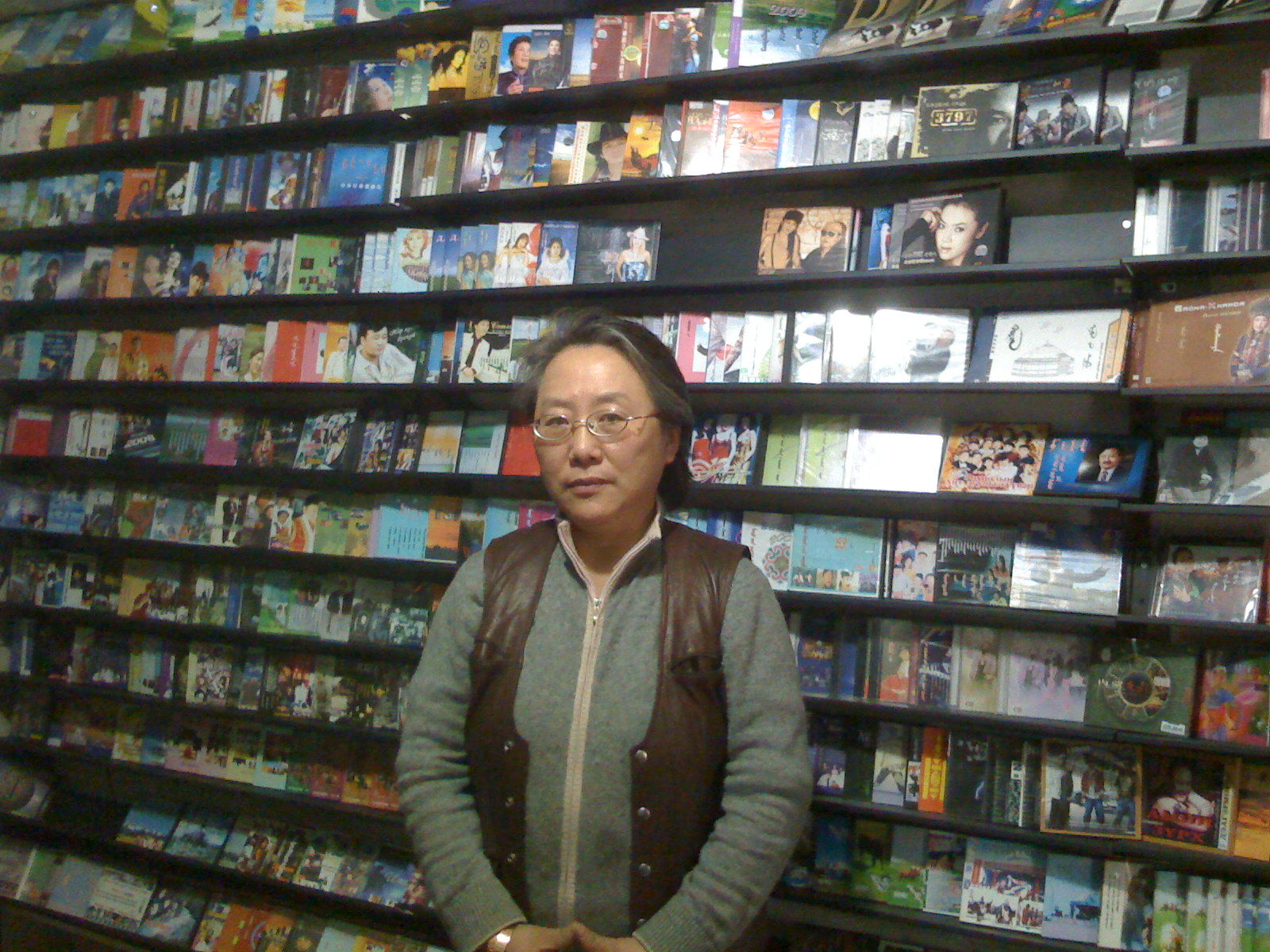 Xinna at her Mongolian Studies Bookstore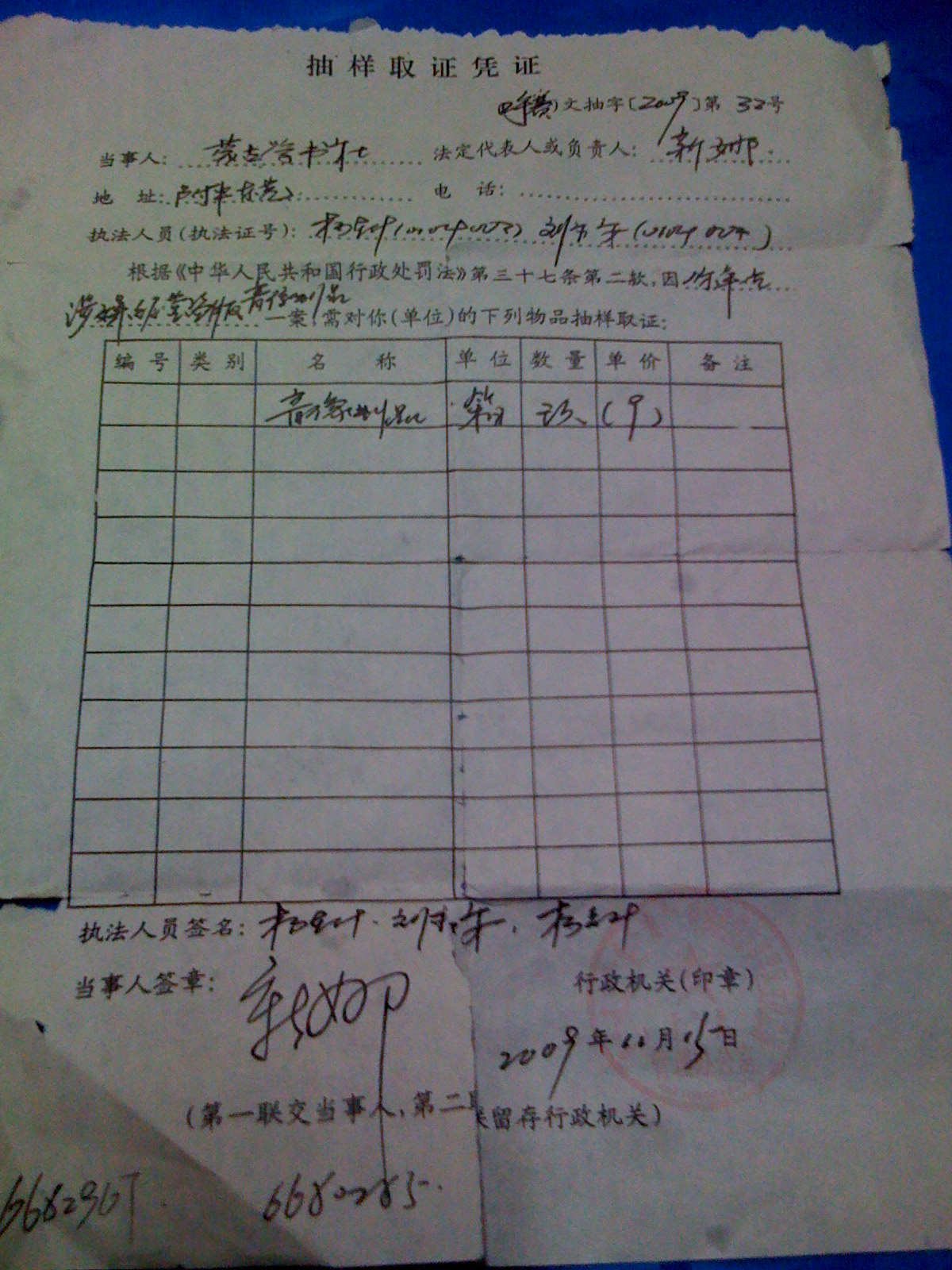 9 boxes full of Mongolian CDs and other items were confiscated from the Mongolian Studies Bookstore.
Mongolian stores selling books, magazines, music CDs, DVDs, cassettes, and souvenirs in Huhhot, capital of Southern (Inner) Mongolia, were raided by the Chinese authorities during Obama's visit to China on November 15, 2009. Communications from the store owners to the Southern Mongolian Human Rights Information Center (SMHRIC) stated that at least three Mongolian stores, namely Mandkhai Mongolian Artwork, Munkhgal Bookstore, and Mongolian Studies Bookstore, were specifically targeted by the Huhhot City Saihan District Cultural Market Inspection Team. Thousands of books, music CDs, DVDs and other items were confiscated by the authorities.
"At least a dozen people with several vehicles suddenly raided my store and confiscated nine boxes full of music CDs, DVDs and other items without giving any reasonable explanation," Xinna, owner of the Mongolian Studies Bookstore, told SMHRIC over the phone, "they said the Mongolian publication cultural market here is out of control and needs to be cleaned up."
"It is clear that this raid was specifically targeted against Mongolian stores, because a Chinese store right next to the Munkhgal Bookstore was skipped," Xinna added.
According to a Mongolian souvenir store worker in Huhhot, under the pretext of "combating pirate publication" and "purifying cultural market", the Chinese authorities have frequently raided Mongolian stores and confiscated everything that shows Mongolian ethnic identity. Reportedly, this time in addition to CDs and DVDs, calendars, greetings cards with Mongolian letters printed on them, and even many handmade artworks and souvenirs were labeled as "pirated products" and taken away by the Cultural Market Inspection Team personnel.
"They are just telling us whatever expresses Mongolian culture and identity is not authentic and subject to be confiscated," a Mongolian internet chatter commented on China's increasingly tightening crackdown on Mongolian culture and identity, "officially sanctioned publishing houses simply do not produce the quantity of materials needed by five million Southern Mongolians. So, what is wrong with listening to music and songs of Northern Mongolia, the independent country of Mongolia?"
Recently, the Chinese authorities kicked off a series of high profile cultural projects including the "Developing the Mongolian Ethnic Cultural Greater Zone" and "Grassland Culture Development Project" in Southern Mongolia. Many Mongolians see that through these projects the Chinese authorities are merely carrying out an international public relations campaign to give the impression that China is a taking good care of her minority cultures. The truth is that at home, the Chinese authorities are exploiting Mongolian culture through commercialization without giving true respect to its core value and to its true guardians or to the Mongolian people.