Southern Mongolian Human Rights Information Center (SMHRIC)
September 4, 2003, New York City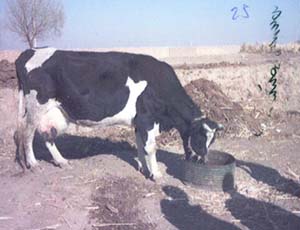 Mongolian households who take possession of a
mud house must borrow 5,000 RMB from the
government to buy an imported Australian
cow which costs them almost 5,000 RMB
As an aggressive gesture of loyalty to the Central Government, Inner Mongolian authorities have launched a series of "west-to-east power transmission" projects which have begun to force local Mongols to abandon their ancestral pastoral lands. According to China's official news agency, Xinhua News, two of the largest power plants in Inner Mongolia, Shuluun-Huh (Zhenglan in Chinese) Power Plant and Daihai Power Plant, have recently started construction at "top speed".
A local Mongol from Shuluun-Huh Banner has confirmed the accuracy of the Xinhua News report and revealed how local Mongols are suffering because of these massive projects.
On July 1, 2003, a ground-breaking ceremony for a 1,200 kilowatt thermal power plant was held in the heartland of northern Inner Mongolia, the Shiliin-Gol League's Shuluun-Huh Banner (Zhenglan qi in Chinese). A 500 hectare area of grasslands will be forever lost to the project. The facility will provide 900 kilowatts of electricity daily to eastern China's Beijing and Tianjin areas.
Shiliin-Gol League is one of the most traditional and culturally well preserved nomadic pastoral areas in Inner Mongolia and as such has become a major target of the Central Government's continuing series of assimilation policies. These policies have been carried out under slogans such as "environmental immigration", "enclosure and relocation", "banning herding and pastoralism" and "urbanization". Previous reports had documented that by January 2002, 3,430 households with 14,691 Mongol herdsmen from this area had been forcibly relocated. Now in the early stages of the Shuluun-Huh Power Plant Project, the number of forcibly displaced herdsmen is rising again. The local government of Shand Som (Shang Du Su Mu in Chinese) has relocated the entire population of Huang-Qi Gachaa (Huang Qi Dui in Chinese), a village home to 84 households with 380 Mongolian herdsmen. Houses and other infrastructure were demolished and even the cemetery which is considered sacred to the Mongols has been dug up and removed to make way for the power plant construction.
The government has offered "compensation" to stifle the locals' anger but with three conditions. One, each household shall be paid 10,000 RMB ($1,100 US). For this payment, the displaced Mongols shall be permanently barred from returning and shall individually and personally bear the responsibility of finding some other livelihood somewhere else. Two, households who do not choose compensation shall receive a 5,000 RMB ($550US) mud house built by the government. However, households who take possession of a mud house must borrow 5,000 RMB from the government to buy an imported Australian cow. Three, heads of households whose age is 60 or above shall not be eligible to borrow money from the government.
Chinese authorities have adopted a series of coercive policies forcing Mongol herdsmen to give up their traditional nomadic life style, one that's disparagingly described as a "backward and primitive way of life" in official news reports. Currently, the entire region is engaged in carrying out the policy of "environmental immigration", "enclosure and relocation", "banning herding and pastoralism" and "urbanization" to ensure a "smooth" process in the "western development" projects in Inner Mongolia. "This project is not a simple human and animal population transfer. It is a very well thought out ethnocidal process aimed at eliminating the Mongolian population from the territory as soon as possible" said an ethnic Mongolian scholar from Inner Mongolia who asked not to be identified.