Northern European Branch of Southern Mongolian
Human Rights Information Center
December 11, 2003
Stockholm, Sweden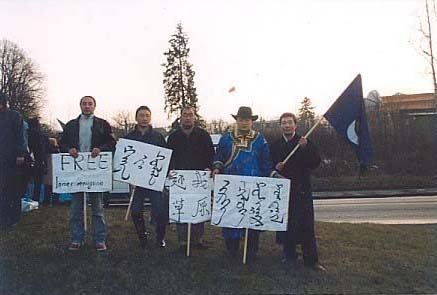 Nearly a hundred Mongols and Uyghurs from northern European countries marked International Human Rights Day on December 10, 2003 in front of the Chinese Embassy to Sweden in Stockholm to demonstrate against the Chinese government. The demonstration started at noon and ended at 3:00 pm. Protestors held high the dark-blue flag of the Inner Mongolian People's Party, light-blue flag of Eastern Turkistan and banners of "Release All Political Prisoners", "Free Inner Mongolia", "Release Hada", "Return My Grassland", and shouted loudly the slogans of "we want independence!", "we want freedom!", "China out of Inner Mongolia!", "independence for Inner Mongolia!", "free Eastern Turkistan!", "release Rebiya!".
The protestors condemned the Chinese government's increasingly heavy handed pressure and threats of detention and imprisonment against those Mongol, Uyghur and Tibetan activists who struggle for freedom and human rights. They also protested the Chinese Government's ongoing policies of cultural assimilation and Han Chinese immigration into the minority regions of Inner Mongolia, Eastern Turkistan and Tibet. Protestors expressed their revulsion of the Chinese government's economic policy plundering the natural resources and destroying the eco-system of the minority regions. In particular, the protestors from Inner Mongolia emphasized that the authorities have not only deprived the basic human rights of the Mongols but also have destroyed the Inner Mongolian grassland eco-system which forms the basis for the Mongols' traditional economy. Protestors distributed leaflets condemning the Chinese government's human rights violations, naming the Chinese Communist Party as the largest terrorist organization in the world because they are abusing a quarter of the world's population including the Mongols, Uyghurs, and Tibetans.
At 3:00 pm, protestors presented an open letter to the Chinese Embassy, requesting the Chinese government to comply with the United Nations human rights treaties and conventions and unconditionally release two political prisoners in conscience, Mr. Hada and Ms. Rebiya.