Southern Mongolian Human Rights Information Center
December 17, 2003
New York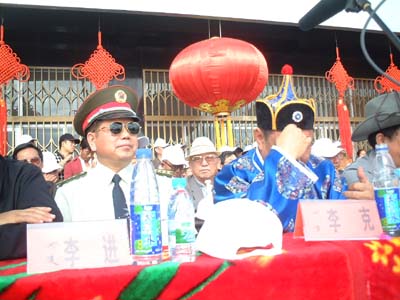 Sandwiched between security personnel, a Mongolian official of Bayannuur Aimag must speak in Chinese to the Mongols at the Mongolian traditional festival --- Naadam (photo from Bayannuur Aimag)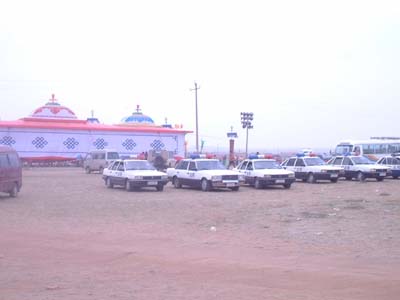 Considered as the most sensitive gathering, Mongolian traditional festival Naadam is tightly controlled by the police in Inner Mongolia. (photo from Bayannuur Aimag)
According to China's official news agency, Xin Hua News, the Chinese State Department approved a bill yesterday changing two 'aimags' (the geographical-administrative units traditionally used in Mongolian areas translated as "league") of the Inner Mongolian Autonomous Region, Bayannuur Aimag ( "Ba Yan Nuo Er Meng" in Chinese ) and Ulaanchav Aimag ( "Wu Lan Cha Bu Meng" in Chinese) into Chinese style geographical-administrative units, called "shi" (translated as "City") under the "quick urbanization of a backward region" slogan.
Inner Mongolia has historically consisted of nine aimags, each one composed of smaller geographical units known as Hushuus (Banners). This traditional aimag-hushuu based administrative system (designed to stop Han Chinese population transfer) had been maintained for centuries as the mechanism for Mongolian self-governing rights in Inner Mongolia even after the occupation by the Chinese Communist Party regime in the region and continued to serve an important symbolic meaning to Mongolian identity.
However, since the 1980's, in order to accelerate and justify its population transfer and cultural assimilation, the Chinese government started the process of converting Mongolian aimags to Chinese 'shi'-s. Eastern Inner Mongolia's Zuu-ud Aimag, one of the most traditional aimags in the region, was changed to Chifeng City without any consultation with the local Mongolian people. After this "successful" administrative change, the authorities continued to change many Hushuus ("Qi" in Chinese ) into counties ("Xian" in Chinese ) across the region. In 1999, Eastern Inner Mongolia's Jirim Aimag, home to the largest Mongolian population among the nine aimags, was changed to Tong Liao City under the direct instructions of the Central Government, ignoring the local Mongolian people's strong protests.
In 2001, another aimag, Yeh-Zuu, which is considered one of the most sacred and exemplary aimags in the region due to the existence of the Chinggis Khaan Mausoleum and its history of opposition to the Chinese regime, was changed to Ordos City. In April 2002, the Central Government officially announced the conversion of northeastern Inner Mongolia's Huluun Boir Aimag (believed to be the mythological land of Mongol origin) into a city.
Including the recently converted two aimags, Bayannuur and Ulaanchav, six out of nine historical aimags have been officially converted to cities which are expected to be rapidly "urbanized and modernized" by Han Chinese, including illiterate peasants from neighboring provinces and unscrupulous businessmen from coastal areas. Many ethnic Mongols believe that the remaining three aimags, Shiliin-Gol, Alashaa, and Hingan, where the traditional nomadic lifestyle has already been banned, will undoubtedly be the next target of the "urbanization and modernization" policy. Some worry that the Inner Mongolian Autonomous Region will be changed to a province as the rights of the Mongols as a minority are increasingly deprived by the Central Government.<![if !supportLineBreakNewLine]>
<![endif]>
Related article: From Yeke-juu League to Ordos Municipality: settler colonialism and alter/native urbanization in Inner Mongolia, by Uradyn E. Bulag