By Jack Churchward
Coordinator of Citizens Against Communist Chinese Propaganda
December 30, 2003, Florida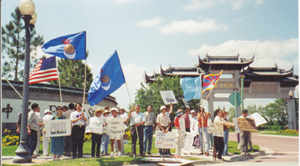 At the main gate of Florida Splendid China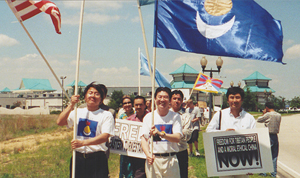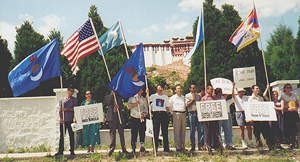 In front of the Potala Palace exhibit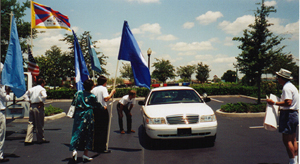 Demonstrators and the police
According to Florida Splendid China's webpage, Florida Splendid China will cease operations at close of business on December 31, 2003.
Although the park management does mention a downturn in tourism, the Orlando Sentinel also mentions "significant losses" as the cause for their demise.

"This involves a major loss of face for China and will have international repercussions," says Al Riley, public relations director for the theme park. (to the Orlando Business Journal 9/30/2003).
With regard to the significant loss of face, they should consider the failure of Florida Splendid China as a rejection of Communist Chinese ideology and propaganda and an inability to compete in a capitalist economy.
Citizens Against Communist Chinese Propaganda (CACCP) have maintained pressure on the Florida Splendid China since they opened in 1993 to either change the signs or remove the five disputed exhibits. These exhibits were the Id Gah Mosque and Tomb of Apak Hoja representing East Turkestan, the so-called "Mausoleum of Genghis Khan" and Mongolian Yurt exhibits that represent the Mongolian people, and the Potala Palace representing His Holiness the Dalai Lama of Tibet and the Tibetan people.
Many groups and individuals joined the CACCP coalition and participated in legal, non-violent efforts to decry the propaganda that legitimizes the continuing, illegal occupation of Inner (Southern) Mongolia, Tibet and East Turkestan. There is not space to thank all of them, nor accolades which express the gratitude and elation that such a victory brings.

For freedom,

Jack Churchward
Coordinator
Citizens Against Communist Chinese Propaganda
http://www.caccp.org/

Links to stories:
http://www.bizjournals.com/orlando/stories

http://www.bizjournals.com/orlando/stories

http://www.orlandosentinel.com/business/custom/tourism
<![if !supportLineBreakNewLine]>
<![endif]>