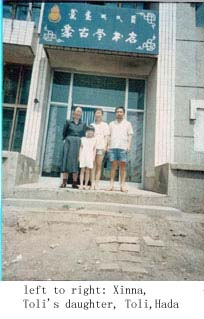 WASHINGTON, July 25-The Chinese government has deported the estranged wife of an Inner Mongolian opposition leader, apparently for political reasons, Radio Free Asia (RFA) reports.
Authorities at Beijing Airport refused to allow Tao Li, a Chinese citizen who lives in Germany, to enter the country after her flight landed there July 23. She was deported back to Germany two hours after landing in Beijing, according to her husband, Inner Mongolia People's Party chairman Temtsiltu Shobtsood. Tao flew to Beijing on Tuesday with the couple's 16-year-old daughter and the seven-year-old son of a German friend, Shobtsood said in an interview with RFA's Mandarin service.
Before leaving Germany, Tao had telephoned the Chinese embassy about her planned visit and was told it would pose "no problem." She was turned back on two previous attempts to enter China, in December 1998 and July 1999, Shobtsood said. After Tao failed to enter China in 1999, an official at the Chinese embassy in Germany told her she had been barred from her native country because of "evidence she had participated in politics."
The couple's daughter and the German boy were allowed to enter and travel on to Hohhot, capital of China's Inner Mongolian Autonomous Region, where they planned to visit Tao's widowed mother.
"My wife is not interested in politics and has never participated in any political activity or organization," Shobtsood said. "This is guilt by association, especially since my wife and I have been separated for two years."
"My wife holds a valid Chinese passport. She is a Chinese citizen," he said.
Oyunbilig, executive chairman of the Inner Mongolia People's Party, described his organization as an advocate for human rights and democracy in the Mongolian region under Chinese control. Because of Mongolia's relative proximity to Beijing, he said, the Chinese central government imposes stricter controls on the region than on Tibet or Xinjiang. Inner Mongolia, Xinjiang, and Tibet all ostensibly enjoy autonomy, although the Chinese government in fact keeps all three regions under tight control.
Dissidents have long been active in Inner Mongolia--a vast, arid region of about 24 million people that came under Chinese communist control in 1947--but news reports about them are extremely rare.
In its annual review of human rights around the world, Human Rights Watch noted that in 2001, Inner Mongolian police had "detained activists associated with the Southern Mongolian Democratic Alliance, which seeks to promote Mongolian traditions and cultural values." The government accuses the group of "splittist" activities, the New York-based organization said.
Also in 2001, police detained Altanbulag, a young musician, for distributing materials relating to human rights and ethnic problems in Inner Mongolia. Authorities also banned works by two young Mongolian poets and in October detained one of them, Unag, for several weeks, Human Rights Watch said.
RFA Today's Special Report ( 2 )
2002/7/25
[ Radio Free Asia, translation by Enhebatu Togochog] The wife of an Inner Mongolian dissident Mr. Xi Hai Ming who lives in Germany, has been refused to enter China at Beijing's Capital Airport on Wednesday and forcefully returned to Germany. The following is a report by Radio Free Asia correspondent Xia Ai Ming.
Mr. Xi Hai Ming who lives in Germany said to the correspondent that the purpose of his wife Toli's visit to Inner Mongolia is to see her mother and to spend her summer vocation in China with her 16-year-old daughter. However, on Wednesday Ms. Toli was refused to enter the country at Beijing's Capital Airport and forcefully returned to Germany. Her daughter has been allowed to enter China. Xi Hai Ming said that previously his wife Toli was refused twice to enter China in Beijing even if the trips were planned to see her father who was suffering from a terminal cancer.
Xi Hai Ming also revealed that his wife Toli who has already been separated from him for two years holds a valid Chinese passport. Before leaving Germany, Toli telephoned the Chinese Embassy to Germany about the possibility of her entry to China and was told positively. However, she was refused to enter in Beijing. About his wife's bitter experience, Mr. Xi Hai Ming has expressed his sympathy and helplessness.
The Inner Mongolian People's party was founded in 1997 in the United States. The executive director of Inner Mongolian People's Party, Mr. Oyunbilig who is living in the United States, has introduced the Party's constitution and short term goals, ( voice ). About the reason why the Party aims at Inner Mongolian independence, Oyunbilig said, (voice).
The Southern Mongolian Human Rights Information Center, a New York-based human rights organization, revealed that Ms. Toli, the Inner Mongolian People's Party president Mr.Xia Hai Ming's wife, is not the only victim. Since 1998, at least 7 Inner Mongolians who live in overseas have been refused to enter the country or detained and questioned after the their entries. Among those 7, except the former vice president of Inner Mongolian People's Party, the rest of 6 have no relationship with any political organization.
Mr. Xi Hai Ming has sent a statement to the Chinese government on his wife's case, ( voice ).
The Inner Mongolian People's Party, known as "Inner People's Party" ( Nei Ren Dang in Chinese ), was established in the United States in 1997. In history, the " Inner People's Party" had emerged twice. The first one was the "Inner Mongolian People's Revolutionary Party" established in Chuluulalt Haalag ( known as "Zhang Jia Kou" ) whose goal was to obtain "autonomy". The second one was the "Inner Mongolian People's Revolutionary Party" established again by eastern Inner Mongolian young intellectuals in 1945, which was disbanded later and some of its members have accepted the Chinese Communist Party's leadership.