SMHRIC
April 3, 2012
New York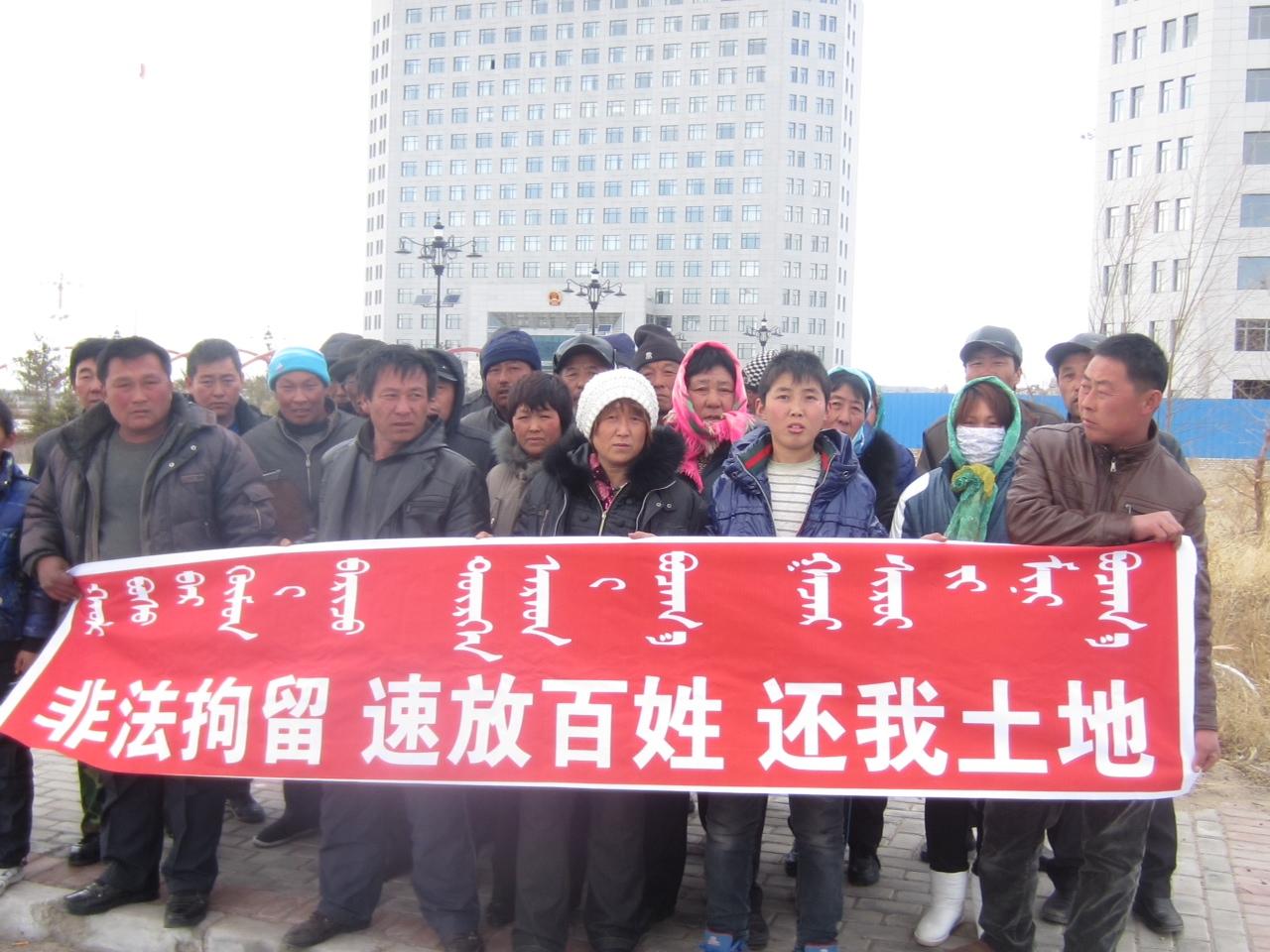 Mongolians protest in front of Naiman Banner Government building. Banner reads "Stop Illegal Detention, Release Detainees, and Return Our Land" (SMHRIC photos)
The protests continued in Southern (Inner) Mongolia's Naiman Banner (banner is equivalent to county) after a violent clash took place yesterday between several hundred local Mongolians of Tulee Gachaa (gachaa is equivalent to village) and more than 80 police from the Banner Public Security Bureau, resulting in the arrests of 22 Mongolians with 5 seriously injured.
On April 3, 2012, more than 40 Mongolian protesters marched toward the Banner capital of Daachintal and gathered in front of the Banner Government building to demand the authorities free the detainees and respect their legal rights. They chanted slogans and held up a sign reading "Stop illegal detention, Release the Detainees, and Return Our Land".
"We have been here all day demanding the Government release the detainees," Chenfuulong, one of the organizers of the protest, told the Southern Mongolian Human Rights Information Center (SMRHIC) in a telephone interview, "but the Government continues to ignore our grievances."
According to Chenfuulong, the detainees were sprayed with an unknown substance in their mouths by the police after they were handcuffed and thrown into police vehicles yesterday.
"My brother Chenfuudee was sprayed in his mouth first for insisting on defending the rights of our fellow Mongolians. Then the others were sprayed," Chenfuulong learned from the hospitalized protester Shuanzuur, "all detainees vomited and felt severe dizziness."
"Mr. Shuanzuur, one of the detainees, was brutally beaten in detention after his arrest. With his nose bleeding profusely, he was transferred to the hospital in Daachintal," a protester at the scene answered the interview of SMHRIC, "many others have been tortured by the police in detention today." According to the protester, at least three detainees' family members were informed by the Public Security Bureau that they were seriously "ill" and needed to be hospitalized.
A cell phone text message sent from the protesters to SMHRIC revealed that the Banner Government met with five representatives of the protesters in the evening of April 3, 2012 and promised to release the detainees if the protesters go home quietly and sign a paper to promise not to protest the land expropriation. "We are determined not to halt our protest until the Government releases all detainees, compensates for losses, punishes those who beat the protesters, and returns our land to us," the text message said.