SMHRIC
Mar 6, 2013
New York
| | |
| --- | --- |
| | |
| Herders from Durbed Banner gathered at the train station of the regional capital Hohhot | |
| | |
| Government officials and Public Security personnel threatened and took the herders back to Durbed Banner | |
| | |
| Herders sit-in at the train station and refused to follow the order to return home | |
On the eve of the 2013 National People's Congress in China, protests organized by Mongolian herders from multiple areas of Southern (Inner) Mongolia have been put down by the Chinese authorities. Additionally, internet posts on the events have been removed from blogs and social media.
On March 1, hundreds of Mongolian herders from Southern Mongolia's Durbed Banner ("si zi wang qi" in Chinese) gathered at the train station of the regional capital, Hohhot, in an attempt to march toward Beijing in protest. The movement was an organized response to the ongoing governmental appropriation of their grazing land for military purposes; herders have been continuously displaced without adequate compensation.
Led by the Banner government officials, the local Public Security personnel arrived in Hohhot to stop the herders from visiting Beijing, preventing them from making an appeal to the National People's Congress regarding their concerns. The herders were threatened and taken back to the Banner. Several were physically assaulted by the police dispatches for refusing to follow the order to return home.
According to a written communication received today by the Southern Mongolian Human Rights Information Center (SMHRIC) from the affected herders of Durbed Banner, 1,767 Mongolian herders from 470 households have recently been displaced. They have been forced to give up their land for the expansion of the Beijing Military Command's Zureh Military Training Base ("zhu ri he xun lian ji di" in Chinese). As the largest military training base in China, it already occupies 1,066 square kilometers of the best grassland in Southern Mongolia.
An official document issued by the Durbed Banner Government on November 28, 2011 states that the relocation project was carried out in the interest of "national defense" and "social stability." Although the authorities promised a number of benefits and compensations to the herders in the document before displacement began, no adequate compensation or resettlement solutions have been implemented.
In another similar case, about 40 Chinese police and security personnel with a dozen police vehicles stormed into Halgait, a remote Mongolian herders' village of eastern Southern Mongolia's Zaruud Banner ("zha lu te qi" in Chinese) on March 2, 2013. The purpose of the raid was to stop the Mongolian herders from marching toward the Banner government and, subsequently, to Beijing in protest of the local government's confiscation of their grazing land and negligence of their grievances.
According to Mr. Tsengelt, a herder from Halgait Village, the local government has illegally occupied nearly 40,000 mu (approximately 2,700 hectare) of their grazing land and sold it to a number of Chinese companies without the free, prior and informed consent of the local Mongolian herders.
"Two major Chinese mines, namely Lu Huo Coal Mining and Yi Cheng Coal Mining are particularly active in destroying our land and violating our rights. They dump their sewage directly onto the grassland, and brutally beat us herders," Tsengelt told SMHRIC over the phone. "In 2006, more than 200 people from Yi Cheng Coal Mining came to beat us brutally. Sixteen herders were seriously injured and hospitalized."
"Last year more than 30 herders were arrested and detained for more than a week by the Public Security Bureau for protesting against the mining operation," Tsengelt added.
According to another herder from the same village who asked not to be identified, the Banner government is planning to displace the entire village this April to make way for further mining operations.
"We have lived on this land for generations. We will not move to anywhere, and will resist any form of relocation. In fact, we are planning to launch a Banner-wide herders' resistance movement against mining and land appropriation," the herder said.
Similar protests by Mongolian herders have been reported recently from other Sums (townships) of Zaruud Banner, including Bayanbulag Sum, Doloodai Sum and Gerchuluu Sum.
Posts and articles on the Mongolian herders' protests have immediately been removed from personal blogs and all major social media outlets in China. A Beijing-based activist named Yu Guofu was even accused of being "anti-revolutionary" and was threatened with arrest by the local authorities in Zaruud Banner for posting the information of the case on the Internet. See the pictures showing the removal of posts by Yu Guofu.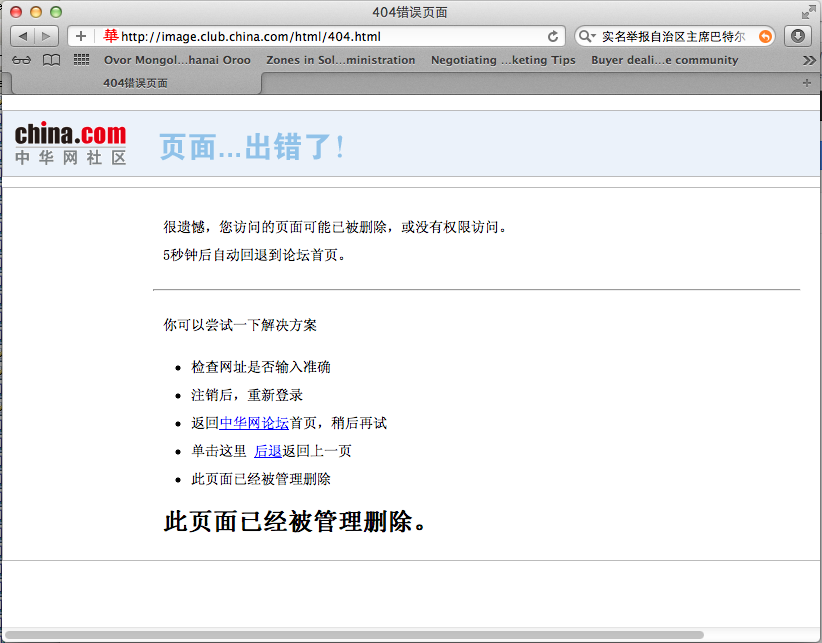 Zhong Hua Forum states the post has been removed by the administrator when searching information on herders protest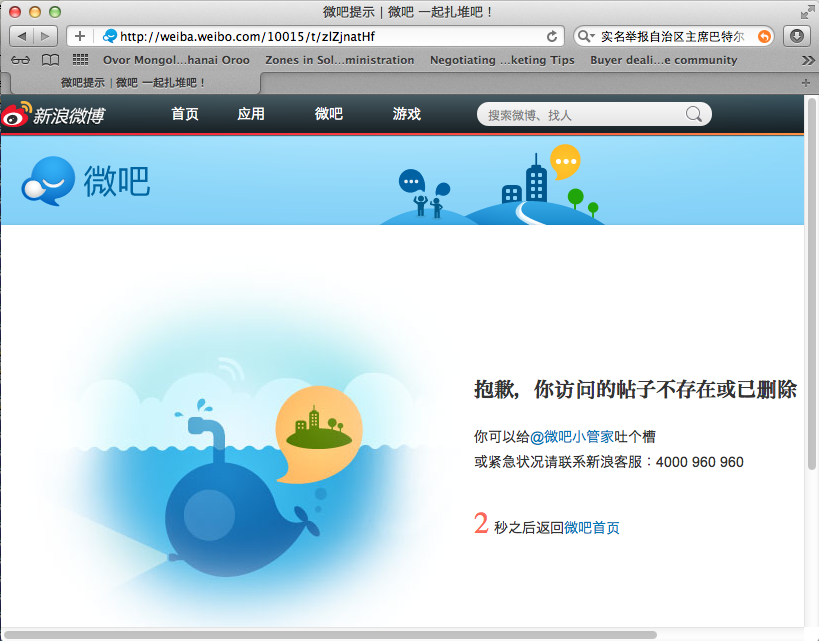 One of China's most popular social media site Sina Weibo returns a similar message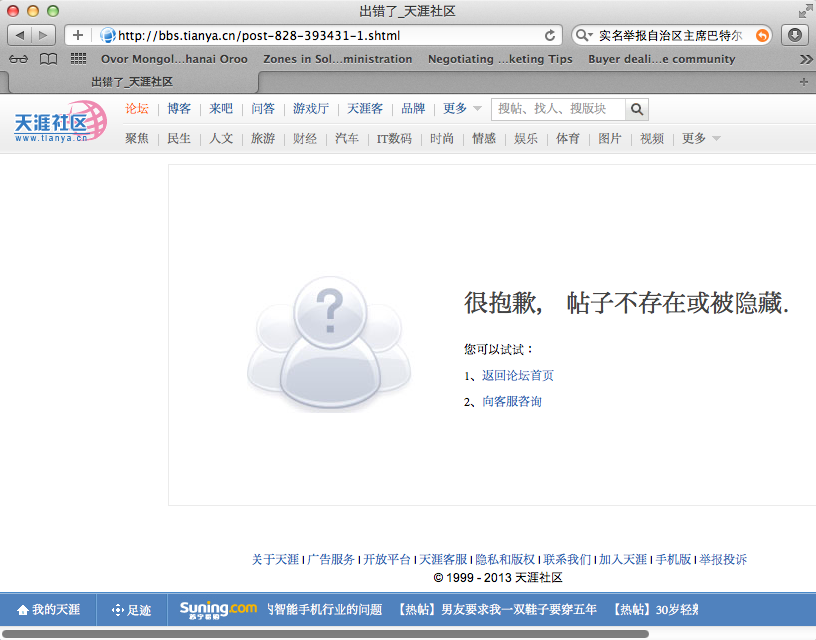 China's another popular Internet site Tian Ya BBS shows a statement on the deletion of posts regarding herders' protests