The Daily Telegraph
From correspondent in Hong Kong
July 31, 2004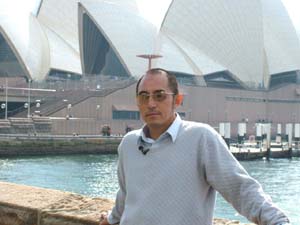 Mr. Yuan Hongbing in Sydney, Australia
(photo from www.epochtimes.com)
A Chinese dissident once detained for participating in counter-revolutionary activities was seeking asylum in Australia, a Hong Kong newspaper reported today.

Yuan Hongbing, an ethnic Mongolian and law school dean at Guizhou Normal University, left China on July 21 for a trip to Sydney where he hoped to stay, the New York-based group Human Rights in China told the South China Morning Post.
"This is his first overseas trip and he is not preparing to go back," Liu Qing, president of the human rights group, told the Post.
In 1994, Beijing's security officials arrested Mr Yuan for allegedly taking part in anti-government campaigns. He was detained for six months and released without being charged, the Post said.
Mr Yuan learned from a friend earlier this month that the authorities planned to arrest him again, this time for distributing compact discs containing his work, the newspaper said.
The content of the discs was not clear, but the human rights group said Mr Yuan hoped his asylum bid would highlight the persecution of dissidents, Mongolians and Tibetans by mainland authorities.
Neither Human Rights in China nor officials at the Australian Immigration Department immediately returned calls seeking comment. Immigration officials in Australia routinely decline to comment on asylum cases.
China's Foreign Ministry had no immediate comment on the reports.
Australia's government has strong links with the Beijing administration and officials from both countries are currently investigating whether to begin negotiating a free trade deal.
AP
Yuan Hongbing's resume in English:
My name is Yuan Hongbing. I used to teach at Peking University Law School and was the head of the Procedure law Office. After 1998, I have been politically persecuted by the Chinese Communist Party just because I created and organized "Peking University Faculty Support Association", an "illegal" organization that was also the only one in China to provide support to the student's democracy movement. During the period, I have been continuously engaged in the democracy and human rights activities.
As the result, on March 2nd in 1994 in Beijing, I was detained secretly by Bureau of Chinese Security, a secret police agency. Because of my reputation and wide influence on all institutions of higher education in Beijing, government authority did not want to take the risk to prosecute me there but sent me directly to Guizhou, a remote mountainous terrain in Southwest of China. Guizhou is a poor and backward province in terms of its political, economic and cultural development. Guizhou is famous for its cloudy sky in all four seasons. So it has been the ideal place for the rulers in the history to exile its political dissident.
My alleged crime was "Attempt to Overthrow Socialism System". All specific allegations are as follow: 1. participated as a candidate in the "illegal" (unapproved by the government) elections of delegates to the National People's Congress; 2. created and organized the "Peking University Faculty Support Association", the only "illegal" faculty association among nationwide universities, and initiated and organized the university wide faculty and staff and party members meetings and drafted an open letter to all local level communist party organization and its affiliations in the attempt to aggravate political unrest; 3. published "Desert Wind" in 1990, which systematically discrediting official ideology of dialectic materialism and eulogized for the counter revolutionary riot in its postscript; 4. incited Peking university students to elect him as a local delegate to the National People's Congress twice in both 1990 and 1993; 5. interfered with national diplomacy by inciting Peking University students to demonstrate against Japanese Emperor visiting China; 6. edited and published "Tide of History" in attempt to cause a split within the Communist Party Center; 7. brought law suit against Chinese People University Party Committee and Central Government News and Publishing Agency for illegally censoring the "Tide of History"; 8. on June 14 1992, initiated, organized and held political meeting in Olympic Hotel with over 100 political dissidents. As the result, "Bourgeoisie liberalism" once again menaced the nation; 9. In November 1992 held and organized the meeting in Grand Bell Temple Hotel attended by government officials and intellectuals attempting to repeal official verdict in June 4th crackdown; 10. in the fall of the 1993, held "illegal" sitting to protest against Wu Shuqing, the Peking University president, for suppressing academic freedom out of political motives; 11. attempted to incite social unrest by organizing signature drive in protest of police brutalities against the freelance artist Yan Xuezhen; 12. created and organized nongovernment sponsored independent unions movement across eleven provinces, which is called "Chinese Labor Federation for the protection of workers"; 13. attempted to organize human rights group with participation from Wei Jingshen and Ming Qi; 14. In February 1994, incited and aided Christian peasants from a county in Shandong province to protect against local police infringement upon freedom of religion in Beijing, and agreed to represent them; 15. organized underground anticommunist party organization with Cai Zhiguo and other Communist Party dissidents; 16. attempted to infiltrate Party, governmental and military upper echelon by forming commercial entities and organizing political discussion group; building political, economic and social groundwork for post Deng Xiaoping era democratization; 17. drafted the theoretical guidelines for Democratic movement in "Democracy and Republicanism"; 18. wrote the counterrevolutionary novel "Freedom in Sunset" , in which genocide against Mongolian people by the Chinese Communist Party was depicted, and philosophical writing in "Proverbs in Sunset".
The trumpeted charges by the government authority were totally unacceptable to modern conscience and were no more than means of political persecution.
After six months of illegal imprisonment, in September 1994, the government authority released me from the prison under the condition that I can never set my foot in Beijing in my lifetime in spite of the fact that all my family and friends are living there. This is a de facto lifetime exile to the remote province of Guizhou.
Historically speaking, exile is the next worst sentence to death penalty since the ancient times in China. Ironically, such penalty does not exist in the current criminal law in China. Such a discrepancy between the written code and real life practice is predetermined by the hypocrisy in the nature of the Communist regime. My exile for life is a clear example of such hypocrisy.
I was allowed backing to a teaching position in Guizhou Normal University in 1994. After a few years' hard working, I was promoted to be a tenure professor, thanks to my academic credibility and outstanding performance in teaching.
The following titles evidence my achievements and recognition from the legal professionals: 1) Dean of Guizhou Normal University Law School; 2) Best professor in Guizhou; 3) Provincial legal expert in Guizhou; 4) the head of the Guizhou Procedure Laws Study Committee; 5) Member of the Guizhou provincial administrative review committee; 6) Member of the board of arbitration of employment law; 7) Member of the Academic Committee in Guizhou Normal University; 8) Arbitrator of the Board of the Arbitration in Guiyang; 9) Guest professor in Guizhou police institution.
Since beginning of my exile, I devoted my time in writing to disclose the Communist Party's crime against its people and humanity. I wrote four volumes during my eight years exile in Guizhou as follows:
1. "Freedom in Sunset", depicting genocide against Mongolian people by the Chinese Communist Party;
2. "Lamentation of a Civilization", an autobiographical novel using the time line of my life depicting the detour of china's democratic movement during the last half century;
3. "Golden Holly Mountain", depicting the Communist cruelty against Tibet culture and religion;
4. "Back to Desolation", exposed the tragedy of cultural and human degradation under the Communist Regime in China.
Exercising totalitarian control over culture and mind in China is characteristic of communist dictatorship. Consequently, none of my writings could be published in China after I finished those four volumes under a great deal of secrecy. Ms. Zhao Jing transcribed into electronic form and burned on CDs. I have distributed over 100 copies to my close friends in the hope that my writings will reach a wide audience eventually.
I was informed by a source in the government that the authority is aware of my writings and the distribution of my CDs. It was said that an order has been issued by the head of the secret police "to begin collecting evidence against me for the eventual secret arrest and imprisonment of my person in the near future. It is apparent that all my writings will be confiscated and destroyed before long. They will not be reaching the intended audience if I stand idly by. In order to preserve my writing as a record to the crime and cruelties committed by Chinese Communist Party against by people and humanity, I had no choice but to escape from clutches of Communist Regime. Based on the same reason, I am seeking political asylum in the United States.
Zhao Jing, my companion is seeking asylum with me because of the fact that she transcribed my entire manuscripts into electronic form, helped me distributed my writings on CDs, and transported out of China. She is in imminent danger of being arrested by the Chinese secret police.
1. Yuan Hongbing publications: (missing information of the publishers and year in which they are published.
· "Essays on the Spirit of Law"
· other collected writings on jurisprudence.
2. It is worth to note that my name was brought into attention by U.S. Department of State in its "China Human Rights Practices, 1995"(See page 32 in "China Human Rights Practices, 1995).
("In March 1994, a petition calling for workers to have "freedom from exploitation," the right to strike, and the right to organize
A nonofficial trade union was circulated in Beijing. The authorities detained Zhou Guoqiang, Yuan Hongbign, and Wang Jiaqi after they presented the petition. Zhou is an associate of Han Dongfang, the leader of the Beijing Autonomous Workers' Federation. He was sentenced in September 1994 to 3 years' reeducation through labor, although the charges against him were reportedly not linked to the petition (see Section 2.d.). Accurate figures are not available on the number of Beijing Autonomous Workers' Federation detainees still being held for their participation in the 1989 Tiananmen Square demonstrations.")
3. Zhao Jing's information:
· born in Guizhou on Oct.20 1972.
· She graduated from Yunnan University in 1995.
· From 1995 to 1999, Zhao Jing taught at Guizhou Normal University.
· In June 2000 she was employed by P&G in Guangzhou (the China division) as a regional manager in its customer relation. She was responsible for core business channel development in Guizhou.