SMHRIC
September 2, 2013
New York
| | |
| --- | --- |
| | |
| Seevendoo, herder's rights defender and religious figure, was arrested by the Chinese authorities (photo courtesy of SCMP) | |
On July 4, 2013, following a month-long detention for alleged "involvement in fraud", Chinese authorities formally arrested Mr.Yunshaabiin Seevendoo, a respected Buddhist figure of Right Ujumchin Banner of central Southern (Inner) Mongolia. Mr.Sevendoo is a well known activist fighting for the rights of Mongolian herders and an organizer of herders' cooperatives. He is being held in the Right Ujumchin Banner Detention Center and has been denied visitation rights. Family members are concerned about his deteriorating health.
According to the "Echoing Steppe"("ceng jing cao yuan" in Chinese), an environmental group based in Beijing run by Chinese intellectuals who were sent to Southern Mongolian during the Cultural Revolution, Seevendoo once served the local authorities as a "member of Political Consultative Conference (CPPCC) of Shiliin-gol League and the People's National Congress (PNC) of Right Ujumchin Banner".
In 2008, in his capacity as member of CPPCC and PNC, Seevendoo sent out an open letter to all Gachaas ("Gachaa" is rural Mongolian administrative units, consisting of several villages) across Southern Mongolia and urged the Mongolian herders to obtain the "Collective Land Ownership Certificate" in accordance with the Chinese constitution and Land Management Act to defend their grazing lands collectively from government and corporate encroachment.
"Dear Gachaa leaders and People's Committee representatives, I am sorry that I can't greet you happily as all of China is celebrating the New Year. The reason why I am sending out this letter is that as you all have been witnessing, our once beautiful grasslands have been suffering heartbreaking destruction; injustice has been widespread due to illegal land expropriation; herders have been thrown into a desperate economic situation due to that fact that they were forced to give up their traditional pastoralism," Seevendoo started his open letter dated January 12, 2008. "Let all Gachaas rise up and mobilize ourselves to obtain our 'Collective Land Ownership Certificates'! Let us trust our people power and power of law!" Seevendoo rallied the Mongolian herders at the end of his letter.
In the same year, Seevendoo provided legal consultation to the herders' communities of Right Ujumchin Banner and assisted the majority of Gachaas of the Banner to obtain their "Collective Land Ownership Certificates".
In 2009, Seevendoo was elected as the Head of Saruulbulag Gachaa, Khaan-uul Sum (a sum is equivalent to township) of Right Ujumchin Banner through direct votes by the herders.
In 2010, Seevendoo organized the local herders and established a cooperative for hay cutting and hay storage.
In 2012, Seevendoo organized more than 20 herders and established another cooperative called "Taliin Bogdo Cooperative" to collectively manage meat storing and selling without going through third parties.
Sevendoo's activities promoting herders' self-organization, self-empowerment and his out-spoken criticism of the Chinese authorities' illegal land expropriation put him at high risk for harassment and ultimate retaliation from local officials and the government.
According to the South China Morning Post (SCMP) that interviewed Seevendoo in person last year, Seevendoo was previously also arrested for "compiling, printing and distributing illegal publications". "The unlawful publications seized by police were pamphlets of Chinese laws translated by Echoing Steppe into the Mongolian language," the SCMP article said.
The article also mentioned Seevendoo's direct confrontation of local officials and mining company representatives who attempted to seize the Mongolian herders' grazing land. "Furious, Siendo [Seevendoo] threw the constitution in the official's face. 'What you just said is enough to put you in jail for up to 10 years,' he said. Shocked and humiliated, the official and mining company employee left hastily and never returned." (See SCMP original article entitled "Lama helps herdsmen with earthly knowledge" dated July 19, 2012).
On July 4, 2013, Seevendoo was officially arrested for the "crime of fraud", according to the arrest warrant (see the picture) issued by the Right Ujumchin Banner Public Security Bureau and delivered to Seevendoo's wife Ms. Hongmei. The warrant did not give out the details of the crime.
To obtain further details of Seevendoo's current status, the Southern Mongolian Human Rights Information Center (SMHRIC) was able to interview Seevendoo's wife Hongmei over the phone.
"My husband is still being held in the Ujumchin Banner Detention Center. I was given an arrest warrant without any further details of the alleged crime. I and my two children were allowed to visit him only once a month ago," Hongmei told SMHRIC over the phone.
"I am really concerned about his health. He had a serous kidney problem and had been in medication until his arrest. The condition at the detention center is terrible, and he has no access to any medical treatment. During my visit last month I noticed his health was deteriorating," Hongmei, a helpless herdswoman, expressed her concern about her husband's failing health.

Seevendoo's open letter and "Collective Land Ownership Certificate" (photo courtesy of "Echoing Steppe")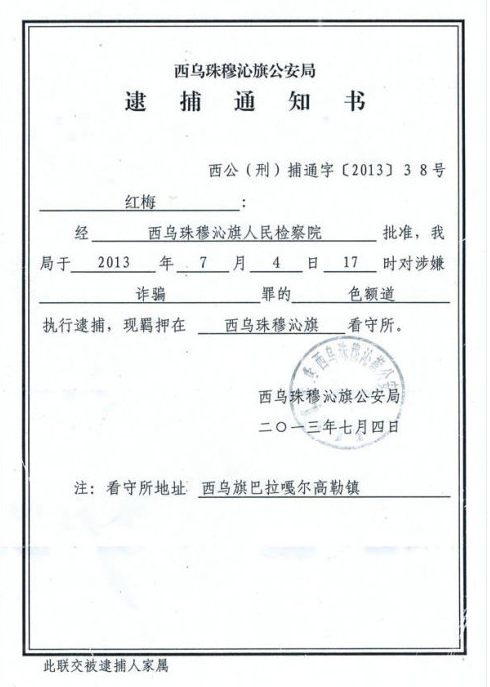 Seevendoo's arrest warrent