SMHRIC
Nov 30, 2016
New York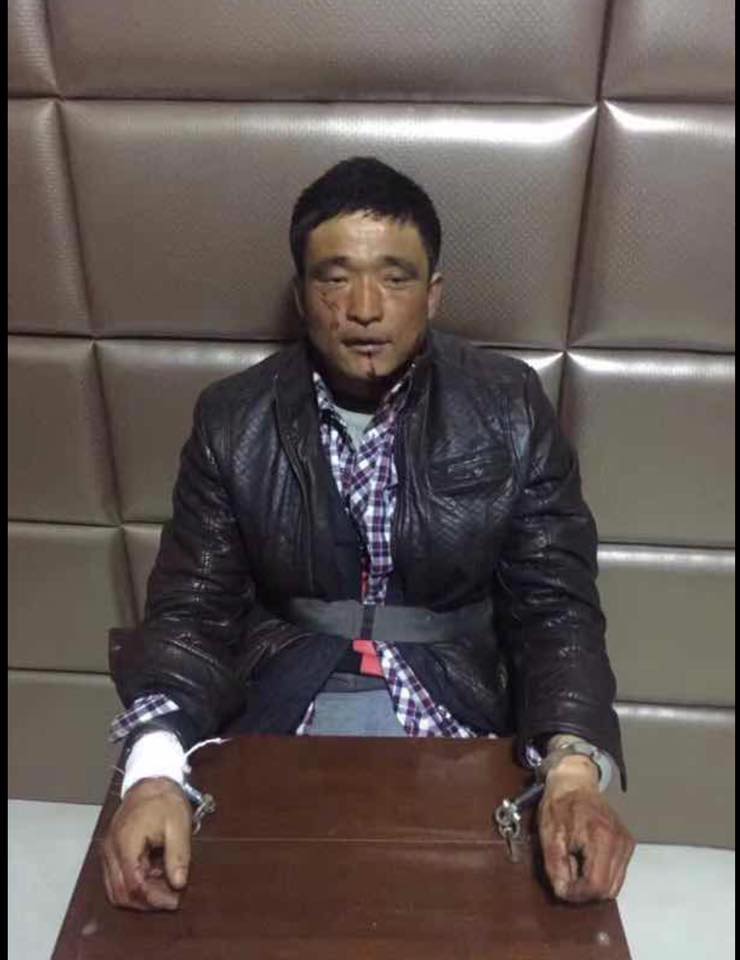 Mongolian herder Unench who killed four Chinese in a land dispute is regarded as a "national hero" and "modern-day Gaadaa Meiren" (SMRHIC 2016-11-26)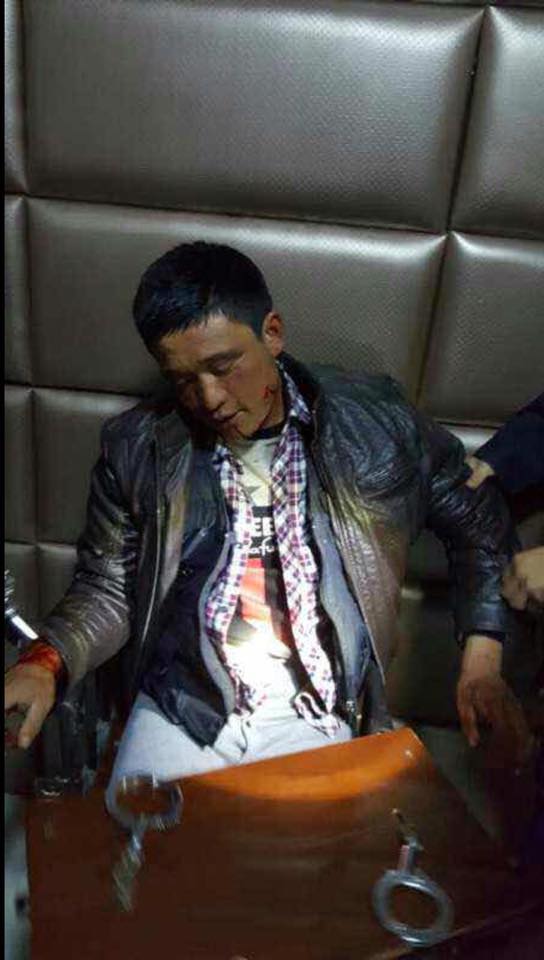 Unench suffered from nose bleeding and multiple injuries possibly caused by beatings by the alleged victims and torture by police

(SMHRIC 2016-11-26)
On November 25, 2016, Mr. Unench, a Mongolian herder from the Ulgai area of Southern Mongolia's Left Uzumchin Banner, killed four Chinese named Wei Jianguo, Wei Jianqi (cousin of Wei Jianguo), Wei Jianchen (brother of Wei Jianqi) and An Xiaoping after being beaten by three of the four in a dispute over grazing land and payment of sheep tending. According to the official Weixin news release of the Tongliao Municipality Public Security Bureau, Unench was arrested nine hours later in his home place of eastern Southern Mongolia's Horchin Left Wing Middle Banner.
A native of Yoliin-mod Township of Horchin Left Wing Middle Banner, Unench was hired by the Wei's, a Chinese family, as a sheep tender in the Ulgai area. Although the details of the dispute are unavailable, information from different sources confirm that Unench had been blamed and abused by the Wei's for not feeding the sheep sufficiently to accumulate fat. Expanding deserts, shrinking grazing land, depletion of underground water, and ever-worsening pollution as a direct result of mining, farming, and opening up by the Chinese have largely contributed to the poor vegetation of the Ulgai area.
According to local Mongolians, Unench had often been threatened by the Wei's with suspension of employment and cutting of salary. In their last deadly dispute, which took place on November 25, 2016, Unench was severely beaten by Wei Jianchen, Wei Jianqi and An Xiaoping at the instruction of Wei Jianguo.
"The suspect Unench had a dispute and conflict with the victims over tending their sheep and use of grazing land, killing Wei Jianqi, Wei Jianchen, An Xiaoping on the same day and Wei Jianguo on the next day in Wei Jianqi's residency," the Tongliao Municipality Public Security states in a news release.
Several photos released by the Chinese authorities show that Unench suffered from nose bleeding and other injuries on his face, head and hands, suggesting that he was either severely beaten during the dispute or was tortured by the police after the arrest, or both.
"At least three major questions still remain unanswered," a statement by the Mongolians, widely circulated via Chinese social media, says:
"One, this is not a simple criminal case. This is an ethnic conflict between the Mongolians and Chinese; Two, caution must be taken as to whether this is just an isolated case of land dispute; Three, the key question is whether the suspect's life was in danger during the dispute."
"A careful, thorough and transparent investigation must be carried out to avoid it to be decided as the case of Mr. Hugjilt." The statement referred to the prominent ethnic profiling case in which a Mongolian man named Hugjilt was wrongfully executed by the Chinese for the crimes of rape and murder, which he did not commit.
The case has become the hottest discussion among Mongolians over social media. Poems, essays and statements dedicated to Unench with strong emotion and nationalistic sentiment have been going viral via Chinese social media, regarding him as a "national hero" and "modern day Gaadaa Meiren".
Born in Horchin Left Wing Middle Banner, also known as "Darhan Banner", the same place where Unench is from, Gaadaa Meiren, an iconic figure of contemporary Mongolian history, became the symbol of Southern Mongolian resistance against Chinese colonization. Gaadaa Meiren fought to his death in 1931 defending the Mongolian territory from Chinese encroachment.
"This is a historic event in which a desperate Southern Mongolian is forced to stand up to kill the Chinese in defense of his rights and dignity. Since the Chinese colonial occupation started in 1949, the Southern Mongolians have always been the victim of the Chinese state terror and target of violent abuses by Chinese settlers. Today, the message from Unench's case is clear: the brutal nature of Chinese colonial regime in Southern Mongolia is creating an environment in which the desperate Southern Mongolians have no choice but to resort to the last option - violence to defend their survival and dignity," said Mr. Dolgion Khatgin, President of the Inner Mongolian People's Party, based in Sweden.
In an interview with Radio Free Asia, Mr. Hada, a prominent Southern Mongolian political prisoner who is still under house arrest after completing a total of 19 years imprisonment, said that the case of Unench is "an inevitable result of the Chinese colonial authorities' vicious policy of deliberate destruction of Mongolian national economy and the eradication of the entire nomadic nation. It is a clear manifestation of ethnic oppression. Similar events are expected to take place in a greater frequency and on larger scales."
"What is the most significant in all these heated discussions taking place in social media inside and outside China is that no single Mongolian is criticizing Unench for killing four Chinese in defense of his dignity. The Mongolians may have not shown their strong dislike and fundamental disapproval toward the Chinese colonization with a direct and violent expression. Yet, the unanimous response of the Southern Mongolians to the Unench case testifies to the fact that the hearts and minds of the Southern Mongolians have never been conquered by the Chinese colonizers," said Mr. Tumenulzei Buyanmend, a well-known Southern Mongolian dissident writer in exile and a laureate of Human Rights Watch Hellmann-Hammett Award for dissident writers.