FOR IMMEDIATE RELEASE
SMHRIC
Dec 10, 2017
New York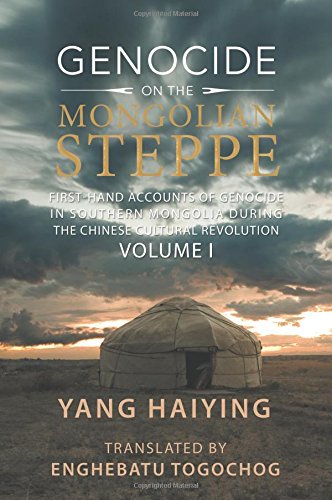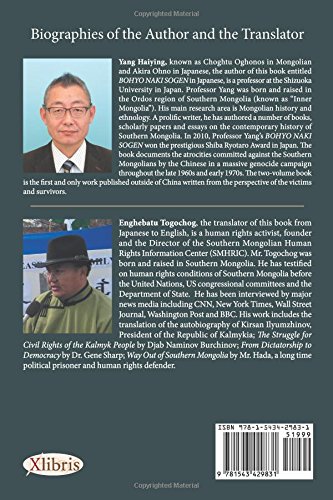 Commemorating the Human Rights Day on December 10, 2017, the Southern Mongolian Human Rights Information Center (SMHRIC) announced the release of the Genocide on the Mongolian Steppe: First-hand Accounts of Genocide in Southern Mongolia during the Chinese Cultural Revolution (Volume I) (published by Xlibris), a book translated by SMHRIC Director Enghebatu Togochog from Japanese to English.
Both Enghebatu Togochog and Professor Yang Haiying, author of the original book entitled BOHYO NAKI SOGEN in Japanese, believe that the genocide of the Mongolian people during China's Cultural Revolution was a crime against humanity that has remained largely hidden from the view of history.
"This book is dedicated to the memory of tens of thousands of innocent Mongolians who lost their lives in a massive genocide carried out in the Chinese-occupied Southern Mongolia 50 years ago," Togochog noted in the "Translator's Acknowledgment" of the book.
In 1967, two decades after its successful annexation of Southern Mongolia, the Chinese Communist regime launched a carefully-planned campaign of genocide against the entire Mongolian population in Southern Mongolia. It was known as the "Purge of Members of the National Separatist Organization Southern Mongolian People's Revolutionary Party". According to Chinese official statistics, 346,000 Mongolians were persecuted as national separatists and anti-revolutionaries, and 27,900 were killed. The Mongolians widely believe the actual numbers of the victims are much higher than the Chinese official figures.
"In an extravagant display of power, wealth and military resolve, the Chinese regime celebrated 70 years of colonial occupation of Southern Mongolia this year," Togochog states in the acknowledgement, "the exuberance is starkly juxtaposed with the reality of Southern Mongolia, that an independent nation can be reduced to an 'ethnic group', a vast and beautiful territory can be turned into a mining pit, and a vibrant culture can be trivialized to a window display within a matter of a few decades."
"Yet, what the Chinese did not count on is that a nation of six million strong with a fresh memory of historical sovereignty and an uncompromising national identity cannot be easily wiped out," Togochog continues, "this means resilience and resistance are a permanent pair that makes the 'Chinese dream' not so pleasant."
Highlighting the strengthening resistance movements including the rural herders' uprisings, Mongolian intellectual's demand for their legal rights, and the tireless struggle of courageous dissidents like Hada, Xinna, Huuchinhuu and others who dedicated their lives to the cause of freedom of Southern Mongolia, Togochog writes in the acknowledgment that "thus, this book honors these brave Mongolian men and women who have willingly sacrificed their life and liberty to keep the spirit of self-determination and the aspiration for freedom alive during these most difficult times."
The book is now available on Amazon: https://www.amazon.com/Genocide-Mongolian-Steppe-First-Hand-Revolution/dp/1543429831/ref=sr_1_1?ie=UTF8&qid=1512925004&sr=8-1&keywords=togochog