Dear president Hu,
Greetings!
It must indeed be improper to disturb you while you are very busy with state affairs. However, I hope you will forgive me because this is also an important affair of the state that must be reported to you.
A few years ago, following your instructions, the Publication Bureau under the Department of Propaganda of the Central Government sent me a letter as response to my letter to you in which I intended to report on the serious problems regarding ethnic affairs contained in "A New 'Sanzijing'", a national bestseller. The letter of the Publication Bureau contained a sentence saying "we appreciate your reporting on problems to the Center," and I was greatly touched. Therefore, I understand that you as the President do pay attention to opinions from the below. This is your admiring style of winning the hearts of the common mass. It, therefore, also gave me the courage to report to you on problems for your reference.
In the recent Constitutional amendment, our party's Central Committee added an article stating that "the state shall respect and protect human rights". When answering questions with national and foreign news media, Premier Wen Jiabao also mentioned that China will "gradually and orderly establish a democratic system." All these tell us that our Party not only is synchronizing its economical pace with the rest of the world, but also is preparing to adopt a democratic and free model by keeping its political system updated. It was supported and welcomed by the mass of all nationalities across the country as it was a long-awaited great undertaking.
What are human rights? In my understanding, human rights are civil rights. What are civil rights then? According to interpretations of well known scholars from democratic and free nations, in a broad sense, civil rights are rights of individual privacy and freedom of ordinary citizens that should not be interfered by the state. This definition of freedom and civil rights has no conflict with our Marxism-Leninism doctrine. "The Communist Manifesto" also clearly pointed out that "what replaces the old capitalist society where there exist conflicts between classes is a joint entity where every individual's free development becomes the prerequisite for free development of all people" ( the highlights are done by me); after the United States "Declaration of Independence" was published, Marx admiringly called it "the first human rights declaration"; in 1847, Engles said, "after succeeding of proletarian revolution, the number one priority is to establish a democratic system", when being asked about the process of proletarian revolution; Lenin also stressed that "after socialism reforms capitalism, all parts of the society will comprehensively implement democratic system, and borders of nations will be drawn in accordance with the will of residents". It is evident that Marxism-Leninism highly respects human rights, freedom, and democratic system. Therefore, adding the article of "respecting and protecting human rights" into our country's Constitution is an absolutely correct initiative that not only conforms to the United Nations charters but also complies with Marxism-Leninism.
However, unfortunately, not all of the articles written in the Constitution are actually implemented. For instance, as early as 1954, our Constitution has already adopted the article of "all citizens shall have freedom of speech and press" that has never been implemented for 50 years until today, and problems in this regard exist more severely in Inner Mongolia. Last year, after completing my memoir "Dreamlike Life", I was refused by all our publishing houses. With no choice, I contacted Tianma L.L.C. in Hong Kong to obtain an International Standard Book Number (ISBN), and finally had my book published. Last September, during the process of printing, Inner Mongolian Department of State Security (which has its secret agents everywhere) started to investigate the process of publication for problems found in the book. I wrote to you immediately to report the relevant ethnic problems, and asked the Central Government for urging Inner Mongolian authorities to respect and protect "citizens' rights to free speech and press" that is guaranteed by the Constitution. I am uncertain whether the Central Government gave an order, or the Party Secretary Chu Bo commented on it, the Inner Mongolian Security Bureau stopped its investigation. Now, half a year has already past, and the books have already been sold out. However, it is hard to understand that the Inner Mongolian Department of State Security has recently started investigating the book publication case again. The main contents of my book were articles discussing about my life time experience in which I recognized that democracy and freedom are invaluable and should be regarded as the key measure of modernization for all nations and nationalities. What I hoped for in my book is essentially consistent with the democratic thought which has been stated in our Constitution as "respecting and protecting human rights". However, example of re-investigating my memoirs sufficiently proved that the age-old "leftist" styles still exist in Inner Mongolia, and human rights are not respected. Therefore, I am once more asking the Central Government to urge the Inner Mongolian authorities to comply with the Constitution, "respect and protect human rights, freedom of speech and press." These are all my wishes. If there are things improper, please point them out for me.
Best regards,
Muunohai --
A member of Chinese Communist Party for 58 years
A Mongolian specialist on ethnic issues
June 23, 2004
_____________________________________
[ Note: The attached original letter was obtained and translated into English by Southern Mongolian Human Rights Information Center ]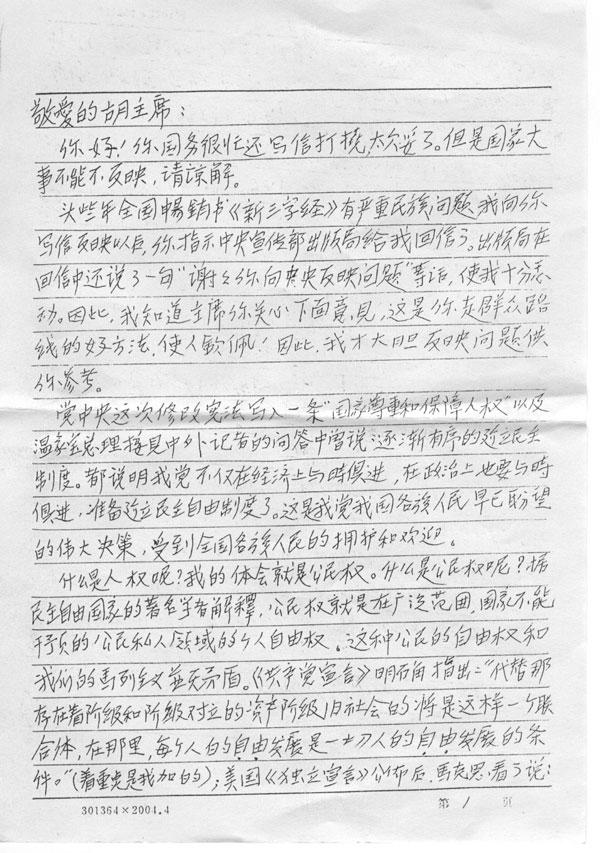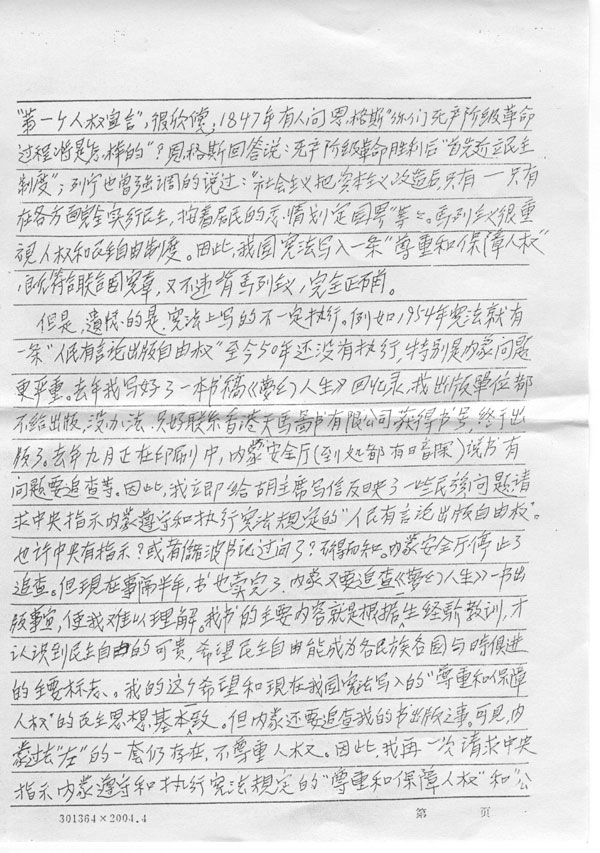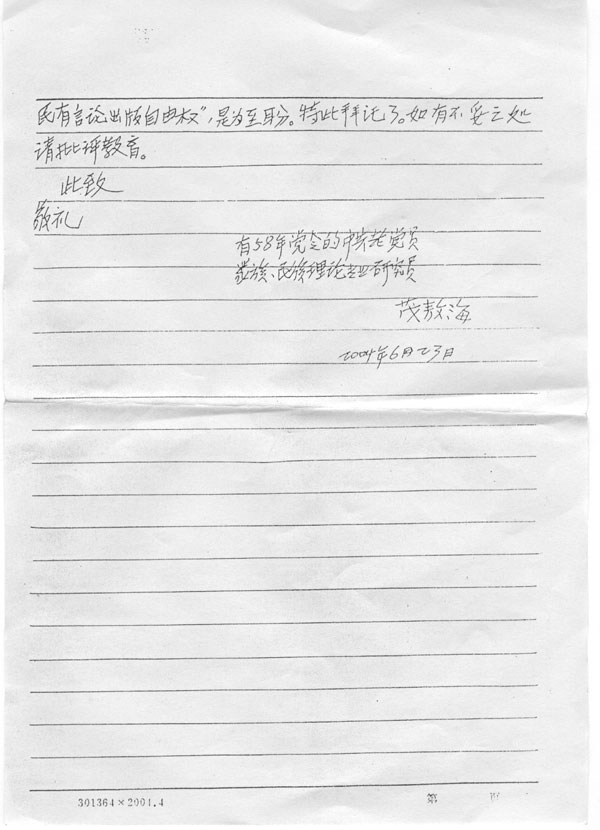 Relevant information:
Chinese version of "Dreamlike Life" by Mr. Muunohai
Chinese version of "Neglected Issues" by Mr. Muunohai
Books confiscated in Inner Mongolia